On October 1st, I set off with a group of quilters from around the United States to help lead a week-long trip to Ireland. We all met for the the first time in the gate area at JFK and quickly found it was easy to get to know each other. Upon landing in Dublin and gathering our luggage, we were met with our guide, Eunan and our the McCall's Tour Guide, Steve Grace. Steve, knows how to plan a trip for quilters. Our first stop was at a quaint quilt shop in Dublin, where Wendy welcomed us to her Log Cabin shop and treated us to tea and goodies.
Right away I spotted some charming fabrics that would be perfect for the new Carol Doak Keepsake Cards. These had to come home with me.
Having worked up an appetite we were off to the oldest pub in Dublin for a fabulous lunch.
The rain did not dampen our spirits as we headed next to Trinity College to see the Book of Kells. The images here were amazing and the artwork and detail astonishing….but it was the library with the volumes of books ranging from the floor to two floors up that was difficult to comprehend.
On day 2 we headed toward Northern Ireland stopping at the Sheelin Antique Lace Museum along the way. You have to appreciate all the work that goes into the intricate lace items.
Having worked up an appetite, we stopped at the tea shop next to the lace museum for a few sweets.
As we drove through the countryside, the sites were just amazing and the shades of vivid greens gorgeous.
The typical Irish home was sparse and heated with peat back in the day.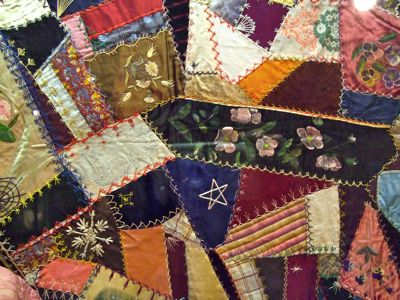 Next we heaaded to the Ulster American Folk Park. The visit here was so really amazing. First, we saw how life was for the Irish people and how many people died in the great potato famine. There was also an exhibit of needlework on display.
But learning of their hardships and exactly what it was like to be aboard one of these ships coming to the US for a better life was truly touching. I can't even imagine…
We arrived in Derry and went by The Mission Quilts in Derry. Margaret Lee and everyone made us feel so welcome in this charming shop.
Sandra Montgomery treated us to a Show and Tell of several of her lovely quilts and shared stories about making them. The treats were delightful as were the friendships.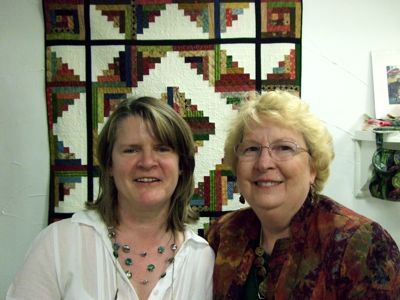 Isn't it just amazing how quilters connect almost immediately. Sandra and I had a chance to chat and I could see so much of myself in her when I first ventured down the quilting road.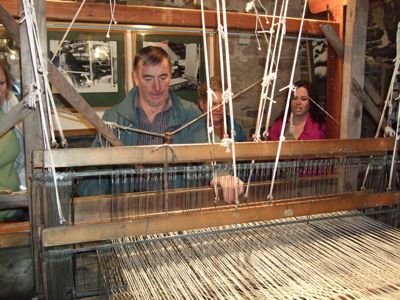 The next day we were off to County Donegal where we were treated to several weaving demonstrations. Can't even image how they keep that all straight!
At Triona, we not only saw a weaving demonstration (and purchased sweaters and beautiful woven jackets), we were treated to the most yummy Irish Coffee!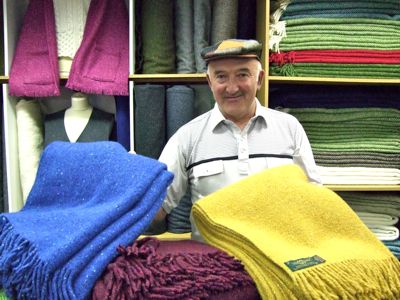 This weaver, Eddie Doherty of Ardara,  made gorgeous pieces.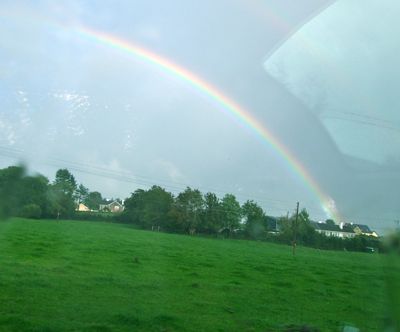 As we traveled we were treated to many rainbows!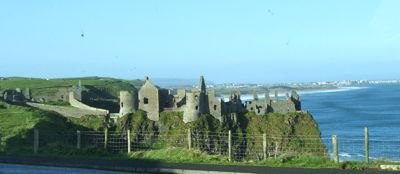 We traveled the Antrim Coast and saw the Dunluce Castle…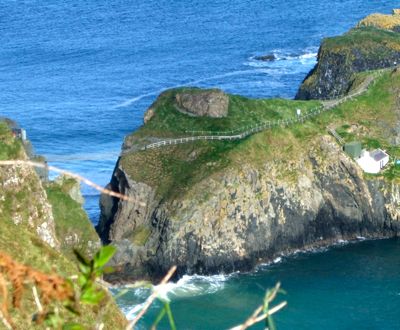 We saw (and some crossed) the Carrick-a-Rede Rope Bridge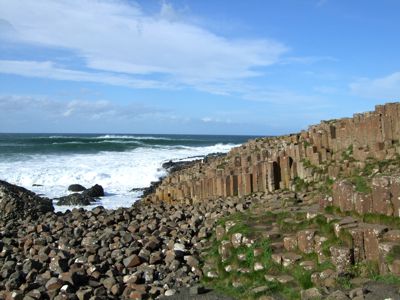 The formations at the Giant's Causeway were really interesting.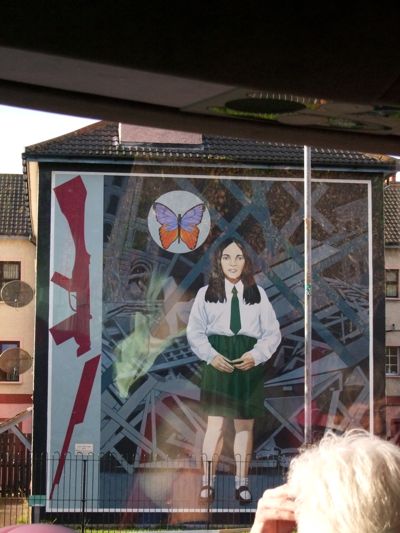 As we headed back to our hotel in Derry, we were driven by the murals in Derry that depicted the troubles in Northern Ireland. This one was particularly touching because it is of a young girl who was killed in the crossfire on her way to school. Our guide gave us all such a better understanding of the trouble that had existed and the great strides being made to have peace.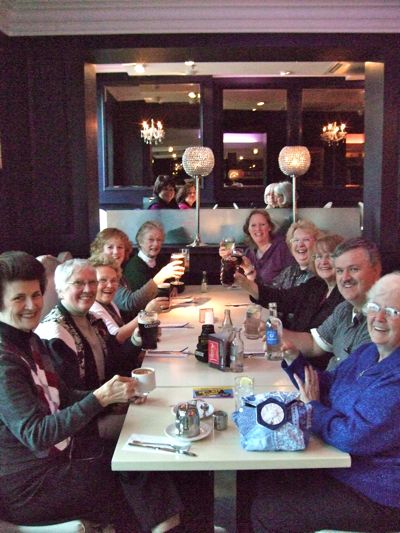 We were all strangers when we embarked on this trip, but we quickly became friends. Here are some of us out to dinner and having fun.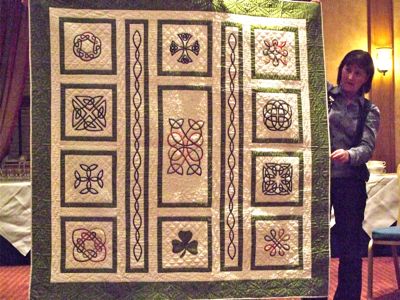 That night, our group was visited by a group of quilters from the Irish Patchworking Society. We gathered around in a circle of chairs and shared quilts and quilt stories. It was  lovely evening.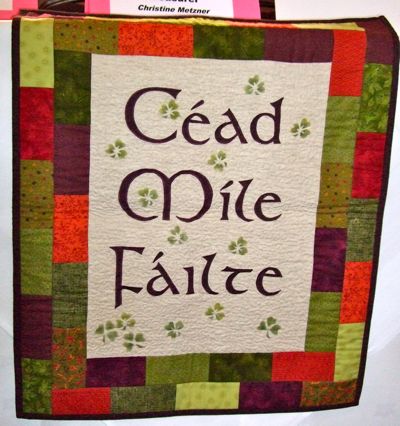 The next day we were invited to a meeting of a group of American woman living in Ireland. The speaker was Sherry Nugent, Editor-in-Chief of Irish Quilting Magazine. The quilt above from the magazine was displayed. It means "One Hundred Thousand Welcomes".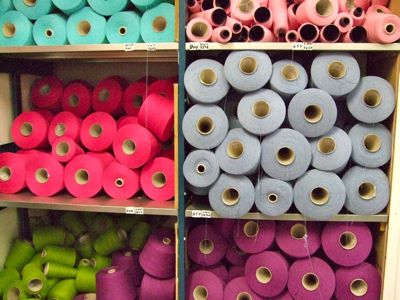 Avoca was are next stop. It is the oldest weaving mill in Ireland, 1723. Here are the threads used to make this…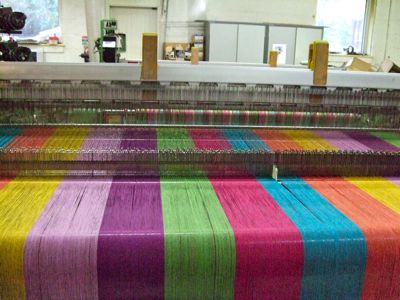 And this…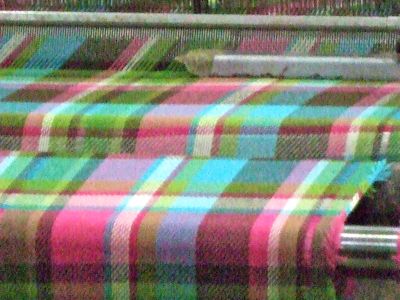 Aren't the colors gorgeous?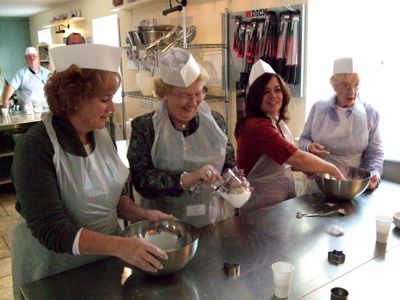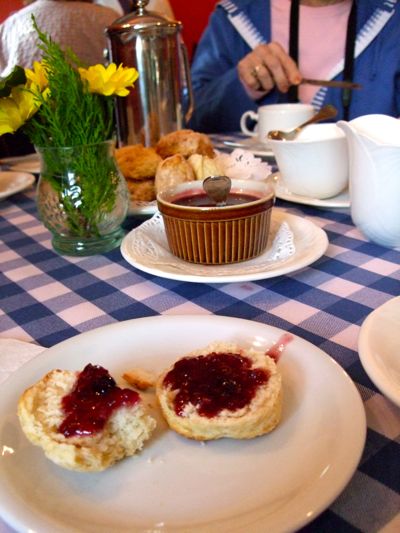 Then we were off to Ballyknocken House and Cookery School for scone-making classes…of course we got to eat our scones too!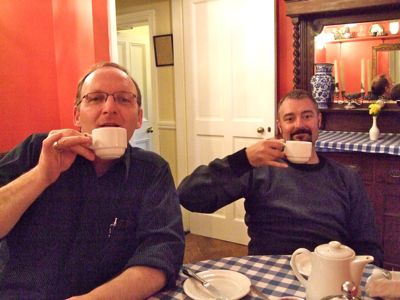 Even Eunan and Steve got into the scones and tea. I just have to say, that Eunan, our Irish guide added so much depth and enjoyment to this trip, by sharing the culture and history of Ireland with us. He also shared lots of fun with us too. And Steve, he not only created an amazing trip, kept us on track and delighted us all.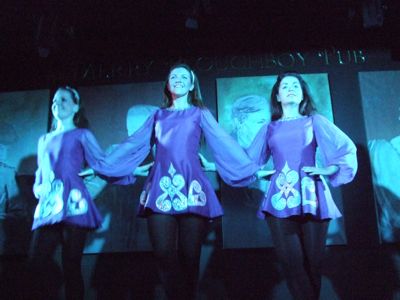 We came to this beautiful country, saw its sights, met its friendly and fun people, learned of the struggles past and of the positive impact many Irish immigrants made on the United States. On our last evening in Dublin, we sang the Irish Folk songs and watched them dance and came home with such fond memories of our friendships.
All the best,
Carol