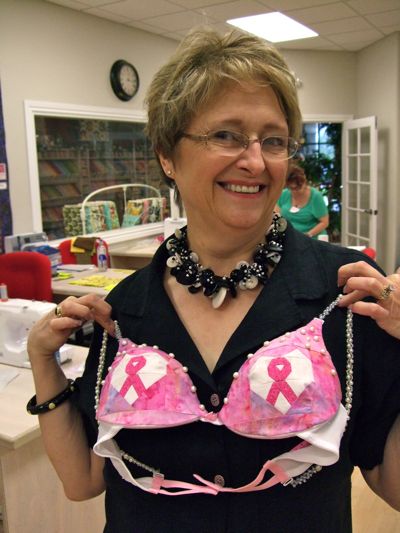 At the beginning of the month, I had the opportunity to go to Las Vegas to lecture and teach workshops for the Desert Quilters of Nevada. It was a fun-filled three days and I would encourage anyone in the area to take advantage of this wonderful quilt guild. I am sure they will greet you with open arms and their members will inspire and encourage you. I was really impressed to see all that they accomplish.
After teaching for the guild, I began a couple of days of teaching at Quiltique…a wonderful shop in the area. Jan, above is showing off a bra that was made for the Breast Cancer project featuring my free block design. Who would of thought?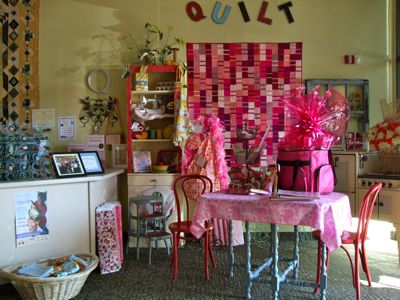 The event was held in the shop and you can see they went all out for it.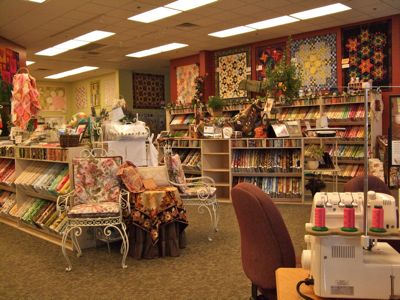 If you are anywhere near Henderson, NV, don't miss stopping by this gorgeous shop. The people who run it are pretty gorgeous as well, both inside and out.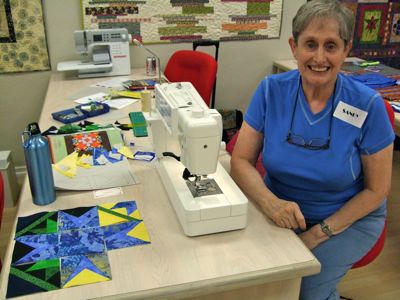 The first day I taught the Bright Stars class from the Simply Sensational 9-Patch Stars book. Sandy is really pleased with her progress….where is that corner block Sandy?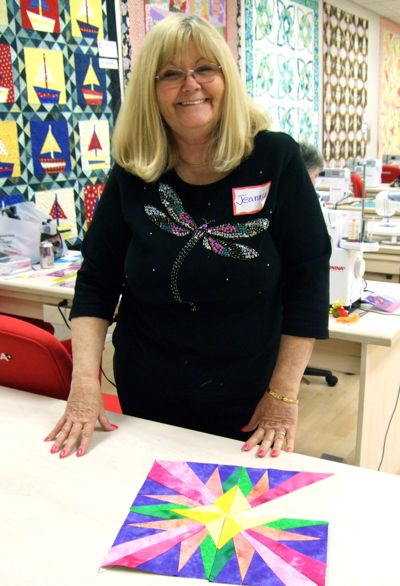 The second day I taught the Sunrise quilt from the Mariner`s Compass Stars book.  OK, so where is that missing piece? Seems to be a theme here in the Las Vegas area….but I am not telling.
And as if spending several days with wonderful quilters, teaching in a gorgeous shop and classroom was not enough…I had the chance to see Phantom of the Opera at the Venetian. I can't say enough about how fabulous it was!
I came home with lots of great memories and unfortunately because it happened in Las Vegas….mums the word.
All the best,
Carol