Students' Show and Tell
50 Fabulous Paper-Pieced Stars Quilt-Amazing Quilt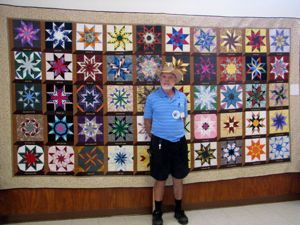 My name is Gerald Brauer and this is a picture of my quilt from your book 50 Fabulous Paper Pieced States. Also under each star the states name listed alphabetically I put the year they entered the union. My quilt measure 12 ft. x7 ft. and has received two blue ribbons and a best of category in just one year on display.
Thank you the
The Quilting Cowboy
Gerald L Brauer
Gerald told me this took him about a year to make. Congratulations on a beautiful quilt and thanks for sharing it.
Click here for workshop details
---
Perfectly Wonderful!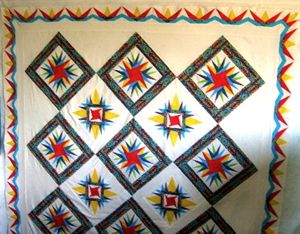 Laura from Vacaville used the block from the Perfect Points workshop, made more and combined it with another block from the 300 Paper-Pieced Quilt Blocks book and one of the pieced borders in the Borders Set Two to make this stunning quilt! Gotta love all those perfect points! This is what I call taking an idea and running with it.
Click here for workshop details
---
Tulip Quilt
This charming quilt was made by Carol Fisher using the Free Beginner Block. I loved the setting. Thanks so much for sharing Carol and great job!
---
Mariner`s Compass Table Runner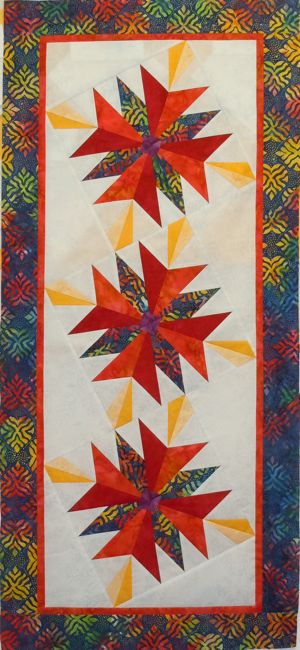 This charming table runner was made by Victoria Jones of Vancouver, WA. I love the setting Victoria used to feature her three Canada blocks. Would not this be perfect to display on your table?
Click here for workshop details
---
This Did Not Make A Dent in My Scraps!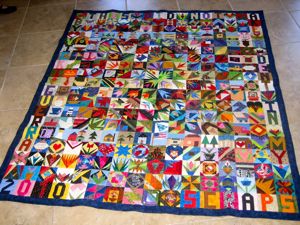 How fun is that title? Vicki Guerra of the Rio Grande Valley Quilt Guild in Texas made this labor of love using all the blocks in the 300 Paper-Pieced Quilt Block books. Vicki worked with her friend Susan as they each made their quilt. I had the pleasure of meeting both Vicki and Susan when I was at their guild teaching.
---
Intro To Paper Piecing Quilt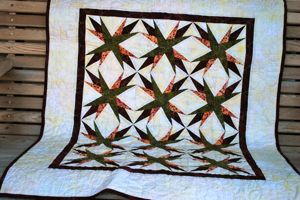 This charming quilt was made by Mindy Williams of Delaware. She used the FREE Intro to Paper Piecing block available in the Free Patterns section. I give permission to use this block in order to teach paper piecing. Mindy is going to share the joy of paper piecing in a class and made this quilt in anticipation of her class. Thanks for sharing your quilt and paper piecing.
---
Summer Solstice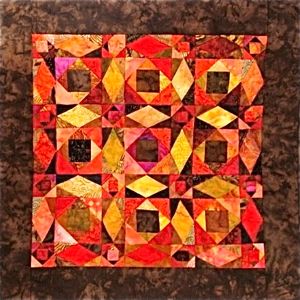 This very pretty quilt was made by Tina P. Mann of East Winthrop, ME Tina started this quilt at the Maine Quilts 2010 Show class. Great use of color Tina!
Click here for workshop details
---
Vermont Star Beauty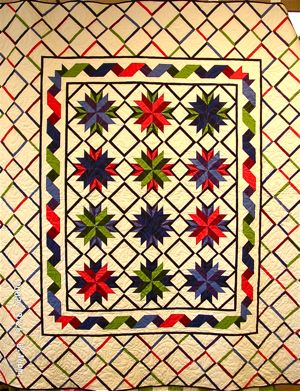 This beauty was made by Joan Ballard Midland, MI Joan wrote in her email: "Carol, I love the Vermont Star and the wonderful lattice work you get when you combine several stars. I have also always wanted to do a more traditional Amish solid color quilt. So I combined the two and added a ribbon border and created my own paper pieced outside lattice from the Vermont Star but omitted the star. This was the final product! I hope you like it." I not only like it...I love it.
Click here for workshop details
---