Lectures and Workshops
Full-Day Workshops
---
Craftsy 8-Lesson Course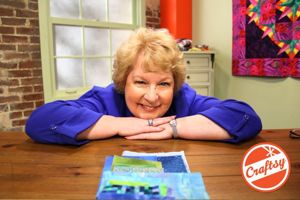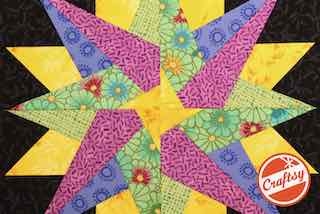 Now, you have the opportunity to learn to paper piece directly from me! In this course, I will teach you the equivalent of taking a 5-day course. However, you can watch it as many times as you like in the comfort of your home, in your easy chair using an IPad or on your laptop or computer. There are nearly 2500 students registered and nothing but glowing reviews are coming in. Come and join in the fun. And remember, I am there to answer any questions you might have along the way.
Enroll in Mastering Foundation Paper Piecing
and learn to:
• Perfect paper piecing to create stunning, complex
blocks with ease.
• Use the best techniques, tools, and materials to achieve
perfect points, tiny piecing and intricate designs.
• Create four stunning patterns alongside Carol Doak.
• Master the fundamentals to create any design you wish.
… and much more!
Craftsy Online Classes
Enjoy your class as many times as you
want, whenever you want. Your access
never expires.
100% money-back guarantee
Click here: https://shrsl.com/2lg6i
---
Craftsy Paper-Pieced Stars Workshop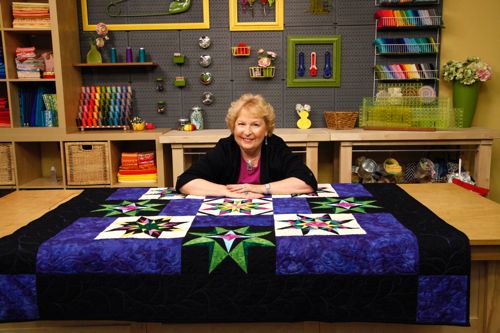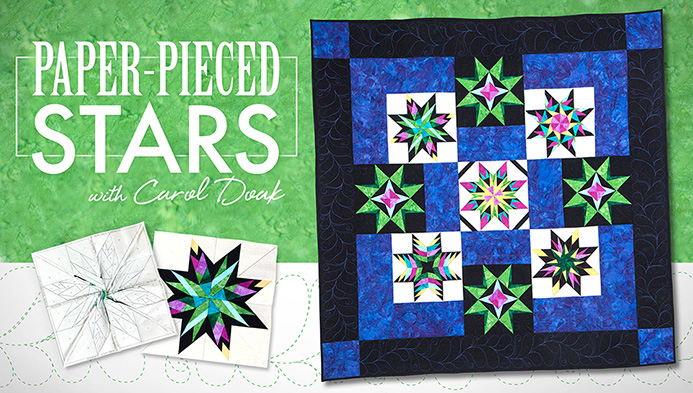 8 Sessions. 4 hours of instruction
Boost your foundation paper-piecing skills with renowned instructor Carol Doak.

Enjoy more efficient, effective sewing with Carol's organization and machine setup methods.

Achieve perfect points as you create the striking Twinkle Star block with confidence-building tips.

Learn how Carol selects fabrics while you piece the 3-D Star with its eye-catching depth.

Mix and match different foundations to build fresh designs and simplify tricky blocks as you create the captivating Pointed Posy Star and exquisite Twisted Tulip Star. Construct the Windmill Star with its exceptional movement, and find the inspiration to customize your block with Carol's practical guide to color.

Piece the radiant Starburst Star with secondary patterns that dance around the quilt. Plus, learn to easily calculate the yardage needed for every group of pieces in a quilt.

Use foundation paper piecing to make your most spectacular patchwork more accessible than ever!
Click to sign up. https://shrsl.com/2lg6m
---