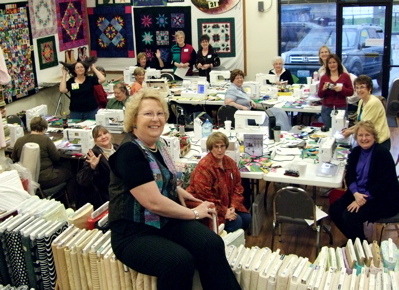 I just returned from teaching in a lovely shop in Springfield, Missouri. I'll do anything to get just the right bolt of fabric…..even climb to the top of several shelves.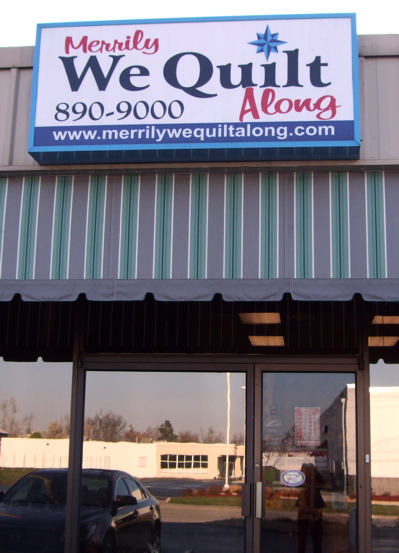 The shop is located in a large building and not only contains the large shop, but a long arm quilting room and an amazing Tea room.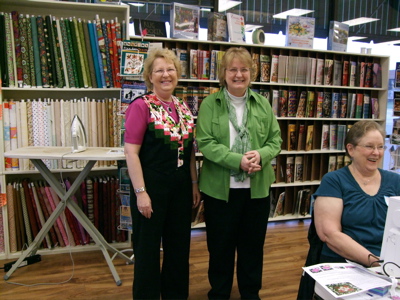 The first day I taught the Bright Stars workshop from the Simply Sensational 9-Patch Stars book. Here, Merrily, the owner is introducing me to the class. LOL, I think they knew who I was.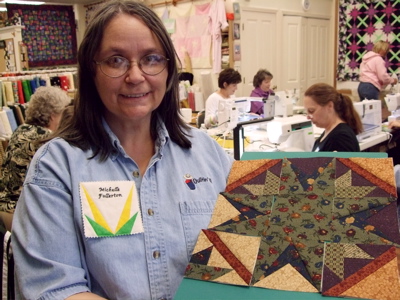 Michelle is showing off the sections of her first star block for the wall quilt. She is sporting a name tag badge for the Carol Doak Yahoo Group. When members where their badge to a class, then I know they are a member of the group.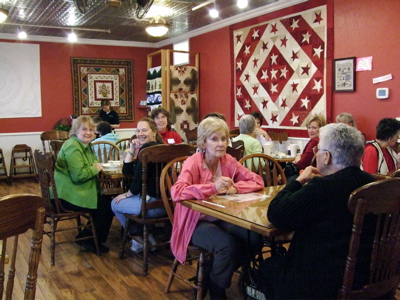 Each day when we broke for lunch, we walked through the shop, through the long arm quilting room and into the most wonderful Tea room for the best ever lunch and to die for desserts.
You just never know who you are going to run into along the way. This "old bat" was right at home.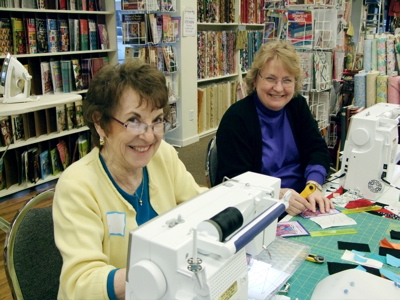 On the second day, I taught the Perfect Points class from the 300 Paper-Pieced Quilt Blocks book. Kay Turner and Merrily sat side-by-side in the class. I had to keep an eye on those too…they were constantly giggling.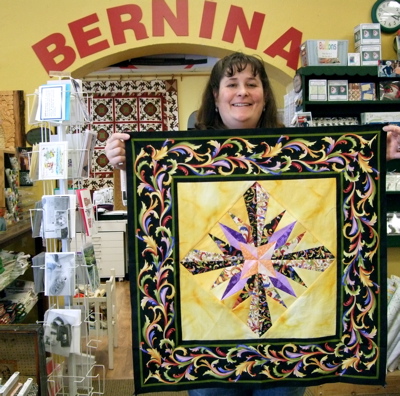 The third day was the Sunrise Quilt from the Mariner's Compass Stars book. Everyone did a super job with their quilts. Vicki Crow is showing off her quilt top featuring just the perfect print border.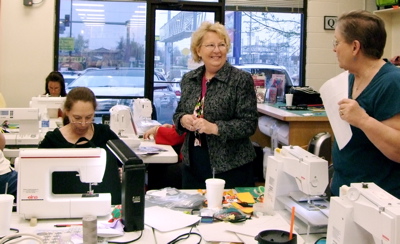 I do love to teach and having the opportunity to spend the weekend at Merrily We Quilt Along with such delightful students was a gift.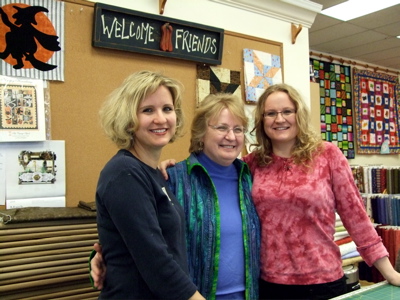 Getting to know Merrily (center) and her two charming daughters, Heather (left) and Holly (right) was such a pleasure. I did feel as if I was saying goodbye to good friends when I left because they do make you feel so welcome in their lovely shop and Tea Room. If you are ever in the Springfield, Missouri area, this is a must stop for any quilter. BTW, ask Merrily where I signed the wall with my special message.
Until next time,
Carol