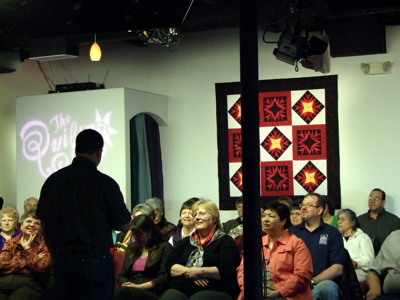 I just returned from La Veta, Colorado where I taped a segment for the online community, The Quilt Show. It was a fast and furious trip, but I was delighted that I accepted the invitation to tape a segment to be aired in the fall. I flew to Colorado Springs and then drove to the charming little town of La Veta. There, I met up with Ricky, Alex and the crew for dinner at the La Veta Inn. The next morning the guests began arriving to view the taping. Justin addresses the audience and entertains them during the prep time.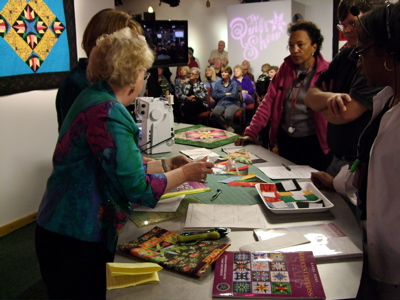 The taping doesn't happen without a good deal of preparation by everyone involved. Here Alex and I are going over the steps to be covered so the camera men will know where to aim the cameras.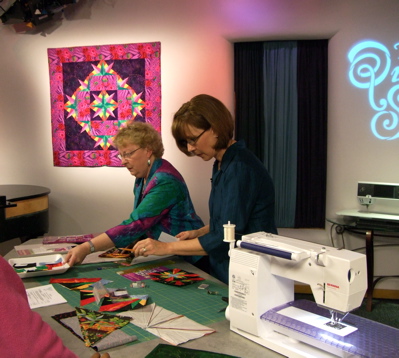 I demonstrated the steps for making the France block from the Mariner's Compass Stars book to make the Sunrise Quilt. Alex and I are getting all the step-by-steps in order before the taping begins.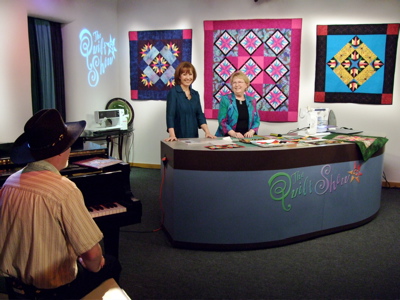 We are ready to begin the demonstration so Ricky plays a bit of piano and introduces the demonstration segment. The set was decorated with several quilts from the Mariner's Compass Stars book.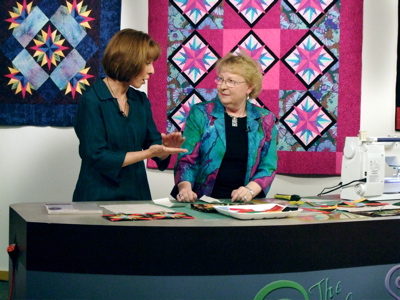 I think Alex is asking a question here during the demonstration. Do I look confused?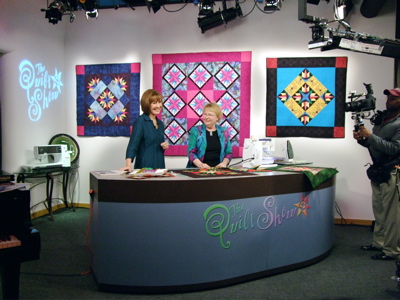 Actually, the demo went very well and we are ready to move on to the fireside chat.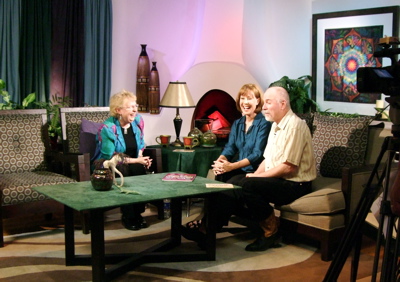 During the chat portion, obviously Alex and I thought something was very funny and Ricky isn't laughing…lol. I described several of the quilts decorating the set and answered a few audience questions.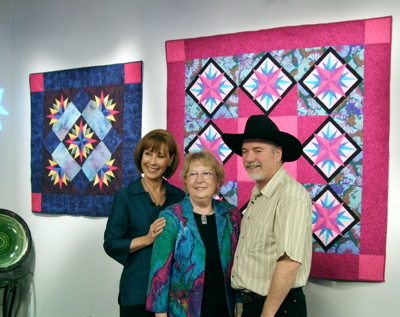 After the segment taping, Ricky, Alex and I posed for pictures. It was a great experience and I would do it again in a heartbeat! It was also fun to catch up and visit with Ricky and Alex.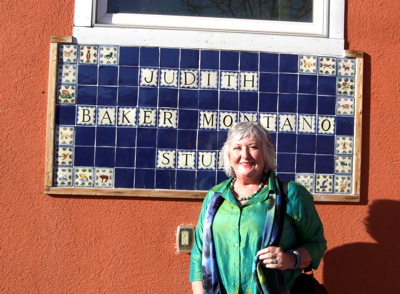 One surprise was seeing Judith Baker Montano at the afternoon filming session. Judith lives in La Veta and she graciously invited me to her studio and home after the show.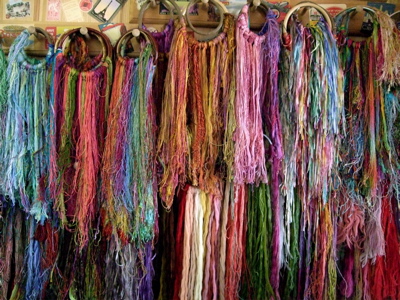 Judith is famous for her exquisite use of thread and ribbon to create spectacular pieces. I loved seeing how she stored her threads.
After visiting La Veta, it is easy to see where she gets her inspiration. This piece displayed in her studio looks just like the La Veta area.
Now, one of the perks of taping a segment was receiving a gift certificate to join The Quilt Show that I was instructed to give away.  I am going to give it away to one of the members of the Carol Doak Yahoo Group in a random drawing. To be in the drawing, visit the group site to read how to enter.
All the best,
Carol