I had this date to host a Quilting Retreat on my calendar for some time. It was to be at the Strong House Inn in Vergennes, VT. Since I live in NH, I thought, this will be very familiar and fun. Well….I started off on Friday afternoon to drive to Vergennes. Since I typically fly to most of my teaching venues, I was looking forward to the relaxing ride. Rather than take the interstate, I thought I would let my GPS lead me through the country roads to Vergennes….first surprize…I was up the mountain, down the mountain, into little towns, pretty rivers, mountain gaps, winding roads and 25 miles per hour speed limits. I was going to meander whether I wanted to or not. When I arrived at the Strong House Inn perched on the hill, it was lovely. The view from the side yard was stunning.
The old Vermont Home was lovely with lots of updates to make it very comfortable. The teaching space in the back was generous and well lit. Mary and Hugh met me and quickly made me feel at home.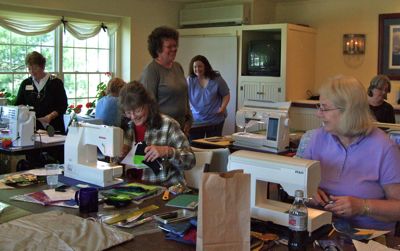 Some students had already arrived and were setting up their area in the teaching space. Next surprise…we had students from lots of different places, Indiana, Maine, Pennsylvania, Long Island, Martha's Vineyard, Maryland and Massachusetts.
I presented an impromptu lecture after dinner and everyone headed to bed in their beautiful bedrooms.
Everyone gathered in the dining room for a wonderful breakfast before class.  I could smell the bacon cooking in the morning!
I was teaching the Fire and Ice class from the Mariner's Compass Stars book. After a short introduction and demonstration, everyone was off and running. The blocks were coming fast and furious!
Here comes the "Show and Tell" of blocks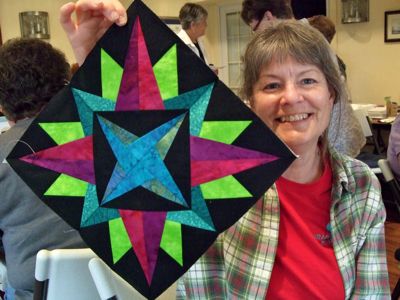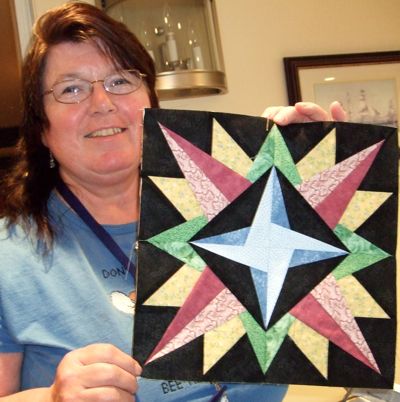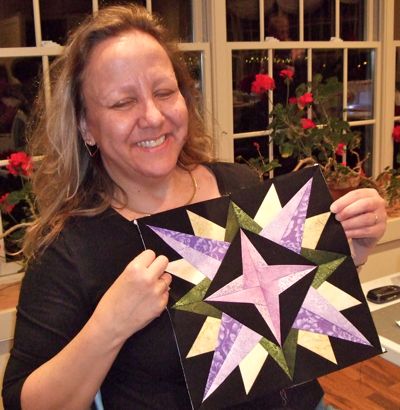 Think we caught this mid giggle…there was a bit of a sparkle to this block.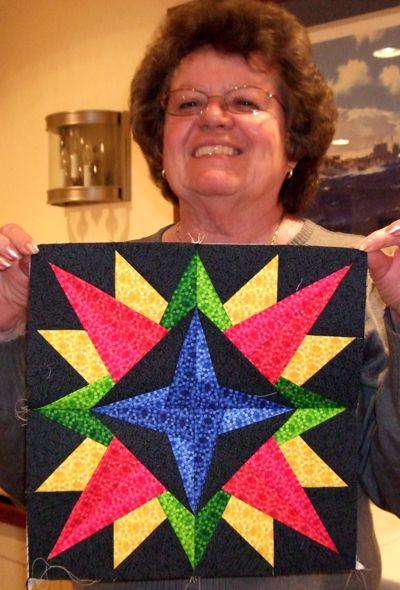 I think we are really happy!!!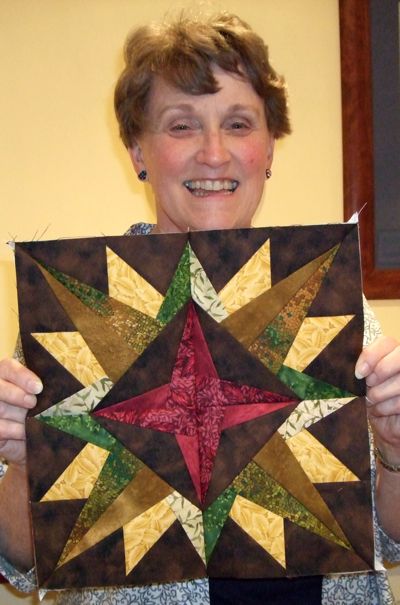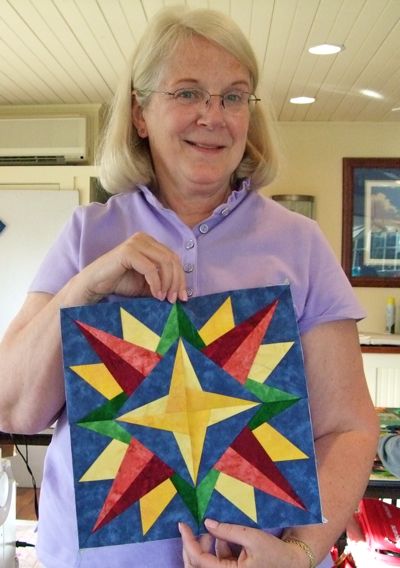 This block is perfect for these colors.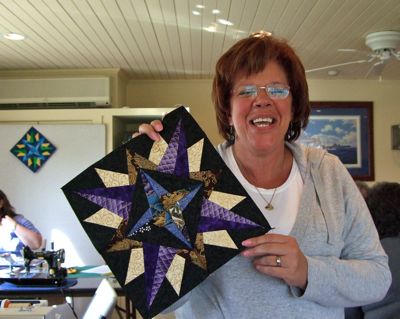 Carmen used a lovely Japanese collection of fabrics.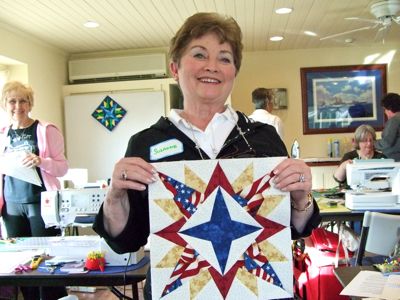 Our Indiana gals were working on Quilts of Valor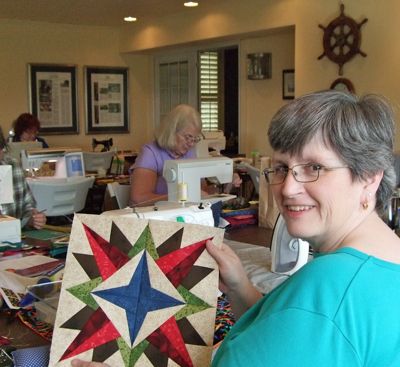 Cathy seemed happy with her block.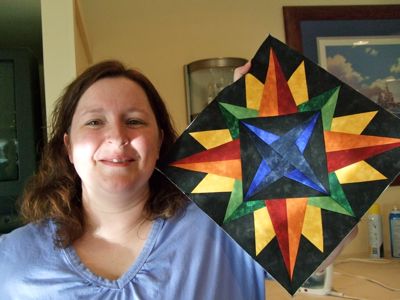 Jennifer from Maine is a happy camper.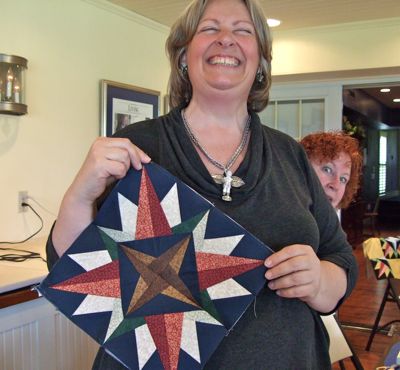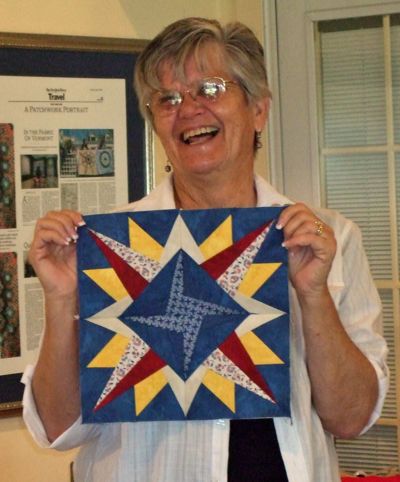 As the students worked, the chatter began. It was clear to me we were becoming a group. By the time we broke for lunch, we already had lots in common.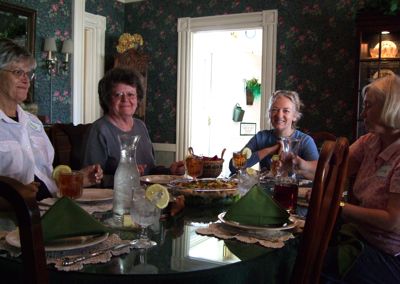 The students returned to the classroom and continued to work on the remainder of their quilts. Some students took time out for a relaxing walk and a few zoomed out to the local quilt shop.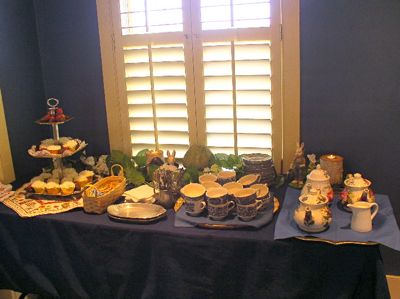 The table was beautifully set by Mary with lots of wonderful goodies to go with our tea.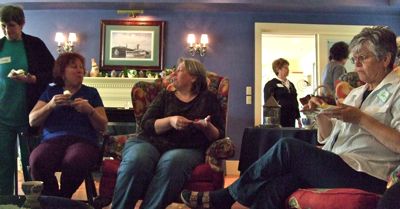 It was so nice to take the little break and relax and catch up.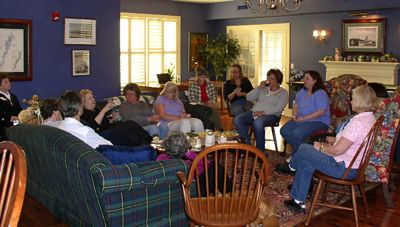 The students went back to sewing for a few hours and then it was time to come out and have a few nibbles and wine before dinner….I'm telling you…I could get used to this life!
Some students relaxed and others continued to sew on their projects. By Sunday morning, we could see the tops begin to emerge.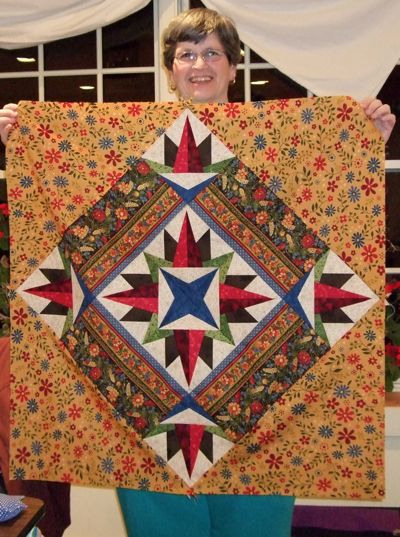 Cathy was first to finish her top!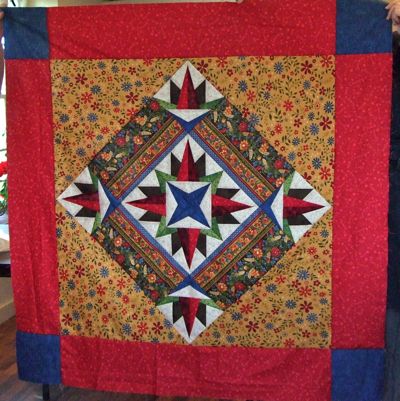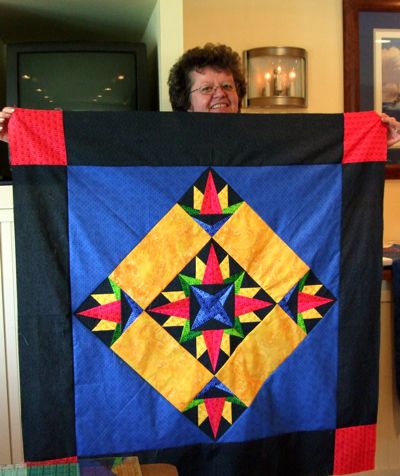 Everyone was really pleased with all they had learned and were able to accomplish.
However it was really apparent to everyone in the group that although most of us did not know each other ahead of time, we had come together over the weekend as a group. Some came with a friend or friends, some came alone and some came to meet a friend and in the end, we all left as friends. I think that is what we all treasure as quilters…we come together because of he quilts, but we stay because of the quilters we meet.
We began talking about the next retreat! So, although I am not going to travel and teach next year except for some major events, I decided this event was a must do again.
Mark your calendars because the next year's retreat will be even more fun because it will be longer. It  will begin on June 12 (Sunday arrival date) and run through June 17th (Friday departure date)2011. You can sew and play from Monday through Thursday! I can't wait to go back!!!  I will put the information about next year's retreat on my Teaching Schedule. There is also lots to do in the area…Shelburne Museum, Vermont Teddy Bear, etc.
Until next time,
Carol