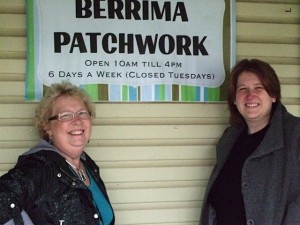 It all started with an email from Tamsin Harvey, co-owner of Berrima Patchwork in Berrima, Australia asking if I would agree to be one of their teachers at  a conference they were hosting this August. Here is the irony…..about 19 years ago, I traveled to teach in Australia for about 3 weeks and one of the places I taught at was Berrima Patchwork. The shop was under different ownership at the time and Tamsin didn't know that I had taught there.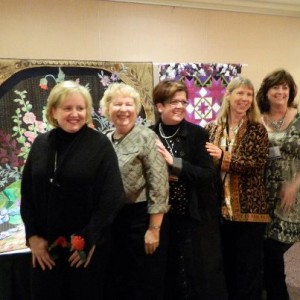 Quilting in the Highlands was held at a lovely center in Mittagong, which is about an hour and a half south of Sydney. I traveled the farthest from NH to Dallas to Brisbane to Sydney and then Mittagong. I left home about noon on Tuesday and arrived around noon on Thursday. We lost 24 hours crossing the international dateline, but it was a long trip and I would do it again in a heartbeat. The other faculty members were Leesa Chandler (fabric designer and shop owner from Victoria, Australia), Michelle Hill (author and fabric designer from Adelaide, South Australia), Sue Dennis (designer from Queensland) and Melinda Bula (author and designer from California). We all arrived a day early to get our sea legs under us and bonded instantly.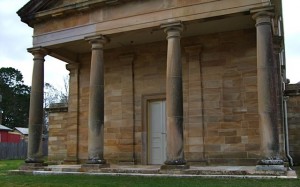 On Friday we played in Berrima where we had the opportunity to visit the shops and also take a tour of the old Courthouse and learn a bit about the history of this charming town.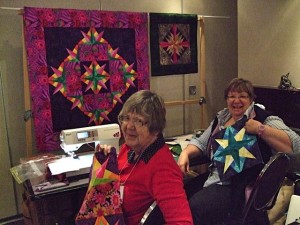 The first day of classes I taught the Diamond Delight class featuring the Australia block from the Mariner's Compass Stars book. The students were fabulous and took to paper piecing quickly!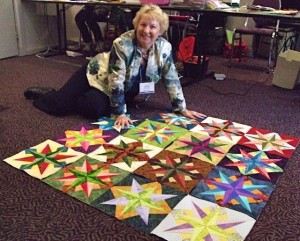 As the blocks were being completed, the color combinations were so varied and fabulous I had the students place their completed blocks on the floor so we could all oooh and ahh…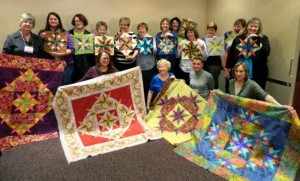 Once the center blocks were completed, the class continued to make the remaining blocks for the quilt. Some even finished their tops!!! Here is a picture of lots of happy students and a very happy teacher.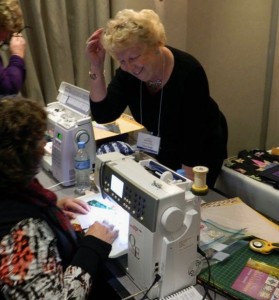 I so enjoyed spending two days with the students and was sad to see most move on to their next class. A handful stayed on for the second class.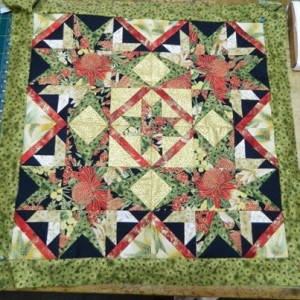 The second class that I taught was the Bright Stars quilt from the Simply Sensational 9-Patch Stars book. The top above was Pam's version of the quilt.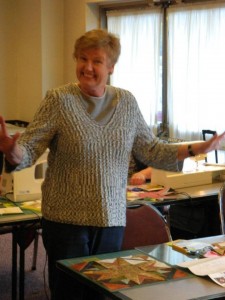 Everyone started to get excited when they could see their blocks come together! It was great fun to see the variety of fabric combinations.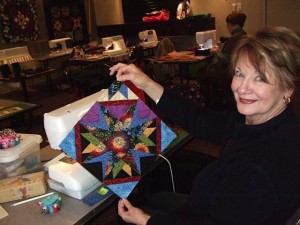 Here is another gorgeous block made by Sue.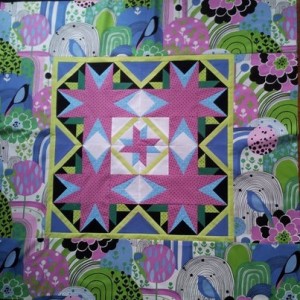 Christine was pretty much on her way to a completed top by the second day. She sent along a photo of her completed top. Don't you just love that border????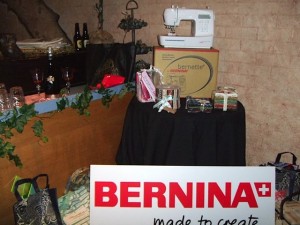 Each night there was a fun dinner event and lots of door prizes given away! Someone even won a Bernina Sewing Machine!!! The last evening, we were out to eat a delicious Italian meal and more prizes were given. It was clear that this first year of Quilting in the Highlands was a huge success.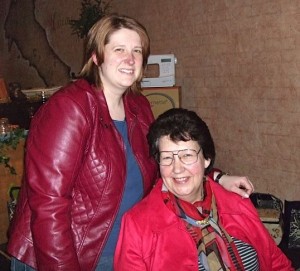 Tamsin and her mom, Sue, were such wonderful hostesses and all of their efforts were so appreciated by everyone! Where else could you find kangaroos in the wild, morning tea breaks, fabulous fun quilters, world class instructors, a super venue, door prizes, great meals and fun, fun and more fun?  I do believe that the quilters who came this year will be back for more fun next year and I expect they will bring their friends. I feel so fortunate to have been one of the teachers at the first Quilting in the Highlands and expect this venue will become one of Australia's premier events.
If you want to read more about next year's plans, here is a link to Berrima Patchwork web site.
Thank you Sue and Tamsin for a wonderful event and your friendships,
Carol