Tuesday, July 20th, 2010
Way back when I was working on the 50 Fabulous Paper-Pieced Stars book, I took stock of how many states I had traveled to in order to teach and lecture. In realizing that there were just a handful of states where I had not yet taught, I was inspired to name each of the blocks in that book for the quilters in each state. My last trip completed the cycle with my first visit to the state of Delaware to teach. It is ironic that Delaware was actually the first state and for me it was my last state.
My first visit to Delaware was absolutely a blast and I can probably attribute that fact to the two people shown above. Donna and Mindy were "in charge" . OK, so maybe they weren't really in charge…they met me at the airport and the first thing they let me know is that they had never done this before…lol…They were simply perfect, lots of fun and I nicknamed them Laverne and Shirley. Some trips are just more fun than others and these too made this trip a real hoot. It is good to laugh…
I taught my Delaware class at a really lovely quilt shop called the Quilter's Hive in Newark, DE. Joan and Linda were such wonderful hosts and a joy to meet.
I taught the Fire and Ice quilt from the Mariner's Compass Stars book.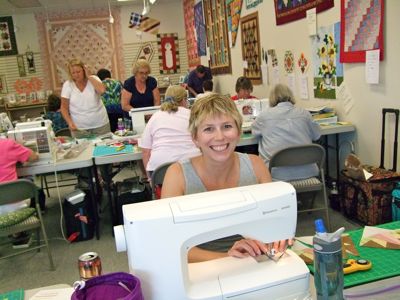 That is what I like to see….a room full of happy students.
At lunch time we had a bit of show and tell…Wonderful quilt shared by one of the students!
That night at the Lady Bug Quilt Guild meeting, students share the beginnngs of their quilts.
Now, from Delaware I was off to teach for the South Shore Quilters in New Jersey. Jane Pszolkowski was my hostess and forced me to shop at this lovely quilt shop in Ocean City. She also twisted my arm and made me buy those fabrics on the counter. I tried to resist…not.
I had a super time with the South Shore Quilters during the next couple of days. I taught the New Jersey Star and the Perfect Points class. I am not sure why I didn't snap any pictures during the classes. Guess I was just too busy playing, but that morning we stopped at WaWa to pick up something for lunch…the number of coffee pots blew me away so I just had to take a picture…LOL..coffee anyone?
Many thanks to Donna, Mindy, Jane and all the quilters in Delaware and New Jersey for making my time with you all such a pleasure.
All the best,
Carol