Students' Show and Tell
O K Doak Pize Winning Quilt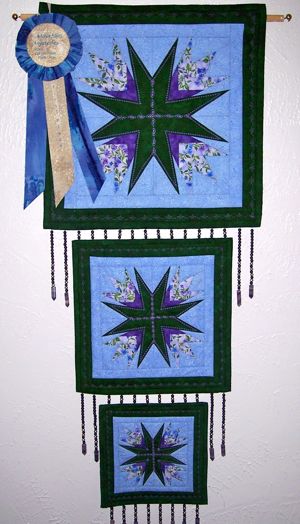 Deborah Swain of New Mexico won First Place in the Art Quilt Category at the Las Cruces Quilt Guild Mountain Mysteries Quilt Show with this beauty. Deborah used the April BOM (2008)I created for the Carol Doak Yahoo Group and presented it beautifully. Fortunately I was there teaching and had the opportunity to see this beauty in real life. Congratulations!
---
The Back Detail of Marie`s Quilt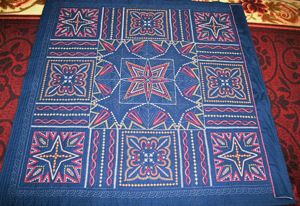 Just look at this embroidery!
---
Awesome Quilt Featuring Mariner`s Compass Stars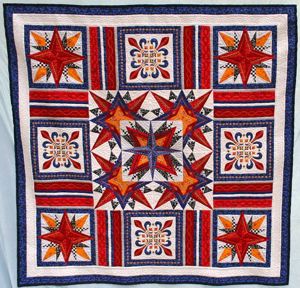 Marie Glenwright from York, PA shared her quilt that has been accepted in the AQS Lancaster show. Marie wrote the following description: It's 54"by 54", hand pieced, appliqued, quilted and embroidered.  The block in the middle is the Switzerland block, outer middle is the China block then around the outside is 4 Germany blocks with 4 applique that I made from a stencil ( that I enlarged ).  I purchased at a home improvement store.  After finishing the quilting I thought I'd do a "little" embroidery on the front and back. Good luck Marie and thanks for sharing your spectacular quilt.
Click here for workshop details
---
Sunrise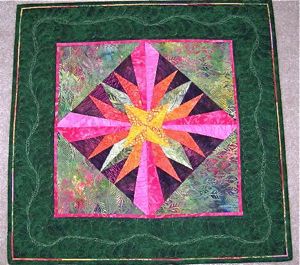 This Sunrise quilt by Edda K. from Portage, Michigan was started when Edda took a class from me in Kalamazoo. She did a beautiful job finishing the quilt and even attempted the delicate piped binding. She was pleased with the result....as she should be!
Click here for workshop details
---
Play The Sunset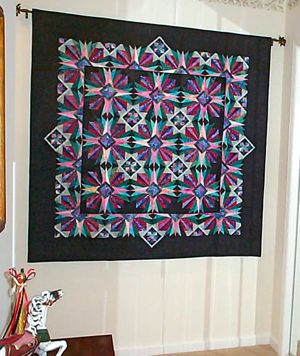 Edda K. from Portage, Michigan recently sent me some photos of quilts that she has made from my out of print book, Easy Stash Quilts. This stunning version of Play the Sunset looks super in her home. Edda sent pictures of two more quilts she made from this book, equally as stunning and mentioned this is one of her favorite books.
---
Super Nova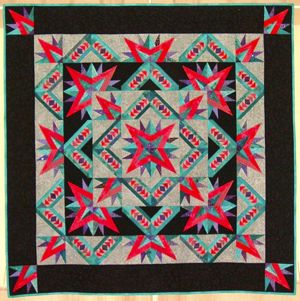 This stunning Super Nova was made by Janelle Curtis of Queensland, Australia for her daughter's 21st birthday. She also won first prize in the non-professional pieced category at the Queensland Quilt Show 2009. This pattern is based upon a quilt in Easy Stash Quilts (out of print).
---
Blue Ribbon Petite Baskets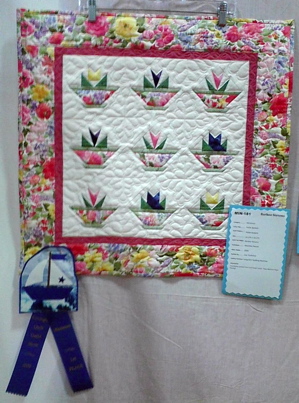 Barbee Stevens of Washington won a Blue Ribbon at the Covington Quilt Show in the Miniature category for her Petite Baskets quilt from Easy Machine Paper Piecing. Each block is 4" and the quilt is 24 3/8". Beautifully done Barbee and thanks for sharing!
---
Pat's Star Quilt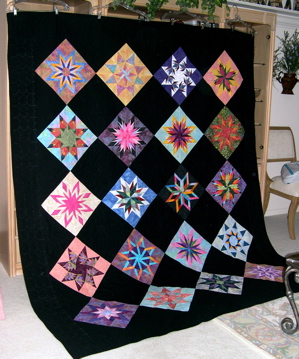 Pat Frazier of Ocala, Florida made this wonderful quilt featuring the blocks from 50 Fabulous Paper-Pieced Stars before making the following quilt. I do believe she is hooked on paper piecing. Love the black setting pieces. They really make the colors pop!
Click here for workshop details
---