Friday, November 17th, 2023
I am so excited that a new tutorial video has just been released on You Tube. It is simply like you stopping by my house and I will show you how I easily and accurately make Star Blocks from my newest book, 60 Fabulous Paper-Pieced Stars. You will learn how to create the foundations, position the fabrics correctly, join the units accurately and all the little tips and tricks that I use to make the process simple.
https://www.youtube.com/watch?v=m9MdR76HtgM&t=415s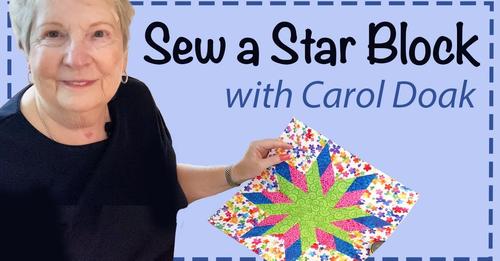 What are others saying about this new video….???
Thank you for a very detailed explanation for the process of foundation paper piecing. I have never seen such a clear and exact tutorial. I have never tried a FPP block, but I am now ready to give it a go.
This tutorial is brilliant. FPP is always daunting to my brain, but I feel I can give it a go now!
Great tutorial with awesome tips, beautiful fabric and block. Can't wait to try a block!
And if you want more paper-pieced stars inspiration, join our 10,000 Member Group at
Carol Doak Bonus Block of the Month
0 https://www.facebook.com/groups/787134576121442/
Until next time, happy paper piecing, Carol