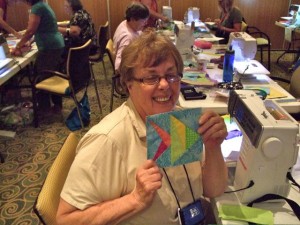 After the ship left Nassau, it was time to start our first day of three classes. Here a happy student is showing off her first fish from the row I designed for the cruise.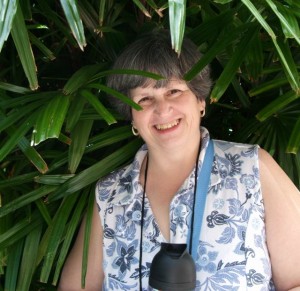 It was fun having students from the Carol Doak Yahoo Group aboard. Here is Cathy hiding in the bushes in Central Park.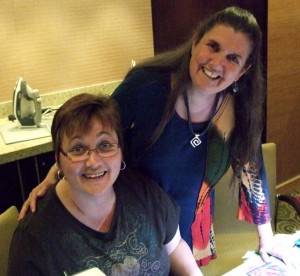 Gail Garber taught the top row of the quilt and Eileen Sullivan taught the bottom row of the quilt.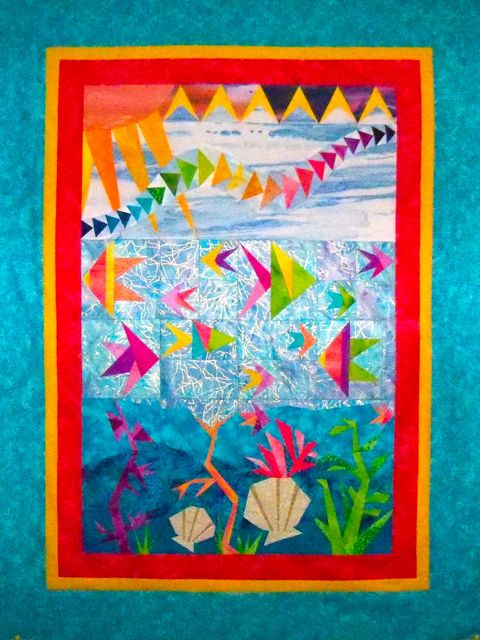 This is a picture of the project for the cruise. Debby made it really easy by kitting the project and supplying Bernina Sewing Machines. Two cruisers actually won this quilt and the one Debby had made.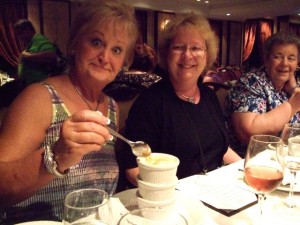 Time for dinner again and the special dessert that Debby really likes ….umm…is she really eating three of them??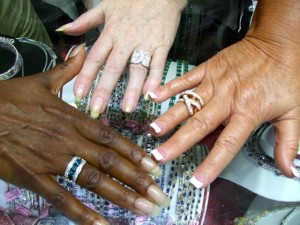 Don't they say "diamonds are a girl's best friend"? Well, I introduced Debby and Rhonda to my favorite jewelry store in St Thomas, Imperial Jewelers and we got into just a bit of trouble…..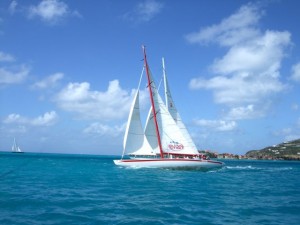 Speaking of trouble, next port is St Maarten. Gail, Rhonda and I signed up for the America's Cup races. it was a beautiful day and we learned to sail.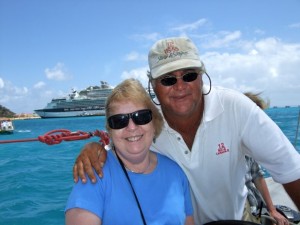 The captain said he could not have won the first leg of the race without the help he got from Gail, Rhonda and I.
Gail is smiling because we haven't fallen overboard yet.
It was time to head back to the ship and play with our friends in our group. We could always find them when they wore our special Stitchin Heaven Travel T-Shirt. Here Debby and Clay (her son in charge of travel) are hanging out on a gorgeous car in the Promenade.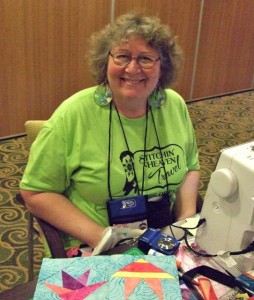 Two more days of fun classes. The students stayed in each of three rooms and the teachers moved to the next room each day. I see fish swimming there.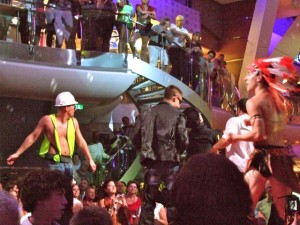 Besides all the amazing shows going on each evening, there are also special events that occur. This was 70's night on the Promenade and the "Village People" showed up to sing YMCA!…Heh, I know that song.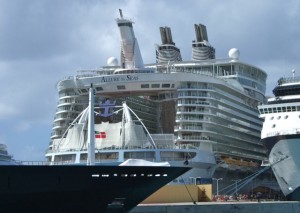 Good bye wonderful ship and sail happy until we meet again,
Carol
Cruise Hawaii in September 2013 is my next cruise. If you want to read all about it, click here.  This cruise is limited to 40 quilters and you can sign on and pay a bit at a time. If you have any specific questions about it, just ask Debby or Clay.