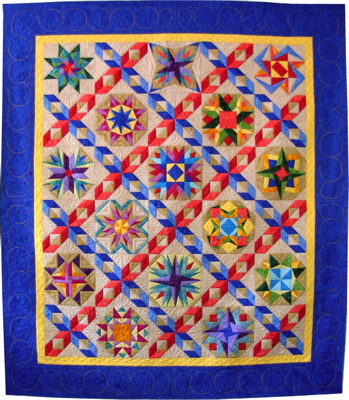 Before you think I have lost my mind and will be tripping across the dance floor, let me assure you that I will not! However I am excited to spread the news that the brand new Dancing with the Stars Block of the Month that features 15 new paper-pieced star blocks that I designed is now available at the Stitchin`Heaven Quilt site.
Deb Luttrell, owner of the shop, described this new block of the month this way…
Dancing with the Stars spotlights 15 paper-pieced, 12″ star blocks designed by Carol Doak exclusively for Stitchin' Heaven! You'll be amazed as you step onto the dance floor, and take a spin with this striking, stellar-inspired quilt. Each block is named for a gorgeous ballroom dance like, the Viennese Waltz, the Foxtrot, and even the Cha Cha, and proudly shows off the brilliance of Hoffman's batik fabrics. The setting, designed by Deb Luttrell, features a chain block, and two borders, framing this stunning quilt with simple elegance. Like stars on a dance floor, these beautiful, batik blocks will have you mesmerized, as they sparkle and shine with each step of the dance.
During this 14-month program, you will receive the patterns and fabrics needed to make the quilt top including borders and binding. The finished quilt measures 80″ x 92″.
If you would like to jump in and enjoy the dance, just stop by and sign up:
http://www.stitchinheaven.com/stitchin_heaven_pages/block_of_the_month_programs.asp
All the best,
Carol