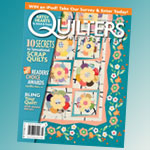 When the February/March issue of Quilter's Newsletter magazine arrived, I was humbled to see that I was selected in the Readers' Choice Awards as the Favorite Paper Piecing Teacher. To be in the company of favorites like, Karey Bresenhan, Ricky Tims, Alex Anderson, Ami Simms, Ele Sienkiewicz, Diane Gaudynski and other giants in the quilting industry was very humbling. Many thanks for your vote of confidence, for your support and friendship.
For several years now I have been using my teaching skills to teach my perfect granddaughter to paper piece.
She began by choosing fabrics and gradually over the past couple of years has graduated to ironing too.
Jessie is learning all the steps, but she is always supervised with me standing right next to her when she picks up that rotary cutter.
Jessie knows to take the step of placing her next fabric seriously.
Jessie loves taking part in this grown-up activity. Little sister looks on with envy.
She is learning…
Not yet my little one…
Not yet little grasshopper…
Although I do love to travel and teach, perhaps my most important job is to share the love of quilting with my perfect granddaughters.
Until next time,
Carol