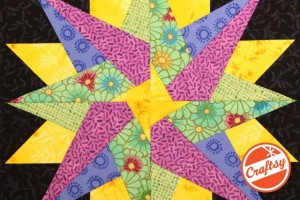 It has been a little over 6 months since my first Craftsy class, Mastering Foundation Paper Piecing, went live. Since then, I have had some major revelations about teaching foundation paper piecing on line through Craftsy.
My first revelation is the outreach this format offers. Never in my wildest dreams did I expect 6,447 students to sign up in the first few months the class went live. But they did and they continue to sign up.
My second revelation is the relatively few number of questions asked by the students. I think that is a testament to the quality of the video and the content of the classes.
My third revelation is the amount of positive feedback I would receive from those taking the class. As an instructor, that is so gratifying!
My fourth revelation is how well all the students are doing. Again, I think that is a testament to the quality of the product.
This is FranApple's first attempt and I think she did great. Then Gico took her block and made a 4-block rotation and added borders for a charming little quilt.
This is Angel66's Sunflower Fun project. Sometimes, one student sharing her project inspires another student. Quiltingmeemaw2 2 wrote, "Love it. I haven't so far been able to conquer paper piecing. Have taken many classes Maybe learning this on line will be my answer. I love your color, also. Your sunflower is STUNNING !!" And Angel responded with encouragement, "Thanks so much. Carol is very good and provides lots of tips I didn't get from local teachers. Hope you enjoy the class as much as I did, Angie" So, like in real life, the online students becomes a community. Quiltfabrications turned the Sunflower into a Daisy and shared her exquisite quilting.
Others tackle projects that they didn't think they could achieve like Kuby who created a really pretty little quilt using the Starlight Project. Lkeene's fabric approach was completely different.
Suzibud's Mariner's Compass Star turned out stunning. Abudhabiquilter, expanded her block using the free border inside the Carol Doak Legal Size Foundation Paper.
Once students achieved paper piecing success, then they began to expand and share even more projects.
Jeannie shared her beautiful Tennessee Star from the 50 Fabulous Paper-Pieced Stars book.
I love the fact that this format offers me the opportunity to share the knowledge I have with quilters around the world and help them achieve the success they desire when paper piecing and make it fun!
If you would like to join in the fun, here is a link that will give you 50% off the cost of the class making it a super value!!
www.craftsy.com/ext/masteringfpp
I will see you there!
Carol