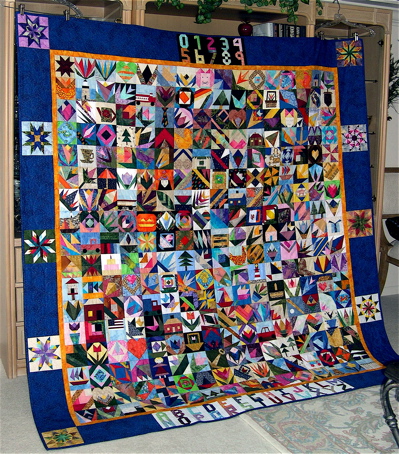 I love receiving pictures of completed projects from people who enjoy using my books. However, when Pat Frazier of Florida sent me pictures of her completed projects, I was blown away with her patience. Pat used all of the block designs in 300 Paper-Pieced Quilt Blocks and some of the blocks in 50 Fabulous Paper-Pieced Stars to make the above quilt. No doubt this took some time to complete, but did it require patience? You only need patience if you are not enjoying the process. Obviously, Pat was enjoying the process.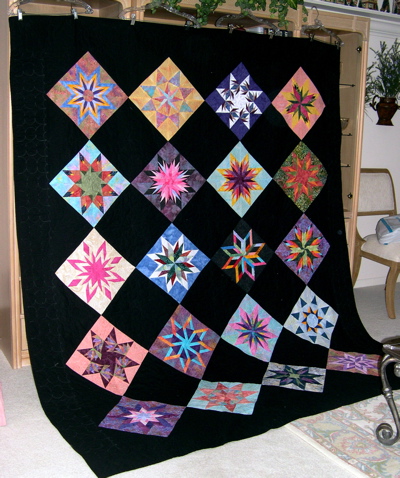 This stunner of a quilt is also Pat's. I love the black setting for the 50 Fabulous Paper-Pieced Star . It really makes the colors pop.
Just recently, I have been thinking about patience. I just saw the designs for my new fabric line due out in the fall. Oh, how I love the designs and the colors. I've been designing quilts in anticipation of the fabric arriving and find myself so impatient to receive the actual fabric. I keep reminding myself, patience is a virtue.
I also just designed a new Anniversary Mystery Quilt for the Carol Doak Yahoo Group. I've uploaded the fabric requirements and the cutting list for all the blocks. However, I am going to wait a bit before uploading the first block to for members to make. OK, I can't wait to see all the quilts that will be made using this design….patience is a virtue.
And, I joined Facebook. I had heard of this site, but I had no clue how it all worked. I just wish I knew the workings now, rather than stumbling through to learn the ropes. I realized that starting a "Fan Page" was the way to go. Ok, …patience is a virtue. If you are on Face Book, do stop by and keep reminding me…lol..
And finally, I have a cold. My sinuses are clogged and the spring pollen just adds to the discomfort. I know it will be gone in a week or two…patience is a virtue.
Until next time,
May all your quilts have perfect points,
Carol