Welcome

Announcing my second Craftsy Class: Paper-Pieced Stars Has Launched!
I am so pleased and excited to announce that my new Craftsy Class, Paper-Pieced Stars, has just launched. This series of lessons is packed full of all my tips and tricks for paper piecing star blocks. I designed these NEW star blocks for this class. You will learn about paper piecing, organizing your fabric, choosing fabrics, joining blocks perfectly, dealing with the center seams, mixing and matching units, eliminating merging seams, removing a piece easily and so much more. Here is the good news. If you click on the picture above, you will receive $10 off the price of the class. If you have any questions about the class, please feel free to email me at Qcarol@comcast.net



AYeah!! My Craftsy course went live! With OVER 21,000 students, it appears it is a smashing success!!!! I am thrilled with every aspect of this project. I love the lessons and I love the interaction. If you would like to read more about it, please click on the picture above and receive a discount off the course price!!! This is just one of the 16 Five-Star Reviews..a FANTASTIC class! What's not to love about this: The teacher is just witty and lovely, but nonetheless focused and gets always to the point (little pun intended), the methods and tips taught are genius, the results stunning. I would so give 6 or more stars for this! See you there.

Read about the newest updates first! Receive my monthly newsletter.
If you would like to be added to the mailing list, click on contact button above, fill in the form with your name and email address (you don't have to put in the other information) and click the box below the form asking to be added to the list. It is just that easy.
NOW AVAILABLE IN WEB STORE!

In Honor of the Craftsy Paper-Pieced Stars Course- Save $10!!!!
I am so excited about my new Craftsy online course, Paper-Pieced Stars. In honor of this class I have put together this bundle of a package of paper, the 50 Fabulous Paper-Pieced Stars book w/video CD, the Foundation Factory Companion CD to print the foundations in this book any size and the 12 inch Add-A-Quarter ruler. These items total a retail cost of $62.90. But here is the really good news, I am going to offer it at a reduced price. Don't miss out on this bargain!!
WHOOHOOO! It is ON SALE!!!!
I have included a full description in the web store about all the options this jam-packed full book offers. This book is destined to be a ground breaker. It produces quilts and borders unlike those that have gone before. The latest version of the Foundation Factory CD that is included offers thousands of options. Never struggle again to get that border to fit!
Since you can make 12" blocks using just two halves, I have also bundled the book with the Carol Doak Legal Size Foundation Paper so you can order them together and SAVE!
WHOOHOO! WE ARE NOW AVAILABLE IN COLORS!
These are the Celebration Colors!!
I am soooo excited that the Carol Doak Keepsake Cards are now available in these festive colors!
Surround your art with color

• Frame small quilt blocks, fiber art, paintings, or drawings inside a debossed 3" square window
• Beautifully textured handmade paper in colors to brighten the greeting
• 4 premium blank 5" x 7" cards and color-matched envelopes
• Heavyweight, archival stock protects your creative work
• Free quilt block pattern inside every package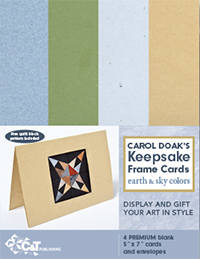 These are the Earth & Sky Colors
I am soooo excited that the Carol Doak Keepsake Cards are now available in these rich colors!
Surround your art with color

• Frame small quilt blocks, fiber art, paintings, or drawings inside a debossed 3" square window
• Beautifully textured handmade paper in colors to brighten the greeting
• 4 premium blank 5" x 7" cards and color-matched envelopes
• Heavyweight, archival stock protects your creative work
• Free quilt block pattern inside every package
Be sure to check out the bundled items to purchase assorted colors and save!!!
Yeah! It Is Here and Available in the Web Store!
Dancing with the Stars spotlights paper-pieced, 12" star blocks designed by Carol Doak exclusively for Stitchin Heaven! You'll be amazed as you step onto the dance floor, and take a spin with this striking, stellar-inspired quilt. Each block is named for a gorgeous ballroom dance like, the Viennese Waltz, the Foxtrot, and even the Cha Cha, and proudly shows off the brilliance of Hoffman's batik fabrics. The setting, designed by Deb Luttrell, features a chain block, and two borders, framing this stunning quilt with simple elegance. Like stars on a dance floor, these beautiful, batik blocks will have you mesmerized, as they sparkle and shine with each step of the dance. The finished quilt measures 80" x 92".
The pattern comes with complete instructions, paper-piecing foundations, color images, full-size layouts, cutting charts for each block, and even color pictures of recommended fabrics. All provided in CD form for ease of access and printing!
For wholesale inquiries, email info@stitchinheaven.com.
Carol Doak`s Legal-Size Foundation Paper
50 Sheets, 8 1/2" x 14"
New larger size-print more designs on one sheet!

• Stays in place while you stitch and tears away easily when you're done
• No shrinking, curling, turning brittle, or printer jams
• Works in most printers and copiers (inkjet or laser)

This new, larger size is the same great quality as the 8-1/2"x11" sheets you know and love. Fabric doesn't slip on the surface and you won't have any extra bulk when you join sections of your blocks together. This paper is absorbent, so any inked areas won't transfer to your fabric. Now it's easier to create longer quilt border designs -a free border pattern is included in the package! Be sure to ask your local quilt shop to stock this paper so you don't have to pay postage to have it delivered to your front door. Free border pattern inside package.
Carol Doak Quilting Group
At the suggestion of one my students, I started a new group on Yahoo so those who enjoy making paper-pieced quilts from my patterns can share and chat. Our group has now grown to more than 9,500 wonderful quilters from around the world. We are sharing photos of projects, participating in challenges and swaps and lots of sharing and fun are happening. I just started a Block of the Month for the group and the resulting blocks are fantastic!!! Read about us in the current Newsletter. Come and join the fun at
http://groups.yahoo.com/group/CarolDoakQuiltingGroup/

CHECK OUT THE SURPRISE SALE ITEM IN THE STORE. THE ITEMS WILL CHANGE FREQUENTLY SO CHECK BACK OFTEN. Click on the Yellow Store button in the upper right to visit the store.


Click here to watch a Quicktime video sampler of my new DVD.




Carol Doak Teaches You to Paper Piece DVD- A great way to learn one-on-one how to Paper Piece

If you would like to take a class from me in the comfort of your home, this DVD is the answer. The DVD is broken into segments taking you through choosing fabrics, cutting fabrics quickly, getting organized to paper piece, assembly-line paper piecing, joining blocks and rows perfectly, how to measure, how to calculate yardage, how to make sure the fabric is going to fill the area and how to take out a mistake and much more. Just in case you think I do not make mistakes, we even included some of the fun bloopers from a day of filming.

TAKE ADVANTAGE OF THE SPECIALS, CLOSE-OUTS AND STOCK UP SALES IN THE WEB STORE!!! I still have stock of this book. It is available in the web store.
What is New In the Free Patterns Section?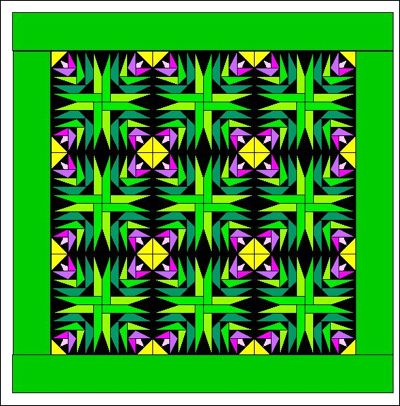 MAY FLOWERS!!!
Just perfect for the SPRNG months. Make a block, make a wall quilt or make a bed quilt.
Enjoy!!!
New Hamony of the Seas Cruise Announced!
Carol 'n Friends Quilting Cruise
April 1 - 8, 2017
Join Stitchin' Heaven and Friends on a 7-night Eastern Caribbean Cruise! Cruise and learn from three quilting experts: Carol Doak, Debbie Maddy, & Daniela Stout!
Just click on the postcard to read more about this trip of a lifetime!

Experience Harmony of the Seas®— the third of its kind to join the groundbreaking Oasis class of ships. Harmony of the Seas® will feature the cruise line's seven distinct neighborhoods for which Oasis class is known, and will offer the most amazing collection of experiences, amenities and activities at sea.


---
New Quilt Shop and Quilt Teacher Section:
Links: If you have a website for your shop and sell my books, paper and DVD in your shop, just let me know your web address and I will add it as a link. Use the Contact button above to do this.

Quilt Shops: The Carol Doak`s Foundation Paper can be ordered from your distributor or directly from C & T Publishing at 1-800-284-1114. My Martingale books can be ordered through a distributor or directly from Martinagle & Co at 1-800-426-3126. If you ever have any issue obtaining product, just let me know.
New Free Pattern For Teaching Paper Piecing: I am often asked if patterns from my books can be copied and distributed for the purpose of teaching a class. They cannot as this would violate copyright.However, I have uploaded a block pattern in the Free Patterns section that can be used for teaching others how to paper piece. Permission to reproduce the pattern is given for this purpose and is printed on the pattern.

---