Welcome

Announcing my second Craftsy Class: Paper-Pieced Stars Has Launched!
I am so pleased and excited to announce that my new Craftsy Class, Paper-Pieced Stars, has just launched. This series of lessons is packed full of all my tips and tricks for paper piecing star blocks. I designed these NEW star blocks for this class. You will learn about paper piecing, organizing your fabric, choosing fabrics, joining blocks perfectly, dealing with the center seams, mixing and matching units, eliminating merging seams, removing a piece easily and so much more. Here is the good news. If you click on the picture above, you will receive a discount off the price of the class. If you have any questions about the class, please feel free to email me at Qcarol@comcast.net Coupon Details: Get 50% off the full retail price of select Craftsy classes taught by Carol Doak. Cannot be combined with any other coupons. Expires May 8, 2017.




AYeah!! My Craftsy course went live! With OVER 25,000 students, it appears it is a smashing success!!!! I am thrilled with every aspect of this project. I love the lessons and I love the interaction. If you would like to read more about it, please click on the picture above and receive a discount off the course price!!! This is just one of the 16 Five-Star Reviews..a FANTASTIC class! What's not to love about this: The teacher is just witty and lovely, but nonetheless focused and gets always to the point (little pun intended), the methods and tips taught are genius, the results stunning. I would so give 6 or more stars for this! See you there. Coupon Details: Get 50% off the full retail price of select Craftsy classes taught by Carol Doak. Cannot be combined with any other coupons. Expires May 8, 2017.

Carol Doak Quilting Group
At the suggestion of one my students, I started a new group on Yahoo so those who enjoy making paper-pieced quilts from my patterns can share and chat. Our group has now grown to more than 9,500 wonderful quilters from around the world. We are sharing photos of projects, participating in challenges and swaps and lots of sharing and fun are happening. I just started a Block of the Month for the group and the resulting blocks are fantastic!!! Read about us in the current Newsletter. Come and join the fun at
http://groups.yahoo.com/group/CarolDoakQuiltingGroup/

What is New In the Free Patterns Section?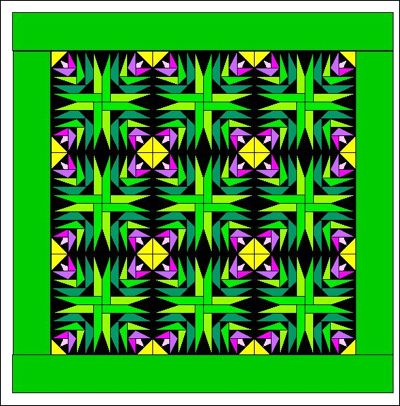 MAY FLOWERS!!!
Just perfect for the SPRNG months. Make a block, make a wall quilt or make a bed quilt.
Enjoy!!!
New Hamony of the Seas Cruise Announced!
Carol 'n Friends Quilting Cruise
April 1 - 8, 2017
Join Stitchin' Heaven and Friends on a 7-night Eastern Caribbean Cruise! Cruise and learn from three quilting experts: Carol Doak, Debbie Maddy, & Daniela Stout!
Just click on the postcard to read more about this trip of a lifetime!

Experience Harmony of the Seas®— the third of its kind to join the groundbreaking Oasis class of ships. Harmony of the Seas® will feature the cruise line's seven distinct neighborhoods for which Oasis class is known, and will offer the most amazing collection of experiences, amenities and activities at sea.


---
New Quilt Shop and Quilt Teacher Section:
Quilt Shops: The Carol Doak`s Foundation Paper can be ordered from your distributor or directly from C & T Publishing at 1-800-284-1114. My Martingale books can be ordered through a distributor or directly from Martinagle & Co at 1-800-426-3126. If you ever have any issue obtaining product, just let me know.
New Free Pattern For Teaching Paper Piecing: I am often asked if patterns from my books can be copied and distributed for the purpose of teaching a class. They cannot as this would violate copyright.However, I have uploaded a block pattern in the Free Patterns section that can be used for teaching others how to paper piece. Permission to reproduce the pattern is given for this purpose and is printed on the pattern.

---