On our first evening in Christchurch, our group was welcomed and inspired by a wonderful Christchurch quilter, Judith Ross. Judith brought several of her pieces with her and shared with us her inspiration behind her lovely quilts.
The colors and stitching in her quilts were exquisite.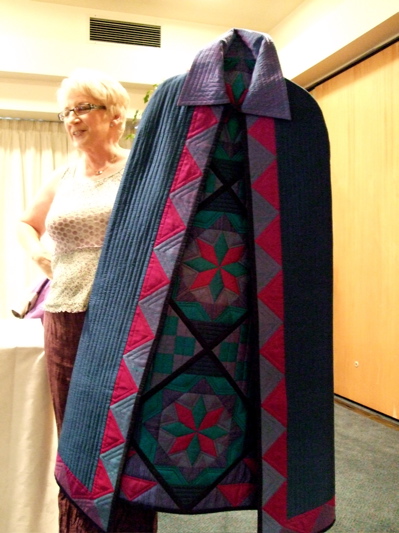 Judith has combined her love of making clothing with her love of quilting by making the quilt that has the shape of a coat.
We all were in awe of Judith's work and so appreciate the time she gave us and for sharing her beautiful work.
The next morning we were off to see the sights in Christchurch. Christchurch is the jumping off place for Antarctic exploration. There is a wonderful Antarctic Center that is just amazing. We were brought to a room that simulates what it would be like in the Antarctic and treated to a simulated Antarctic storm. OK, so this ice slide was just something I couldn't pass up. Wish I had noticed those bumps in the ice before I decided to slide down!
These little guys at the Antartic center were just so cute.
Christchurch is called the Garden City and the Mona Vale Estate gardens did not disappoint us. There were so beautiful and fragrant.
The flower colors were amazing and walking into the rose gardens just filled you up with wonderful fragrances.
We hurried back to the hotel because we knew there were a group of quilters there from Christchurch waiting to greet us.
When we arrived, we were not only greeted by a lovely group of quilters from Christchurch, but they had decorated a room in the hotel with lots of their quilts. They chatted with us, shared their quilts and just made us all feel so welcome in their beautiful city. 
One of the most important landmarks in Christchurch is this beautiful old Cathedral in the center of town. Just look at that tile roof!
As we departed Christchurch for Dunedin the next morning, we made a pit stop at the Tin Shed. This is a charming woolen mill.
We all scattered about the shop looking at wonderful woolen sweaters, yarn and everything woolen. 
We arrive in Dunedin next and have a few surprises.
All the best,
Carol