back to archive
MAY 2012 CAROL DOAK NEWSLETTER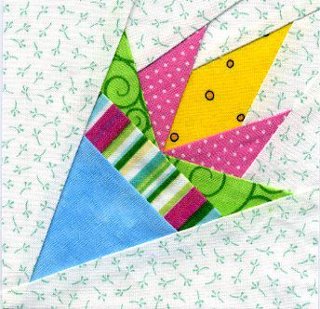 Spring has sprung in our part of the country and it is lovely to see the world come alive with all the spring colors. Perhaps because spring inspires that feeling of cleaning out, I have been busy these past few weeks and have lots of news to share.
The block on the right is a new free pattern that I have uploaded to the Free Patterns Section of my web page. I decided to make this simple block encourage my Facebook friends to make it. I initiated a week-long challenge to have them make the block and post a picture. The random winner won 4 yards of fabric! I love seeing all those lovely blocks and many agreed it was very quick and easy to make. Some have already turned it into little wall quilts and mug rugs.
It might be just the little jump start you need to begin a little Spring Fling of your own.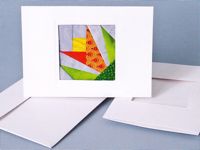 Yeah!!!! Yeah!!!!! Finally, the Carol Doak Keepsake Cards are on their way here!!!
It has been a very long wait. I am happy to report that after unexpected issues too numerous to go into, the Carol Doak Keepsake Cards have been shipped to me and should arrive here no later than this Friday. Just as soon as they arrive, I will get all the back orders out within 24 hours. The packages are all ready to go. For those who have been waiting, I so appreciate your patience. I have removed the notation in the store regarding the backorder issue so you can now go ahead and order. These are perfect for Mother's Day which is coming up quickly. Just imagine someone receiving a very special card from you. I recently received my first Keepsake Card from a friend and I have to tell you, they really do send a special message.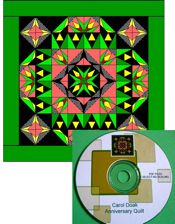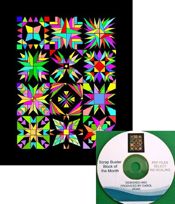 Several people have requested that I put some of the removed past patterns from the Carol Doak Quilting Group on CDs and make them available for sale. It has been on my to do list for sometime to find them and organize in this format. I am pleased to announce that the first two patterns are now available in the web store. The first is the Anniversary Mystery Quilt (shown on the left) that I did for the group. The foundations for this quilt are very easy to make, but they combine to create a very dramatic medallion style quilt. The second, is the Scrap Buster Block of the Month (shown on the right). The quilt is made up of 12 blocks made from 4 to 9 units and finishing 12 inches. The premise behind this quilt is to use lots of different colors in each block each month. Color suggestions are offered. Putting these patterns on CDs so they can be easily printed from pdf files, make printing your foundations so easy and if offers you the resource to print the foundations more than once. Look for more patterns to be offered on CDs soon.
On Sale this Month: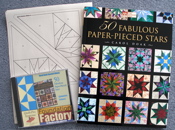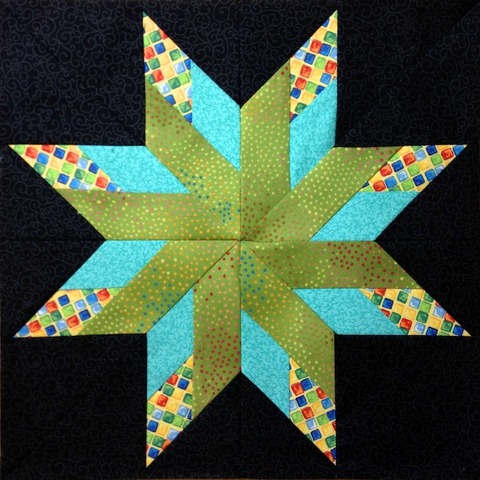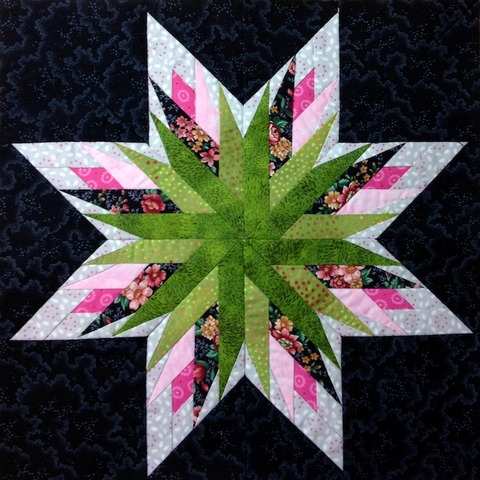 One of the members of the Carol Doak Quilting Group recently uploaded several different star blocks she was making from the 50 Fabulous Paper-Pieced Stars book. As i looked at the pictures of blocks with several pieces like the Illinois block in pink or very few pieces like the Delaware block in teal, I was reminded just how timeless and stunning these blocks are. Nicky has done a beautiful job making her blocks so in her honor I am going to place the Bundle of the 50 Fabulous Paper-Pieced Stars book and Companion CD on sale. Separately, these would cost $43, but I am going to place them on sale this month for $39.
Another thing that has been on my to do list is to create a straight-forward tutorial for paper foundation piecing connected to my web page. I just completed one and posted it to my blog. It should start the inexperienced paper-piecer down the happy paper piecing road. Just click on the link in the above title and it will bring you to the blog. You are welcome to share this link with your groups.
I am often asked about a good first book for to learn paper piecing. Although all of my books start at the beginning and teach the method, I typically steer people to the Simply Sensational 9-Patch Star book. The reasons I feel this is a great place to start is because the block size is perfect for a beginner, the blocks have very few pieces so there is little to think about and it contain an enormous amout of creative options for both blocks and quilts. It is a good starting place, but the book will be used time and time again in the later years.
Free Patterns Update:
You will notice a bit of a change in the free patterns page. First, you will notice that I have removed some of the older patterns and have uploaded the new Spring Fling block. I plan to continue to update this page, removing some of the older designs and uploading some new designs.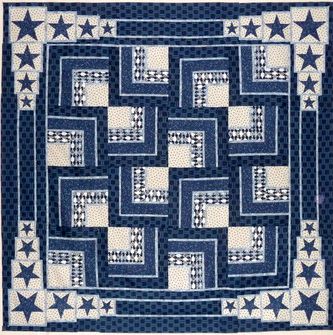 My oh my the group has been busy. Some of you may remember that I created the 5-Pointed Star last month in several sizes and challenged the group members to make something with these new designs. Well, Louise took this challenge to heart and created this fabulous quilt featuring the star blocks in the corners. Louise placed the larges block in the corner and had the blocks graduate down in size. I love the way her quilt turned out.
Other members have been equally creative with their designs and I look forward to pulling a random winner at the end of the month.
We now have 7,792 members in this group and I have already heard the noise that we are only a couple hundred members shy of 8,000. Our veteran members know when we hit the magic 8,000 number, I will upload a new design for the group.
If you want to join in the fun, just click on the link above.
Here is hoping you have a super month of May and I will be back in June to share the latest.
All the best,
Carol