back to archive
April 2015 CAROL DOAK NEWSLETTER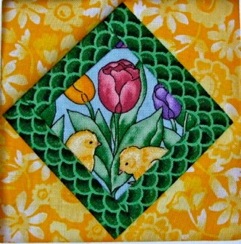 After the winter the northeast had, the thought of spring blooming around the corner is met with great joy and anticipation.
This little block on the left is a block from the 50 Little Paper-Pieced Blocks book. It is perfect for featuring any fabric you like in the center and then framing it with coordinating fabrics.
The tulips and little chicks seemed appropriate for spring.
Will the bright colors of spring inspire a new color combination for your next quilt? It is always a joy to see the burst of colors after the long cold winter.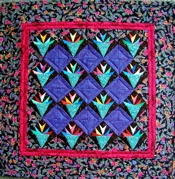 Big Savings are found in the web store this month! Here are some of the highlights.

There are only a few patterns left in the printed pattern close-out section. These patterns come with all the directions and the printed foundations on Carol Doak Foundation Paper. They are fun to make and make great gifts for friends. At the $4 close-out price, they are a bargain that won't last long.

Don't forget to add on the Add-An-Eighth ruler when you order these patterns if you don't have one. They are perfect for trimming the seam allowances to reduce the bulk in these smaller patterns.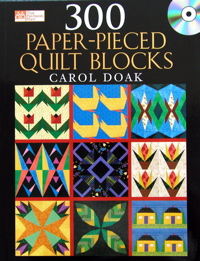 Find paper-pieced blocks for almost every theme, occasion, and style imaginable. Print patterns in minutes with the included easy-to-use CD-ROM!

These 3" and 4" block patterns-- 300 of them!--feature traditional blocks, seasonal and holiday themes, alphabets, numbers, and much more

You can print patterns on the spot using a home computer--even resize or make multiple patterns with the click of a mouse.

Beginners can create perfect patchwork; just follow along the lines for perfect results every time.

Find quilt-block patterns for almost every theme, occasion, and style imaginable in bestselling author Carol Doak's most block-packed book ever! Save $10 off this book this month!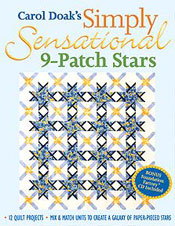 104 pages, 81/2" x 11", full color and includes the Foundation Factory CD computer program to print these foundations.

Mix-and-Match units, 50 NEW 12" state star blocks and endless star possibilities. Combining these simple units offer the opportunity to produce over 2500 9-Patch Star Blocks!!!!!!
12 Sparkling quilt projects presented in a variety of sizes
Make perfect stars every time!
Easy for beginners, splendid for advanced quilters

Bonus CD-ROM - print the patterns in different sizes, so you can star gaze to your heart's content. Save $10 off this book this month!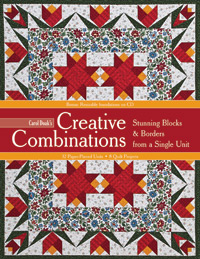 It comes with 32 new paper-pieced Units. There are 24 rectangular units and they can be used as border units, or they can be used as half block units. Now you can make 12" blocks using two halves! There are 8 corner units that can be used to turn the corner or they two can be placed in a four-block rotation setting. Now, the icing on the cake is the Foundation Factory CD that permits you to print the units in any width and any size. Just mind blowing! Never struggle again getting that border to fit the size you want. Using this new rectangular block approach, the quilt projects in this book are not only stunning, they are so different from the run-of-the-mill quilts. The Foundation Factory CD included in the book is the latest version running on the older operating systems plus the newest MAC and PC operating systems. This book is destined to be a ground breaker in the world of paper piecing. 112 pages, pull-out section and Foundation Factory CD. See the book and legal size foundation paper option in the Bundle section and save. Save $10 off this book this month!
Craftsy
Both of my Craftsy classes are still going strong with new students joining daily. Mastering Foundation Paper Piecing and Paper-Pieced Stars have thousands of students who have discovered a great way to learn directly from me and receive lots of free patterns included.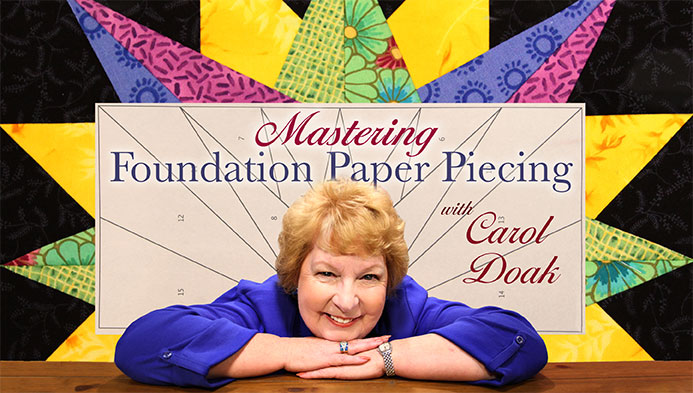 www.craftsy.com/ext/CarolDoak_169_H Use this link to receive $20 off the price of the Mastering Foundation Piecing class.
ww
w.craftsy.com/ext/CarolDoak_477_H Use this link to receive $20 off the price of the Paper-Pieced Stars Class
On the Road....

The 2015 Cruise on the Quantum was simply the best. The "Blue Diamond" Mystery was a huge success! The next cruise in 2016 will be announced soon...
Keep on smiling and may all your points be perfect,
Carol