back to archive
JANUARY 2015 CAROL DOAK NEWSLETTER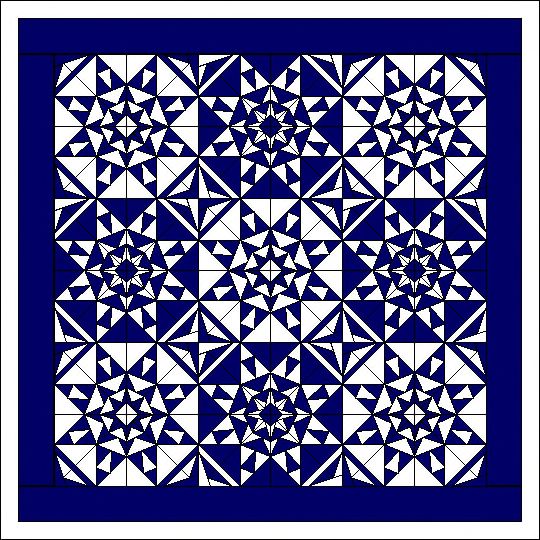 Happy New Year everyone. With all the wonderful hustle and bustle of the holidays, I have always loved the calm of January. Putting away things, a new year, a frest start, setting new goals, and getting organized are some of the things that I look forward to in January.
I decided to play around with the idea of a Snowflake Star and came up with the quilt idea on the left. It is a dramatic star and with just two colors, it makes quite a statement. You can use just two color or you can play around with adding different colors to create new designs.
I just uploaded this pattern to the Carol Doak Quilting Group. I can't wait to see how they use it in their wonderfully creative ways.
I have also uploaded the pattern to the Free Patterns Section of my web page. When you make something using this new block, please send me a picture. I would love to see how you used it.
I hope you had a chance to take advantage of some of the wonderful sales that ran in my web store the past few weeks.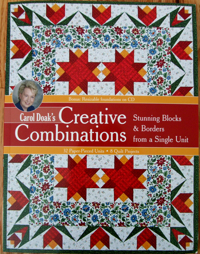 I decided to choose my new book, Carol Doak's Creative Combinations, as the book of the month and put it on sale. Save $10 and have a variety of rectangular blocks and square blocks to create both borders and quilts. It comes with the easy-to-use Foundation Factory CD to print the foundations in the size you would like .
Here are just two of the 37, Five-Star Reviews this book has earned.
"Love paper piecing, you can make some of the most incredible blocks and each one is perfect. I am such a fan of Carol she makes such beautiful blocks and I love when you put these blocks together you have a beautiful quilt, table runner or wall hanging."
"No one can beat Carol Doak when it comes to teaching and giving ideas for paper piecing. This is her most recent book, and I am thrilled to own it. It has the best inspiration for planning your own large or small quilt!"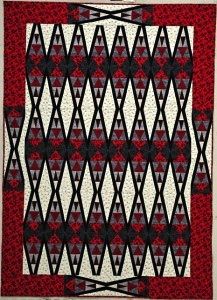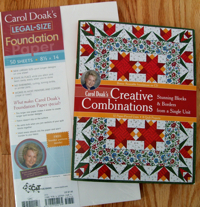 If you want to include the Legal size foundation paper with your book, I have also reduced the price of this combination to reflect the price reduction for the book. If you have not yet made a 12" block by making two 6" x 12" foundations, you are in for a treat.
The quilts in this book are some of my favorites. There are several quilts that are perfect for the men in your life such as the Arrowhead quilt on the right.
SIMPLY SENSATIONAL 9-PATCH STARS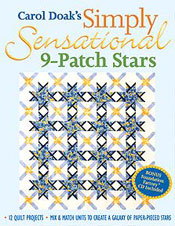 I received notice from my publisher that the Simply Sensational 9-Patch Stars book has gone out of print and is now available via Print-On-Demand.
The good news is that I still have copies of this book. It is the book I suggest for all beginners and lovers of paper-pieced stars. It has simple foundations that also permit you to make other classics such as Storm At Sea. Take advantage of the sale price and the availability of this book while it lasts.
This is what one of the many 5-Star Reviewers stated:
"I just love this book. I have it laying out to dry right now, I have drooled on every page. This book is fabulous, I can't believe how many different star patterns have been included in it. The step by step instructions look are so easy to follow also. I am going to make several of the patterns. I am so glad Carol included layout combinations using different star patterns. What a great idea. And it even comes with a wonderful CD that is just fabulous! This is a "must have" book for beginners and experienced paper piecer's."
Carol Doak Quilting Group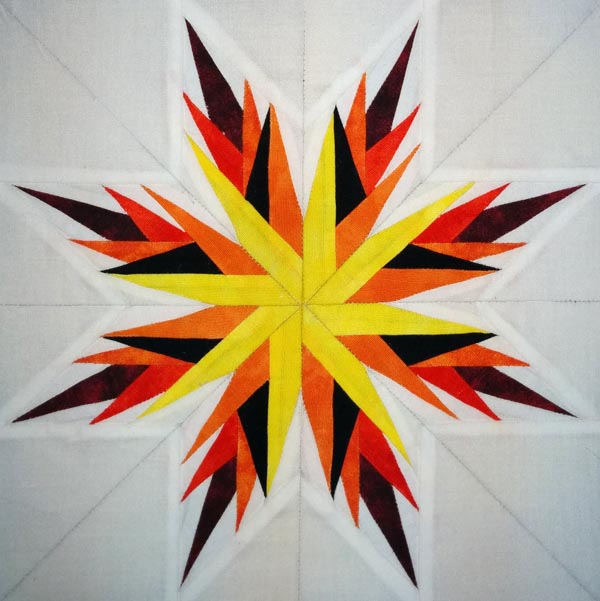 It never ceases to amaze me what the 9 thousand plus members of the group do with the patterns I upload for them to use. This past December, I uploaded a pretty dramatic star calling it a holiday star. Debbie, who happens to live in Israel, reduced the size of the foundations and made this strikingly beautiful block. Another member put stars together to create a table runner. Other members used totally different color combinations for their blocks and the results were quite different. I think that is one of the big advantages of being a member of this group. You not only have access to designs that I often only make available to this group, but you have their support and sharing. If you want to join in the fun, please do.
https://groups.yahoo.com/neo/groups/CarolDoakQuiltingGroup/info
Craftsy Courses
My two courses are running very smoothly with lots of new students and new projects being uploaded. I love to see what the students are able to achieve by receiving my instructions via an online video. I think that is a testament to the skill of the Craftsy's production team. Really with thousands of students, I receive just a handful of questions each week.
Paper-Pieced Stars Five-Star Review
"Having done my first paper piecing years ago, I liked it, but never knew any of these tips. I made huge messes of thread, fabric pieces and paper, and was SO disorganized. This class has taught me so much about doing the best job possible, AND being organized. This is my second Carol Doak class, and I love it!"
Master Foundation Paper Piecing Five-Star Review
I'm about half way through and although I have done a lot of paper piecing (all self taught) I have learned so many new hints and tricks. Carol is also enjoyable to watch and the videos just fly by! Thank you so much.
If you would like to give it a go and try one of the courses, use the following links to receive $20 off the Paper-Pieced Stars course www.craftsy.com/ext/CarolDoak_477_H and this link to receive $20 off the Mastering Foundation Piecing Course www.craftsy.com/ext/CarolDoak_169_H
Until next time, may all your points be perfect,
Carol