back to archive
OCTOBER 2014 CAROL DOAK NEWSLETTER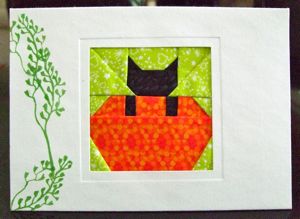 Fall is in full swing here in New England. There is a chill in the air and the trees are ablaze with beautiful colors.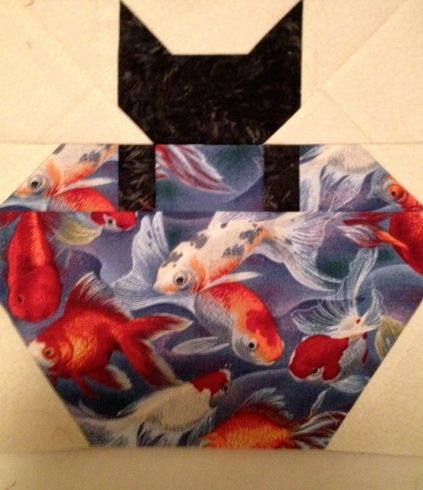 I have lived in New England for all but 2 years of my life and I am always in awe of the beauty of this season.
I thought I would share a picture of the "Cat in A Pumpkin" block that is available in the FREE PATTERNS section of my web page. Now I love it when a quilter takes an idea that I throw out there and puts a different twist on it. Pam Toombs took the Cat in the Pumpkin and turned it into a Cat in a Fish bowl! How cute is that? The block is the perfect size for the Carol Doak Keepsake Cards. Now would be a good time to stock up on the cards for the upcoming holidays.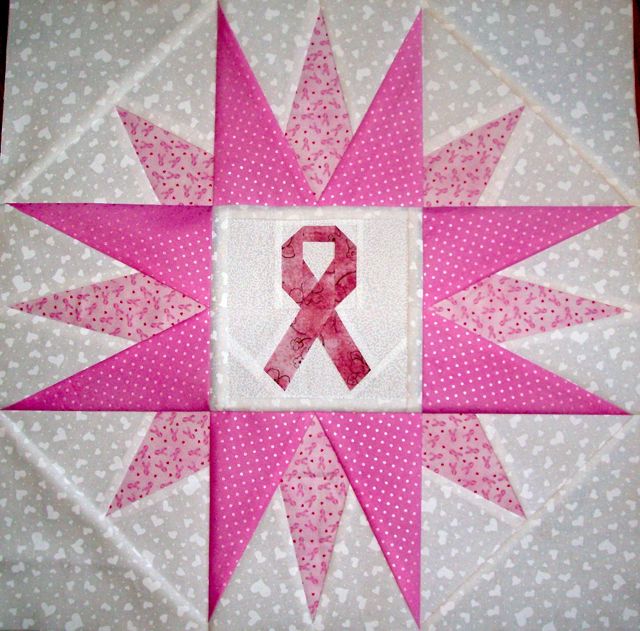 Since October is Breast Cancer Awareness Month, I encourage everyone to be proactive regarding self breast exams and mammograms. Finding Breast Cancer early is one of the best things you can do for yourself. It was about a year ago that I found out I had Breast Cancer via my annual mammogram. I can tell you that they are doing amazing things to eliminate this awful disease. It is important for you to do your part.
The Pink Ribbon on the left is another FREE PATTERN. The point and corner blocks are from the Simply Sensational 9-Patch Stars book.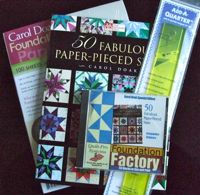 Yeah! My brand new Craftsy Paper-Pieced Stars has launched. In honor of this class I put together a bundle of items that saves you $10! That is like getting either the ruler or the paper for FREE!
The bundle contains the 50 Fabulous Paper-Pieced Stars book, the Foundation Factory Companion CD to print the foundations in this book, a package of paper and the 12" ruler. Everything is here to get you started down the road to success!
Book of the Month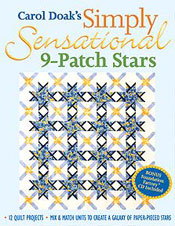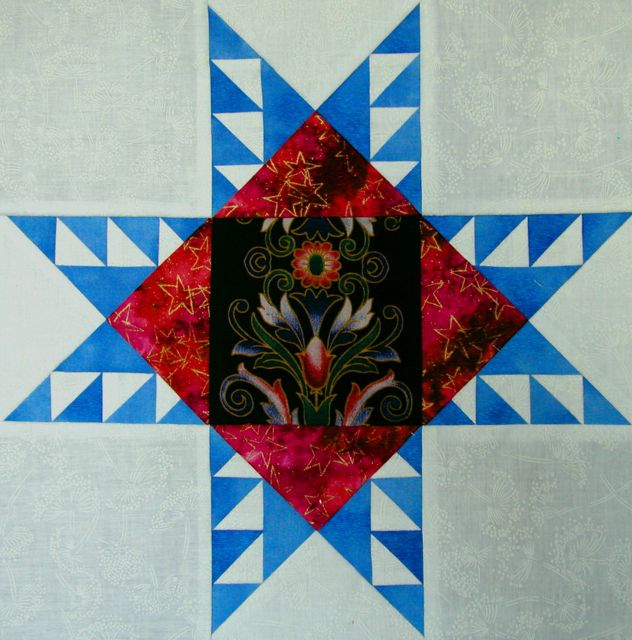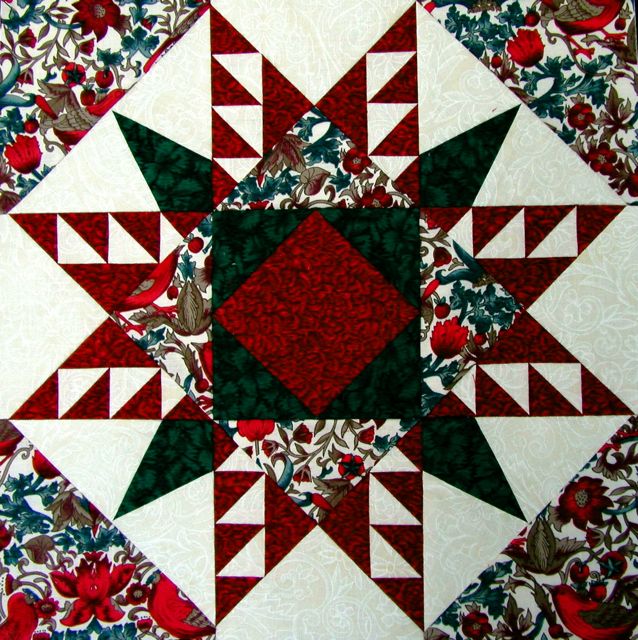 If you do not already have this book in your library, now is the time to purchase it and save $10 off the price. It comes with the Foundation Factory CD to print your Foundations. There are point units, corner units and center units that permit you to make 2500 Star blocks and so much more.
My New Craftsy Paper-Pieced Stars Class
I am absolutely thrilled with the way my brand new Craftsy Class came out. I designed brand new block designs and quilts for this course. It just launched and so far the reviews have been amazing. I loved making the blocks and filming this course. It is a great way to learn when you want and watch it as many times as you want. Here are some of the 5 Star Reviews!
"Definitely learning new tricks, even though I have done some paper piecing before. And I like Carol's teaching style which is easy to watch."
"I'm really enjoying this class since I haven't done paper piecing in a while the review is great and I picked up a few tricks I might have missed in Carol Doak's first paper piecing Craftsy class."
"I liked the first Crafty class but I LOVE this one! Thanks"
"Hello Carol I am just loving your new course. What is thrilling me is how you have add a special touch for us to join the 2 halves and then stitch no. 5 - 7 across both sections. That is so clever. Ps. I love your little tools. On my shopping list. Cannot wait to see what special new techniques you have to show us next. Thanks"
Just click on the picture above and it will take you to the Craftsy site where you can sign up and receive $10 off the price of the course. Or use this link www.craftsy.com/ext/CarolDoak_477_D
BTW, you are welcome to share that link with your friends so they too can receive $10 off the price of the class. To make things interesting, let me know where you shared this link via my email by Oct. 30 and I will pull a random winner of a free book from me! Include your name, mailing address and where you shared the link and send it to Qcarol@comcast.net

The Carol Doak Quilting Group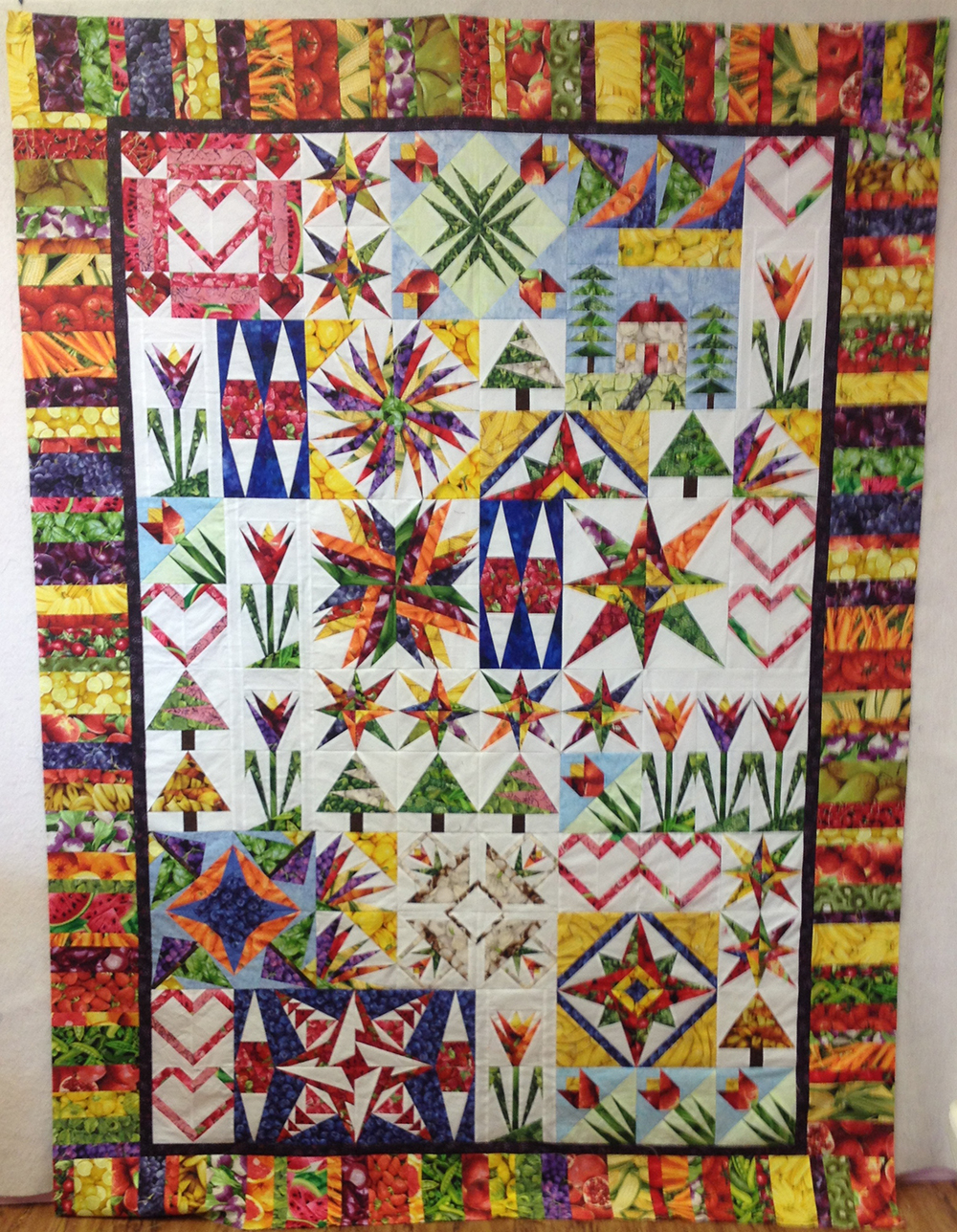 The members have been catching up on assembling their Scrap Scramble quilts and posting pictures. This one was made by Grace and she used all fabrics with fruits and vegetables on them. Grace did a great job making her blocks and assembling her quilts.
Members never cease to amaze me with their creativity. If you would like to join in the fun, please do. Just click here to join. It doesn't cost anything and you receive the benefit of free patterns that I distribute to the group.
It is also fun to hang out with other quilts who enjoy paper piecing and share their projects.
Until next time may all your points be paper pieced!
All the best,
Carol