back to archive
SPECIAL NOTICE: PAPER-PIECED STARS HAS LAUNCHED!!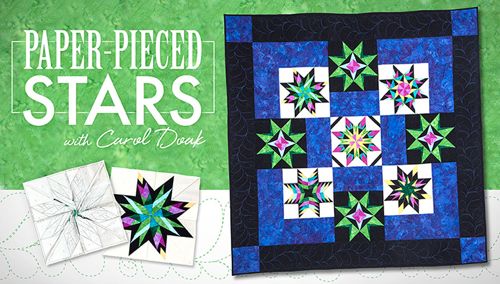 I am so pleased and excited to announce that my new Craftsy Class, Paper-Pieced Stars, has just launched. This series of lessons is packed full of all my tips and tricks for paper piecing star blocks. I designed these NEW star blocks for this class. You will learn about paper piecing, organizing your fabric, choosing fabrics, joining blocks perfectly, dealing with the center seams, mixing and matching units, eliminating merging seams, removing a piece easily and so much more. Here is the good news. If you click on the picture above, you will receive $10 off the price of the class. If you have any questions about the class, please feel free to email me at Qcarol@comcast.net
Special at the Web Store-In Honor of the Craftsy Paper-Pieced Stars Course- Save $10!!!!- Click Here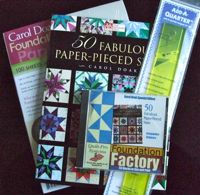 I am so excited about my new Craftsy online course, Paper-Pieced Stars. In honor of this class I have put together this bundle of a package of paper, the 50 Fabulous Paper-Pieced Stars book w/video CD, the Foundation Factory Companion CD to print the foundations in this book any size and the 12 inch Add-A-Quarter ruler. These items total a retail cost of $62.90. But here is the really good news, I am going to offer it for $52.90. Essentially that means you are getting the ruler or the paper for free! Don't miss out on this bargain!!
I will see you there!
All the best,
Carol