back to archive
SEPTEMBER 2014 CAROL DOAK NEWSLETTER

Autumn is just around the corner. Although I am sad
to see summer leave, I have to admit I do love this
season. Living in New Hampshire, we are treated to
the spectacular colors of the season. The farms are
busy with apple and pumpkin harvests.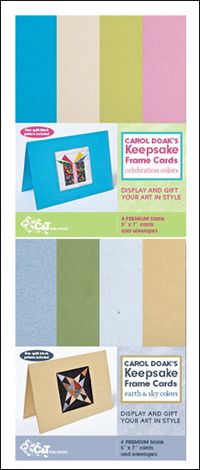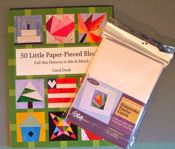 ON SALE FOR A LIMITED TIME!
You will be able to create perfectly pieced 3" quilt blocks in a variety of themes--from hearts and flowers to airplanes, birthday cake and holiday designs. Secure them inside your Carol Doak Keepsake Cards for gift giving and artistic display.The paper looks handmade...as soon as you feel the envelope, you know something special is inside. You can use rubber stamps to add a message on the outside. With the tri-fold and double-stick tape, they are so easy to use. You always have a card on hand for any occasion. There is one free block design in the package. Included are 4 premium blank 5" x 7" cards and envelopes. Don't forget to add a package of the Celebration colors and the Earth and Sky colors to your order. If you order the two-package bundle, you will save $6!!!
Book of the Month - On Sale For a Limited Time!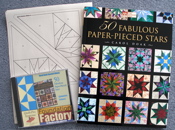 50 Fabulous Paper-Pieced Stars --This book is a must for every quilter's library!
With the simplicity of paper piecing, quilters at any skill level can create beautiful, elaborate star blocks in a snap! There 50 original paper-pieced star blocks, all broken down into easy steps that any quilter can complete. Includes: Step-by-step instructions for 50 paper-pieced star blocks, all made from four-block units to create 12" stellar designs ideas for mixing and matching star blocks to create fascinating original designs and intriguing secondary patterns. Full-color pages filled with inspiration for using Carol's blocks in a variety of quilted projects. Free bonus VIDEO CD-ROM included. Watch as Carol demonstrates her easy paper-piecing techniques, right on your computer screen.
Receive both this best-selling book and the companion CD for both MAC and PC computers to print the foundations at a reduced price when purchased together. You'll be all ready to print foundations and make these stunning stars.
The group has been very busy as members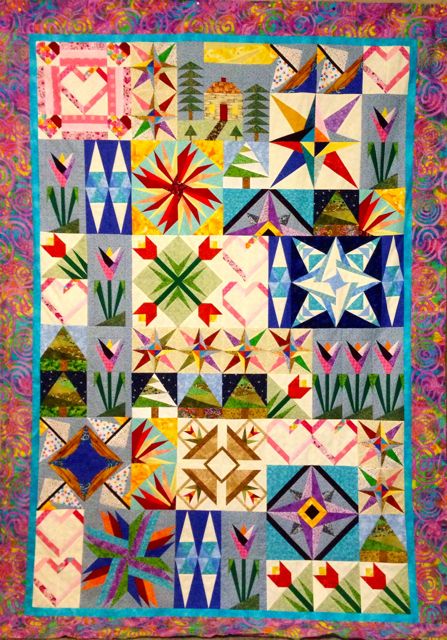 have been working on assembling their Scrap Scrample quilts. I offered the final block in August. We have about 15 tops already uploaded by members to share. They are as varied in scrap theme as the scraps in their quilts. Here are just two of the completed tops. The top on the left was made by Marjorie and the top on the right was made by Nicky. I think this was a fun project for everyone as they complered their blocks each month using scraps. I doubt this project made a dent in their scraps, but at least they have a spectacular quilt to show for their year-long effort. I have not announced the next Block of the Month yet, so this would be a really good time to join the group and join in the fun. No pressure, just work on things at your own pace. I'll see you there.
On the Road Again
Actually, I was on the road again and have now returned. I will be able to announce later this month, my exciting surprise....stand by!!!
All the best,
Carol