back to archive
MARCH 2014 CAROL DOAK NEWSLETTER
First and foremost I want to thank and acknowledge all the wonderful emails I received last month upon my announcement that I had breast cancer. I read each one and appreciated all your kind words and thoughts. I began responding to everyone, but pretty soon it was obvious that a personal response to each email would be a monumental task. I made the decision that I could not continue to respond. I hope you will forgive me if I did not respond personally to your email and accept this thank you from the bottom of my heart.
I live in New Hampshire so at this time of the year, hope springs eternal that warmer weather is just around the corner. The temperatures are still cold and the ground covered with white, but I do know that spring is coming. The lovely block at the left is the March Scrap Scramble block that I uploaded for the Carol Doak Quilting Group. This block was made by Nancy. It is really fun to see everyone's interpretation of this block using their scrap fabrics!
Book of the Month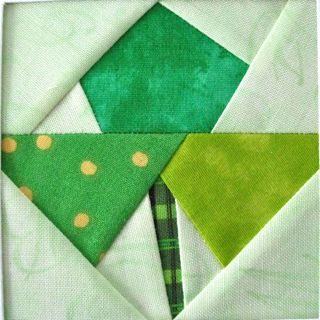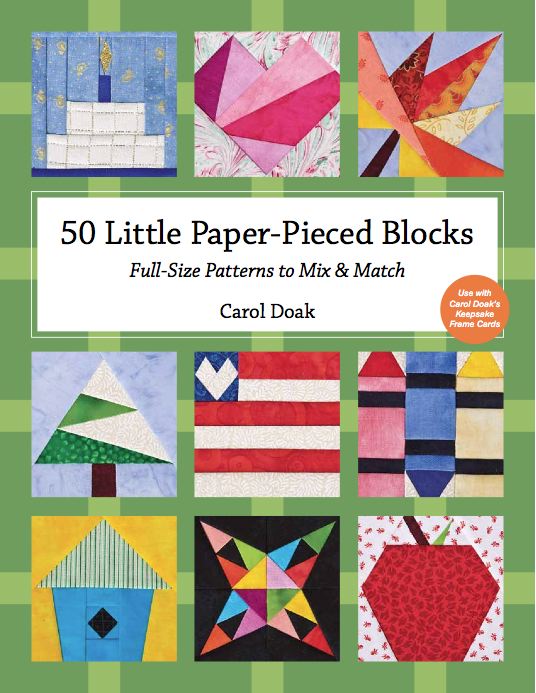 It is almost St. Patricks Day when green is a very important color. As the seasons and holidays come around, I am so pleased to know that I have a block that would be appropriate. The 50 Little Paper-Pieced Quilt Blocks book has them all covered.
Originally I designed these blocks to be used in the Carol Doak Keepsake Cards but they can be used for lots of other items. How about mug rugs, placemats, table runners or small quilts to decorate for the holiday? How about a little something for a friend that needs a little pick-me-up?
Take advantage of the fabulous sale price this month to add this gem to your quilting library or $9.99
Notions of the Month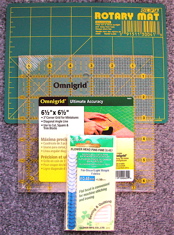 I put this bundle together because they are some of my favorite paper piecing tools. The little mat is perfect for a spot next to the sewing machine to trim when making small blocks. The extra fine flower pins go through the fabric and paper like butter. Once you try these pins, you wll never go back.
The Omniqrid square ruler is perfect for trimming the outside edges of small blocks. I like the yellow lines because they are so easy to see when trimming two sides of a small block.
You can also use this ruler when taking measurements. Take advantage of the on sale price this month to add these valuable tools and make your paper piecing even more fun!
Don't forget to browse through the store to find the surprise sale items!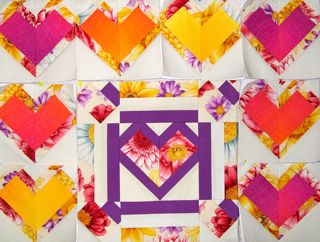 Last month the Scrap Scramble Block of the Month was a group of heart blocks. The results were really fun to see. The colors and scraps used covered a really wide range. The floral hearts at the left were made by Denise. The discussion lately has been how a literal block really doesn't need to be made using literal fabrics. That concept just adds to the creativity of this wonderful group of 9,000 plus ladies.
The designs for this mystery were distributed starting in September so we have several months yet to go. I can't wait to see what everyone's quilts look like at the end. It should be fun. All the designs are still available so you too can jump in and make your scrap scramble quilt. Just click on the link above to join the group.
Carol Doak`s Mastering Foundation Paper Piecing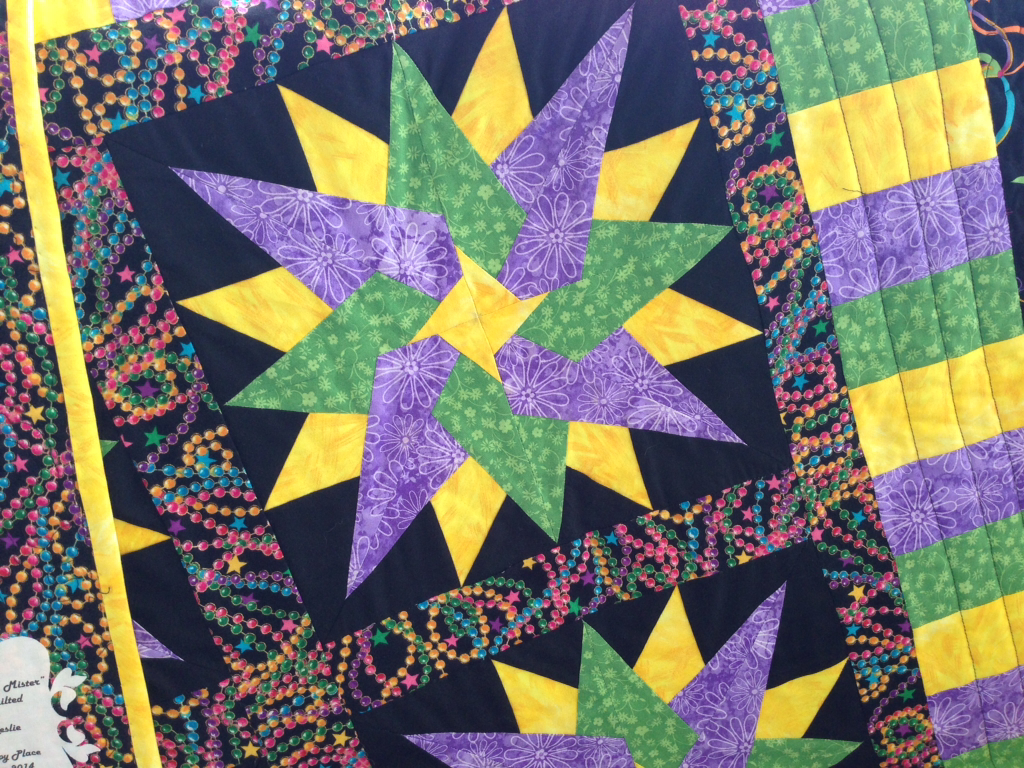 It has been almost a year since my first Craftsy Class, Mastering Foundation Paper Piecing was launched. If someone had told me that I would have over ten thousand students who have taken this class, I would have never believed it. If someone had told me I could manage a number like that, I would have never believed them. But honestly, I check once a day and have one or two questions from students. I think that is a testament as to as well this course has been presented to the students. I think the ability to really see what I am showing and being able to access exactly what you would like to review is so important. I love seeing what the student's are learning via this course. The close-up on the left is one of the free patterns used by Madeline to make a quilt she calls, Madi Gras-Throw Me Something Mister. I love the theme and her colors. It is great to see the students do so well. Just click on this link www.craftsy.com/ext/Doak_169_H to sign up for the course for only $14.99. That is half price and a tremendous value!!!!
Thank you all again for your support and kind words,
Carol