back to archive
OCTOBER AND NOVEMBER 2013 CAROL DOAK NEWSLETTER

Since I am so late getting out the October Newsletter, I thought I would combine October and November this time. The autumn has been spectacular here in New Hampshire and now I am looking forward to the cooler temperatures. The blocks above were made by Pam for the brand new Scrap Scramble Mystery BOM that I am designing for the Carol Doak Quilting Group. These were for the first month, September. I will chat more about this project further in the newsletter.
LIMITED TIME STOCK UP SALE!!!
I figure with a busy time of the year coming up, now is a good time to stock up on those items you use all the time. Soooo, I am creating a stock up on paper and Carol Doak Keepsake Cards and putting the items on sale!
Carol Doak Keepsake Cards-Perfect for the holidays!!! Use them to display photos, and paper-pieced blocks!
Just click on the link BUNDLES in the web store to see these new stock up sale items!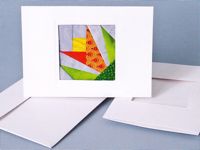 Stock up purchasing 4 packages of Carol Doak Keepsake Cards - White, regularly $39.80 for only $34!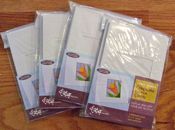 Stock up purchasing 2 packages Celebration Colors and 2 packages Earth & Sky color, regularly $43.80 for only $38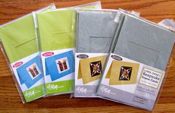 Stock up purchasing 2 packages white, 2 packages Celebration and 2 packages Earth & Sky, regularly $63.70 for only $55.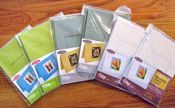 Stock up purchasing 6 packages of regular size foundation paper, regularly $59.70, for only $50. That is like almost getting one package free!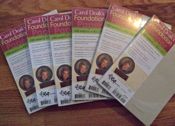 Stock up purchasing 4 packages of regular size foundation paper and 2 packages of legal size paper, regularly $55.70, for only $49...again, almost like getting 1 legal size package free.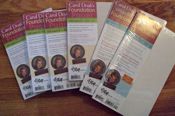 And I should put one of the books on sale so I am going to select the Carol Doak Creative Combinations for the book of the month.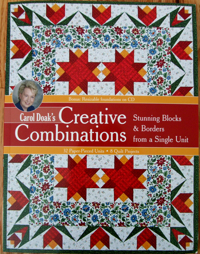 It is perfect for whipping up quilt, table runners and lots of other gifts for the holidays. Just to get your creative juices flowing I quickly designed a holiday runner using Unit 18.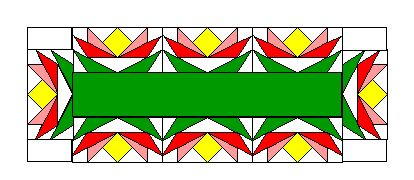 Take advantage of the ON SALE price for this book. I offers sooooo many creative combinations, comes with the Foundation Factory CD and full size patterns.
CLEARANCE SALE WHILE SUPPLIES LAST!!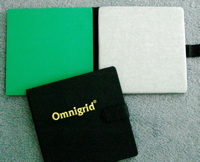 MINI- FOLD AWAY
I do love this product, but I have made the decision to discontinue selling this product in my web store because it is difficult to mail. My decison is your gain. I have a limited number of these and I am going to reduce them from $21 to $16. If you want one at this greatly reduced price, don't wait, because once they are gone, there are no more.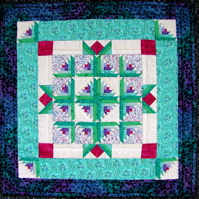 SEVERAL OF THE MINIATURE QUILT PATTERNS ARE ON SALE!
The patterns come with all the directions and the pre-printed foundations. Take advantage of the ON SALE PRICE to stock up. These make great gifts!

The group has been very creative lately. In September I began a new Block of the Month Mystery called Scrap Scramble. Each month I upload a block and members used scraps to make the blocks. I show them where the block(s) will be used in the quilt but nothing more. So far, they are doing great! The trees are coming in all different types and colors. Who knew so many colors could be so striking. I have already designed the block for November and I will put it up soon. It will be a basket design, but don't tell the members...giggle.
If you want to join in the fun, please do.
Craftsy Class Updates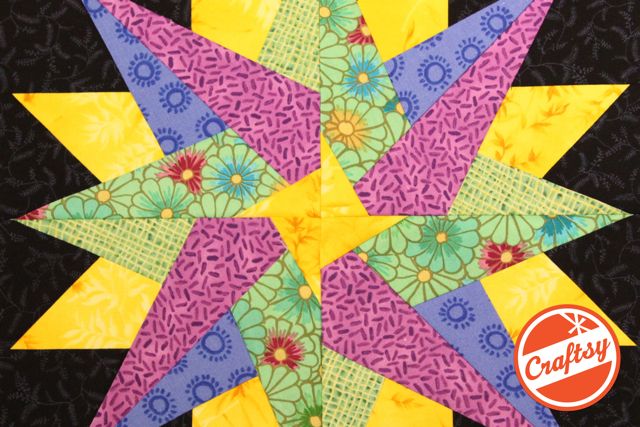 Wow, who would have thought that over 6,000 people would have signed up for Mastering Foundation Paper Piecing at Craftsy. Click on this link and join in the fun at 50% off!!! www.craftsy.com/ext/masteringfpp
It is a tremendous value. You get several patterns, an e-book of the 50 Little Paper-Pieced Blocks, you can access anytime you want with lifetime access. You can make me repeat things over and over and you get to watch exactly how I paper piece with all the little tricks.
Until next time...hope you are smiling,
All the best,
Carol