back to archive
JUNE 2013 CAROL DOAK NEWSLETTER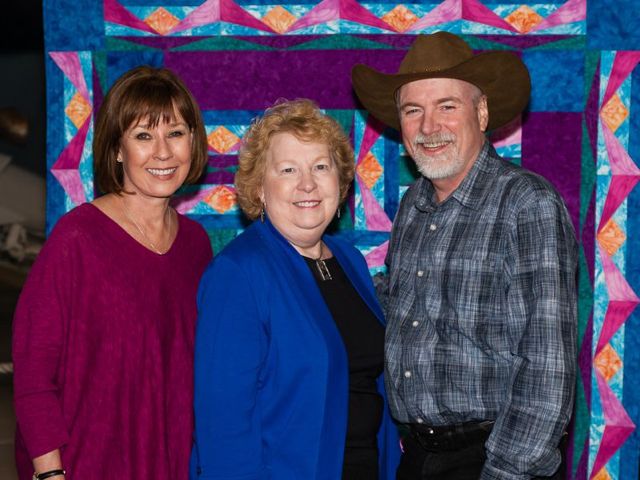 It is almost here! As I mentioned in an earlier newsletter, I had the privilege of traveling to Charleston, SC earlier this year to tape a show for THE QUILT SHOW aboard the USS Yorktown. It is always fun hanging out with Ricky and Alex and this trip was no exception.
My show will air on Monday, June 17, 2013. The focus of my show is playing with Alex and Ricky to show all the creative options available in my new book, Carol Doak's Creative Combinations.
Want a sneak peak at some of the photos from the shoot? Click Here
Mark Your Calendars! They will open up my Episode for *my* customers to watch for FREE! They have it scheduled from *June 23 – June 30, 2013 * They have also given me a link where my customers can receive a discount on a TQS membership. This way, anyone joining during the week will have an opportunity to see my show and other fun things they have to offer on the website.
https://www.thequiltshow.com/os/create_account_2.php/alias/carol_doak/coupon_number/237112472029
Another bonus....
The coupon code for my new subscribers to receive a discount of 20% when joining is: 237112472029.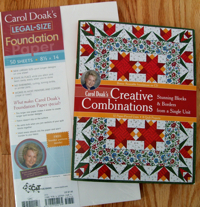 In honor of my appearance on The Quilt Show, I am going to put the new book and package of legal size paper BUNDLE on SALE for the rest of the month. (Click on the Bundle link and look towards the bottom of this page.) Don't miss this opportunity to add this book that is receiving 5 Star Reviews to your library.
Here are some of the reviews:
I just received my book!!!! It is GREAT!!! I can not wait to start stitching!!!! I'm having problem deciding which one to try first!!! The combinations appear endless!!!!
Carol Doaks books are very easy to read and she gives exact measurements. Have not found this with other books/patterns. Her instructions are clear and easy for a beginner to understand.
There are so many possibilities for expressing your own creativity by using the basic elements presented in this book. The use of the Foundation Factory CD allows you to change sizes of patterns easily, and there are many options for combining different patterns. The hard part is just narrowing down your choices for your first quilt from this book!!
Be sure to browse about the store for some other bargains during the month of June.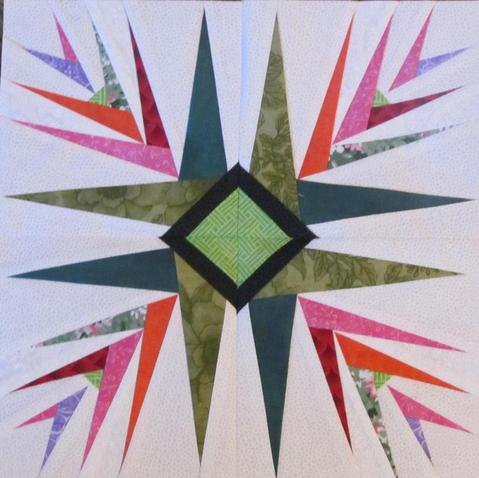 The group has been active. We are now 8,705 members strong! We just celebrated our 7th Anniversary. I always create a new block design when our anniversary rolls around. The block at the left was made by Mary D from Oregon and is called, Oh Happy Days!
Members are completing the Block of the Month Mystery Quilts and have also begun a Red, White and Blue Block Swap.
It is never dull around the group and always inspiring to see their accomplishments.
If you would like to join in the fun, please do. Just click on the link above. We love to welcome new members.
On the Road Again...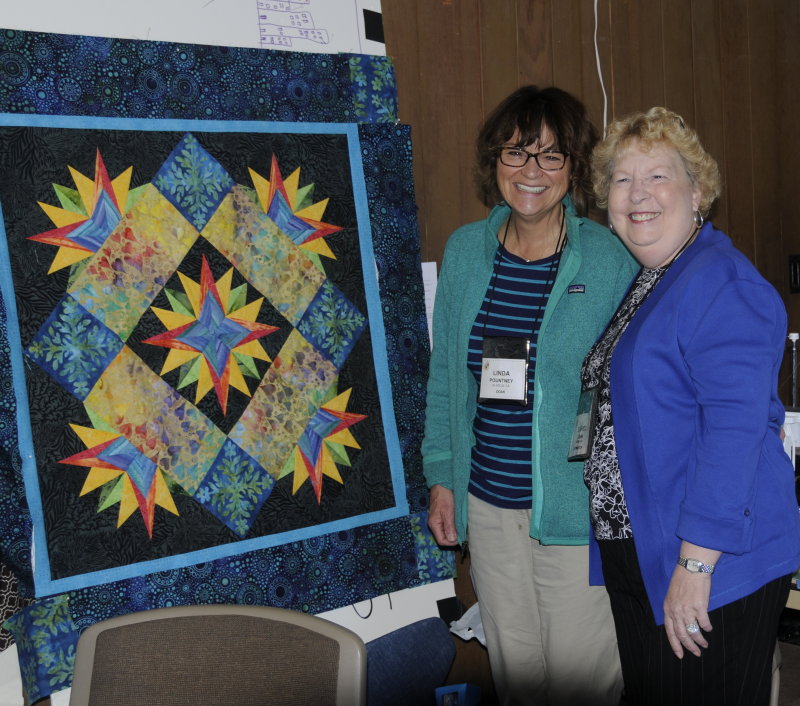 I just returned from a wonderful week teaching at Asilomar in California. I love the format of spending a week with a group of students because not only do I get to teach so much, but they get so much accomplished. Here are my two Lindas. Linda on the left is smiling at her Royal Radiance quilt and Linda on the right spent the week working on minis.
It is a beautiful setting and I have agreed to return in April 2015. Mark your calendars!
With my limted travel schedule, my next trip won't be until September when I travel to Vancouver to board the cruise ship for Hawaii. This cruise is sold out, but I believe there are still spaces available for my May 2014 cruise. Click here to read all about it.
Remember, you can always take a paper piecing course from me at Craftsy. This link will give you 25% off the course fee. www.craftsy.com/ext/masteringfpp25
Feel free to share the link in your newsletter and with your friends.
Until next time, please keep smiling...
Carol