back to archive
APRIL 2013 CAROL DOAK NEWSLETTER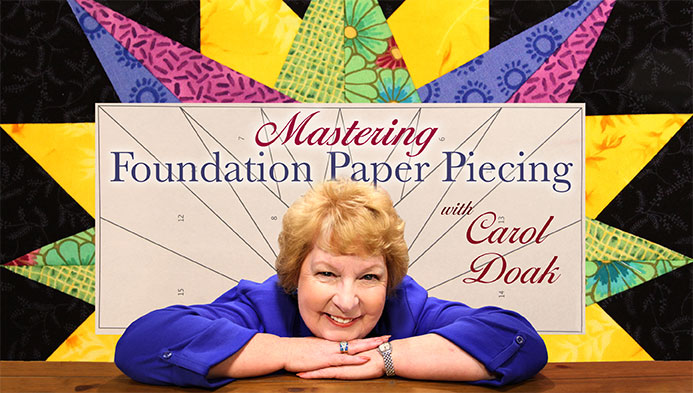 I am soooo excited! My course has gone live with Craftsy! When the people at Craftsy contacted me last year to do a course, I was delighted. I spent abou three months prepping the information, samples and images for the class. Then in January, I went to Denver for several days of filming. I structured the course as if a friend was coming to stay with me and learn all about paper piecing. Starting off slow with explanations, making that first block and then gradually moving on with a variety of types and styles of blocks. I wanted to share the tips and tricks that make paper piecing fun and what to do if there is a mistake. I wanted to share my tried and true methods so that paper piecing is an enjoyable experience. I am so excited about the edited final version of the lessons. They are everything I hoped they would be. Now, when someone says they would love to learn paper piecing from me whether they live next door or in South Africa, I know exactly what to say. Sure, come and play with me at Craftsy. The feedback so far has been amazing! In just one day, the enrollment reached over 1,000!!! As a bonus, you will receive an e-book of my book 50 Little Paper-Pieced Blocks. I think the course is a value to begin with, but receiving the e-book and 25% off if you click on the picture above makes it an amazing value. I hope to see you there!
PS: If you would like to have a link on your blog for your blog readers to save 25% off the class price, please email me at Qcarol@comcast.net and I will send you the link.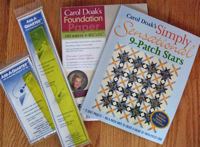 The Craftsy Bundle
In Honor of my new course, I have put together a Craftsy Bundle. This bundle includes the 6" and 12" Add-A-Quarter rulers, package of paper and the Simply Sensational 9-Patch Stars book. This group of items will get your through the course. You can always add addtional items later, but this is a great way to get started. Separately this group of items is $55 but when you purchase them in the bundle, you will save $5. When you go to the web store, click on the "bundle" link.
The Carol Doak Creative Combinations
The response to the new book has been amazing! Here is what quilters are saying once they received their books:
I just received my book!!!! It is GREAT!!! I can not wait to start stitching!!!! I'm having problem deciding which one to try first!!! The combinations appear endless!!!!
This book is so great. You can do so much with it and make many many designs. I just loved it and would recommend it to paper piecers.
This book contains many options for quilt blocks that can be used many many different ways. The use of these blocks is only limited by your imagination. Carol provides many options to get our creative juices going.
Soooo, I am going to designate this book as the Book of the Month for the first time and reduce the price. Take advantage of the reduced price this month to add this must have to your library.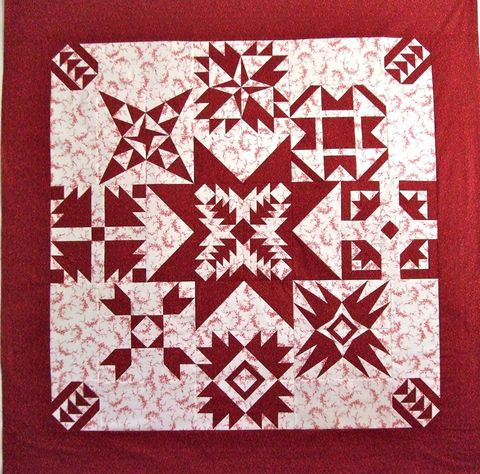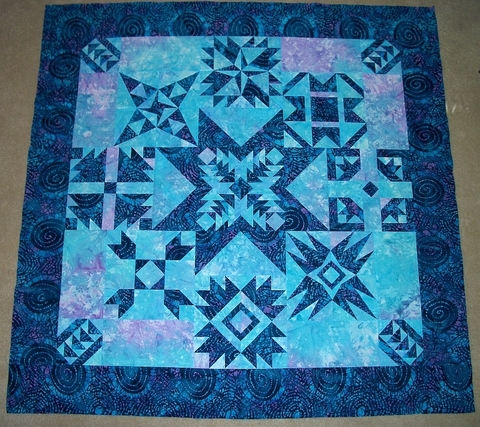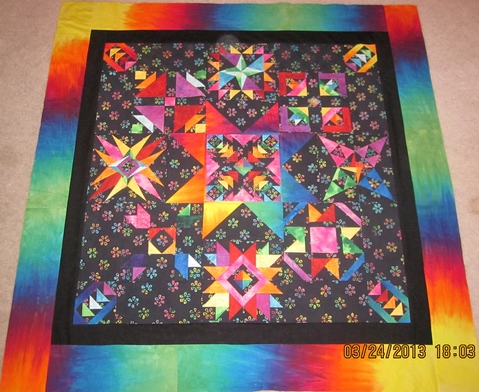 For almost a year now, I have been handing out block patterns to the group members. They have been diligently making them, not knowing how they would all fit together in this BOM Mystery Quilt. Well, last month the solution was revealed and members have been assembling their quilts. Some have followed my plan and others have ventured out with a new plan. What fun to see the results. The quilt on the left is the one I made and the solution I offered. The one in the middle was made by Carole D and the one on the right was made by Abby. They are all fabulous.
If you would like to play with us, please do. Just click on the name of the group above.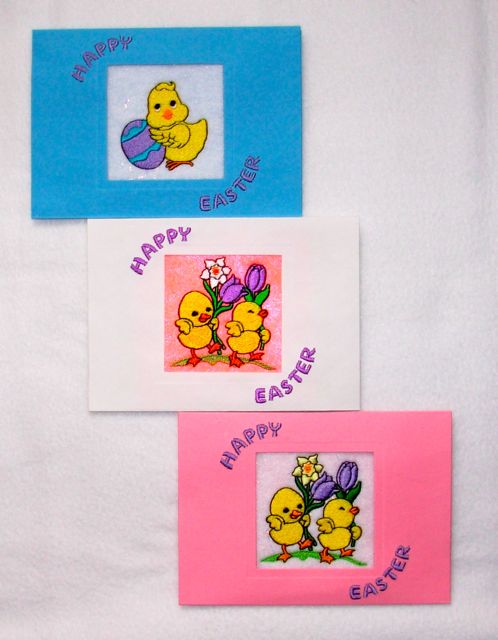 Kimberley Gavrus sent me a picture of her precious Easter cards that she embroidered on the new Carol Doak Keepsake Cards in the Celebration colorway.
It is always a joy to see what ya`all make!
Wishing you all a wonderful weekend and April. I can't wait to see the flowers start popping out of the ground here in New Hampshire.
Until next time,
All the best,
Carol