back to archive
MARCH 2013 CAROL DOAK NEWSLETTER
Carol Doak`s Creative Combinations

Yeah!!! The new book arrived and fantastic reveiws are coming in.
My book came today and it is fabulous!!! Just fabulous! Thanks so much. This is a wonderful book. Any paper piecer should have it. Clear and concise instructions and full size patterns plus a CD. like getting the world handed to you. Marilyn R
5.0 out of 5 stars

Once again designers and quilters get encouragement and projects to turn out beautiful finished products! Carol Doak never fails to help give us flight to our "mind's eye quilts".
5.0 out of 5 stars

Carol has done it again by bringing something new and exciting to the quilting world and paper piecing. This book gives us even greater opportunity for creativity with the use of her "double duty units" and instructions for completing a great variety of quilts. Upon receiving the book, I immediately turned out a cute table topper using one of the units introduced in this book. Fun, fast and creative. The rectangular units printed on legal size foundations quickly allow the paper piecer to dive into a new realm while gaining a sense of accomplishment. Thanks Carol Doak for sharing your gifts with the quilting community.
5.0 out of 5 stars

Carol has done a great job once again giving us many choices for stunning quilts.
Thanks Sew Much Carol Doak
ANNOUNCEMENT: ANY ORDERS PLACED IN THE WEB STORE BETWEEN MARCH 8 AND MARCH 17, WILL BE SHIPPED OUT ON MARCH 18TH.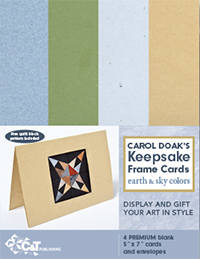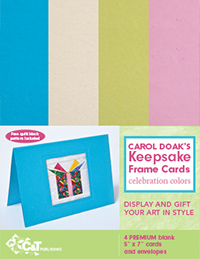 Just in time for the spring holiday cards, the new Celebration Colors and the new Earth & Sky Colors have now arrived for the Carol Doak`s Keepsake Cards. The colors of the cards and the matching envelopes are just stunning and really showcase the fabric you will use in the blocks. I am already planning special Easter Cards using the Crazy Patch Easter Egg in the 50 Little Paper-Pieced Blocks book and of course one of the baskets would also be perfect for spring time. The rich colors in the earth & sky package just provide a bit of elegance to the cards. The paper still has the rich hand-made quality. Your family and friends will feel so special receiving a card made just for them.
Be sure to check out the bundled options featuring the bundle of one of each of the new colorways and the triple play featuring the white, earth & sky and the celebration package. As nice as these cards are, do you want to know what I love best about them? Whenever an occasion comes up where a card is needed, I am always prepared to whip up a single block for my special card, being able to write a message just for that person and get it in the mail straight away. Speaking of sales, there are lots of opportunities to save with bundled items and special surprise sales.
Book of the Month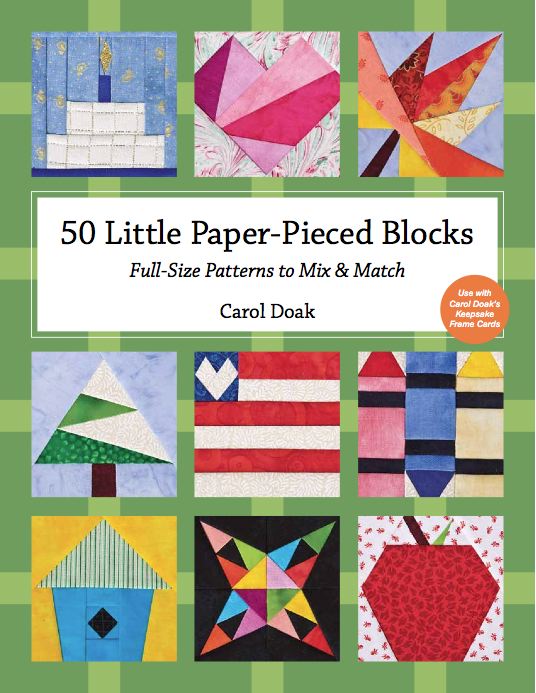 I decided to place the 50 Little Paper-Pieced Blocks book on Sale this Month as the book of the month. With all the card giving opportunities coming up and the new colors available for the Keepsake Cards, I thought it would be a good fit. This book retails for $12.95 and this month it will be on sale for $9.00. That is a whole lot of fun for $9. You will go back to this little gem time and time again to select a simple block to make for just the right occasion!
Now, you can trace a block, copy a block or you can scan the page into your computer. When I scan the page, I save it as a pdf and cut and paste just the finished block size into a Word document. Once I do that, I use the picture menu to size it to exactly 3" x 3". You can also cut and past more than one block to a page in the document.
The Carol Doak Quilting Group continues to grow and stay busy. We reached our latest goal of 8,500 members so of course I needed to create something special for the group. I decided to create the One Sunny Day small quilt for the group based upon using lots of scraps. The quilt on the left was made by Carole D. and the one on the right made by Mary D. It is really fun to see different interpretations of the same pattern in the group.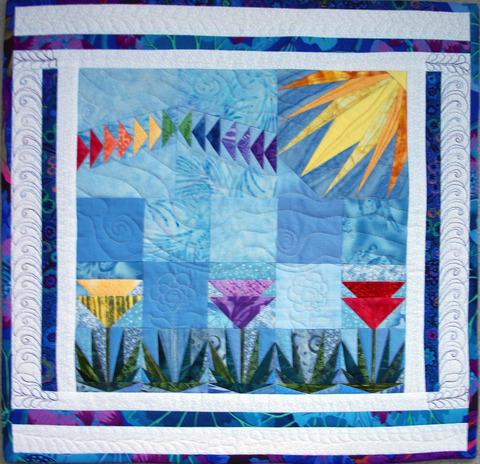 Group members are now working on the final block in the year-long Mystery Block of the Month. Lots of members are laying their blocks out in different guesses of the final layout. I will reveal my mystery solution very soon. There should be lots of wonderful eye-candy in the April Newsletter.
I expect the Craftsy Course to go live about mid March!!! The name of the course is Mastering Foundation Paper Piecing With Carol Doak. I am so thrilled to have the opportuntiy to present so much knowledge about paper piecing through this venue. It is pretty jam packed with patterns, an e-book, tricks of the trade, and 8 lessons! You get to watch on your own time. Did you know there was even an IPad ap? You get to take notes. You get to watch it again and again. You get to ask me questions and share your finished projects with me and other class members. Previously, you would have had to travel to where I was teaching about a dozen times to obtain all the knowledge I am sharing through this course. As many of you know, I have curtailed my travel teaching so this is a great opportunity for quilters everywhere to learn what I know about paper foundation piecing!
On the Road Again....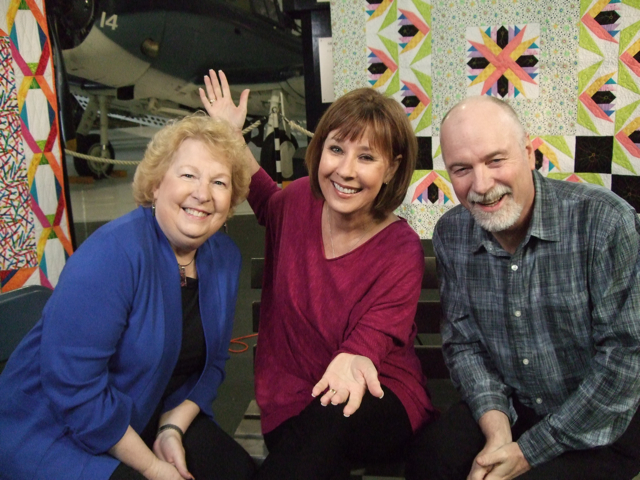 Actually, I just returned from Charleston, SC where I had the special treat of taping a show with my friends Alex Anderson and Ricky Tims. It was filmed on the USS Yorktown which is an aircraft carrier.
Pretty amazing to be aboard this floating museum!
During the show, I share with Alex and Ricky the fun of all the creative options available in my new book, Carol Doak`s Creative Combinations.
It was fun to watch Alex get into the swing of playing with all the options and Ricky loved the fresh approach this book has to design.
The show will air in early June. I will keep you posted.
My next teaching experience will be in California at the Empty Spools Seminar in May. I will be teaching a class called Paper Piecing and Loving it. I just checked the website and there appears to be space available at this time. Hope to see you there!
Until next time,
Carol