back to archive
FEBRUARY 2013 CAROL DOAK NEWSLETTER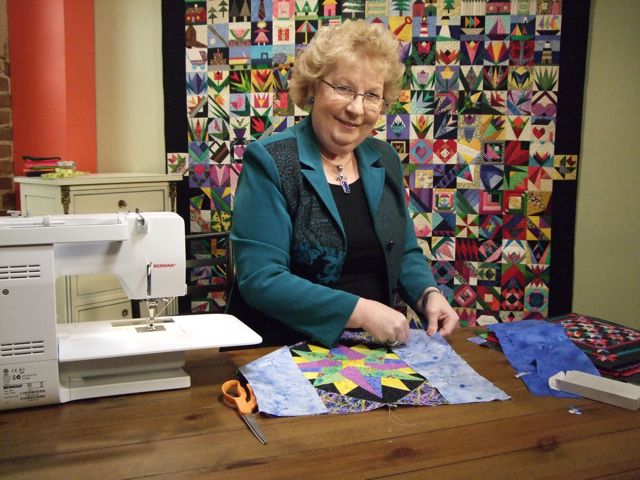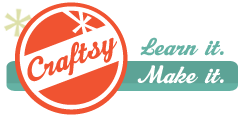 So....the big news for February is that I just returned from Denver, Colorado where I spent several days shooting my new online course for Craftsy.com called, Mastering Foundation Paper Piecing. The course is currently scheduled to launch next month. There will be eight lessons. I will start at the beginning by showing how to choose fabrics and make a block. We will then move on to a cute four-block rotation quilt called, Sunflower Fun. I have designed a Mariner's Compass Style block just for the course and we will also be making 9-Patch wall quilt. There is one entire lesson devoted to tips and tricks. I am so excited to be able to make this course available to quilters everywhere. I will chat more about the course, once it is launched.
McCall`s Quilting Magazine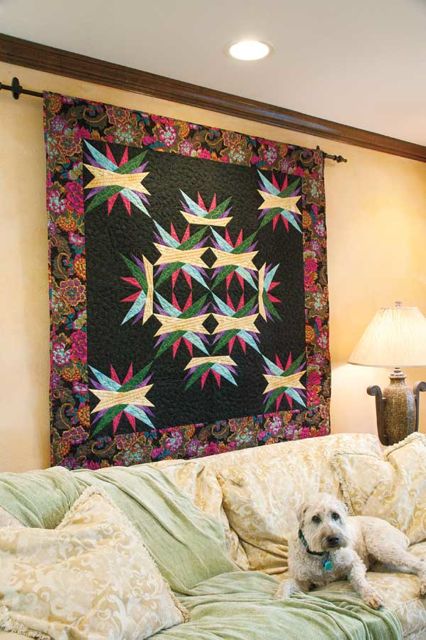 Whoo hoo!!! The latest issue of McCall's Quilting Magazine features one of
my new designs, Cactus Star. The foundation and the pattern are included.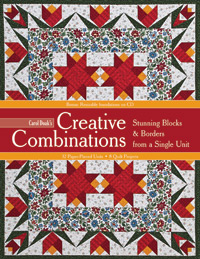 I am anxiously awaiting the shipment of my new book. They should arrive here in about 2 weeks. Just as soon as I do have them, I will put the item up in my web store. I don't want to do it now because if you order other items, I would need to hold your entire order until the new book arrives. Because this book takes advantage of printing on the legal size paper, I will also create a bundle of the book and the legal size paper.
Just in case you can't tell, I am so excited about this new book. The 24 rectangular blocks can be used as border blocks or as two and four section blocks. The corner blocks can also be used as four-block rotation blocks. The mix and match capabilty is sort of mind blowing.
Then of course you have the Foundation Factory CD included (the latest version that runs on both Windows 8 and prior and MAC Lion and prior). This CD lets you print the foundations in 1/4 inch size increments, flip the blocks, distort in both directions offering even more creative options. I love the concept we use to present each block in a two-page spread showing it used as a border, as a block in two different settings and as two different quilts both with fabric and just as a line drawing.
The blocks start out with very few pieces and work up progressively to more pieces. Some blocks also feature the opportunity to create triangular sections and make 4-block rotation quilts using the triangular option.
February Book of The Month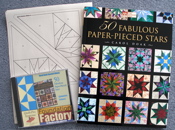 It always amazes me how popular this book, 50 Fabulous Paper-Pieced Stars, still is so many years later. T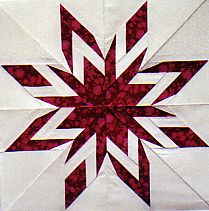 his book features 50 Star blocks based upon the 8-Pointed Star design. Each star is uniquely created to represent each of the 50 United States. It comes with a VIDEO CD that you can watch on your computer to see how to construct the blocks step-by-step. The companion Foundation Factory CD that I have bundled with this book makes printing the foundations so easy as well as the flexibility to print various size blocks. Take advantage of the reduced price of this bundle this month to add the book and the CD to print the designs to your collection.
The star on the right is the star that I designed for the state of Ohio. It has such a lovely lacey look.
Free Patterns: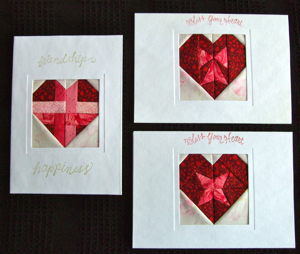 Don't forget there are three new heart designs available in the Free Patterns Section which are perfect to use with the Carol Doak Keepsake Cards for Valentine`s Day.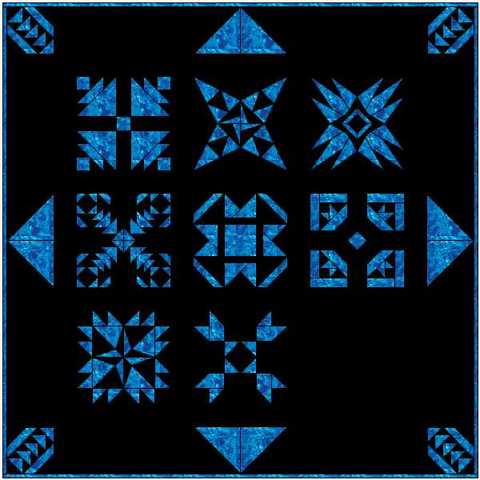 8470 people are having a blast on the Carol Doak Quilting Group. There is only one more monthly Mystery BOM for me to upload and then I will be sharing the solution for the layout of the quilt. Lots of good guesses are already being posted. The quilt on the left is Cathy`s guess.
Members have also worked together to make some wonderful pink ribbon quilts to support breast cancer awareness. The projects were wonderful!
Now, we have a black, white and zinger swap underway.
Members are always working on new ideas and projects. I love seeing all the creative results.
This is such a wonderfully supportive low-key group. You can come and participate or do your own thing. We are only 30 people from the milestone 8500 members which means I best get busy designing another free block design for them.
Come and join in the fun by clicking on the name above.
On the Road again...
I do have one trip slated for February but once again it is a secret until I can spill the beans.
All the best,
Carol