back to archive
JANUARY 2013 CAROL DOAK NEWSLETTER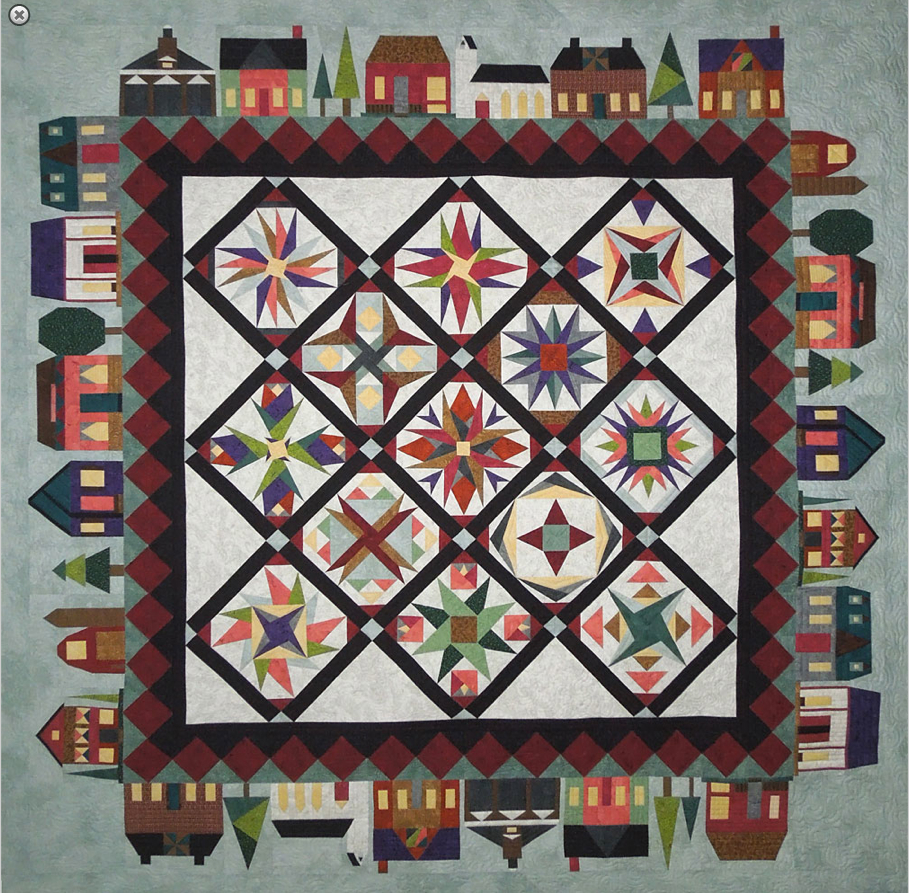 DOWNTOWN BLOCK OF THE MONTH
It is here and it is amazing! For months Deb Luttrell of Stitch Heaven Quilt Shop have been collaborating on this 97" x 97" quilt. I designed each of the star blocks in the center of the quilt and named them for the streets in town. Deb took care of the pape-pieced border and completing this quilt.
Each of the 13 months (starting in May), you will receive the pattern, the fabric, and the pre-printed papers for multiple star/house units so no printing will be involved. Everything is included for this beautiful quilt top - even the binding.
Doing this quilt a little bit each month is exactly the way to go with such a dramatic quilt. Before you know it, you will have one amazing quilt. Let Deb do all the work of printing the foundations and supplying all the fabrics each month and you just enjoy the process.
This quilt is sure to awe your friends and family. Don't get shut out of this premier offing and sign on today at Stitchin Heaven.
Mariner`s Compass Stars on Sale!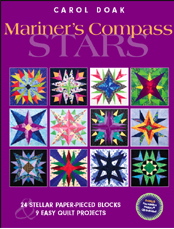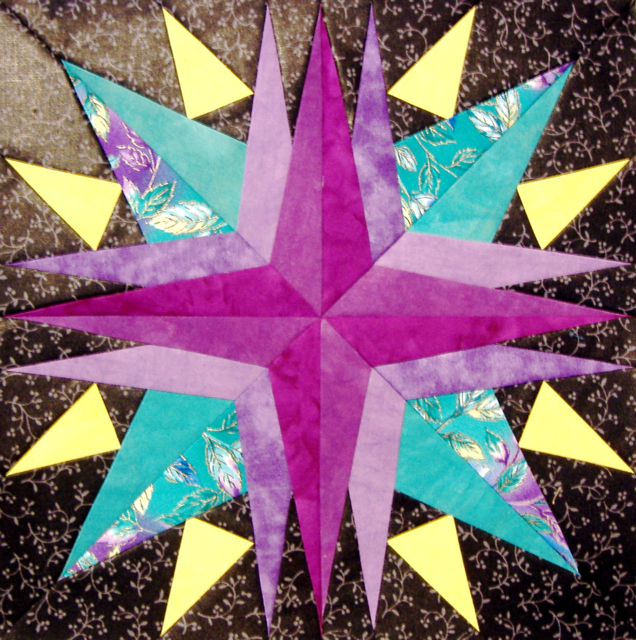 As you know, this book has gone out of print. I still do have a supply, but this supply is limited. The block at the left is just an example of some of the stunning blocks in this book. They are easy to make in sections, yet the results are stunning.
It comes with directions to make 24 blocks, each named for a country or area of the world and 9 easy-to-make quilts.
The Foundation Factory CD is also included so you can enlarge and reduce the block designs so they fit your needs.
Take advantage of the ON SALE price this month to add this book to your library before it is no longer available and sold only at premium prices.
Carol Doak Keepsake Cards on Sale!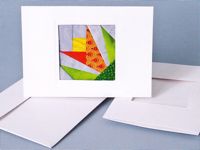 Whether you purchase the single pack or the two pack, I am going to leave these cards on sale in January so you can have them on hand to make the most perfect Valentine`s Day cards.
Be sure to check out the NEW Have a Heart Free Patterns in the Free Patterns Section of my web page.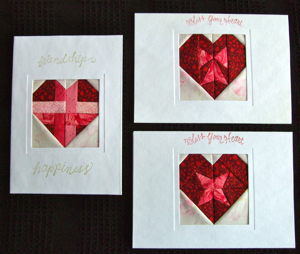 You know me. I couldn't help myself. I started playing around with some fun new paper-pieced heart designs in anticipation of Valentine`s Day and the next thing you know, I have three BRAND NEW BLOCK DESIGNS.
I have uploaded all three in one file in the Free Patterns section of the web page.
Use the Addd-An-Eighth ruler so you seam allowances are small when you make these. They are perfect for friends, family and the special someone in your life.
The designs come with cutting lists so they are quick and easy to make.
If you are looking for a source for stamps with words like the ones I used, here is the site where I purchased mine. Stamps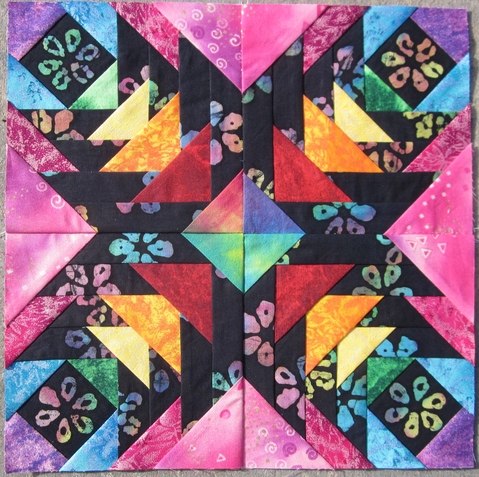 The group has been active lately. Members have been catching up with the Mystery Block of the months. The block on the left is Abby from California's January Block. I can't wait to see all her colorful blocks put together in the quilt that I designed.
Members have also been working on swaps and Get er Done projects and a special Pink Ribbon project.
just so no one is bored, I just issued the Have A Heart Challenge to the group whereby a random winner will be chosen to win .......you guessed it fabric.
If you want to join in the fun with 8402 of your closest friends, just click on the link above.
On the Road Again: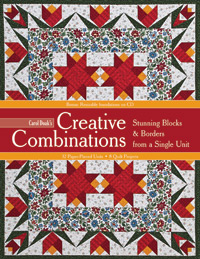 Actually, I will be on the road in January but to a secret location and I can't reveal why until February. Big surprises coming in February. One of my very few teaching trips in 2013 will be to the Empty Spools Seminar May 26 to the 31. If you want to come and play with me, be sure to sign on soon.
Hopefully by the time I write my February newsletter, I will be able to chat about my new book, Carol Doak`s Creative Combinations. I will upload the book to the web store just as soon as I have stock.
Until next time, stay safe and smile.
All the best,
Carol