back to archive
DECEMBER 2012 CAROL DOAK NEWSLETTER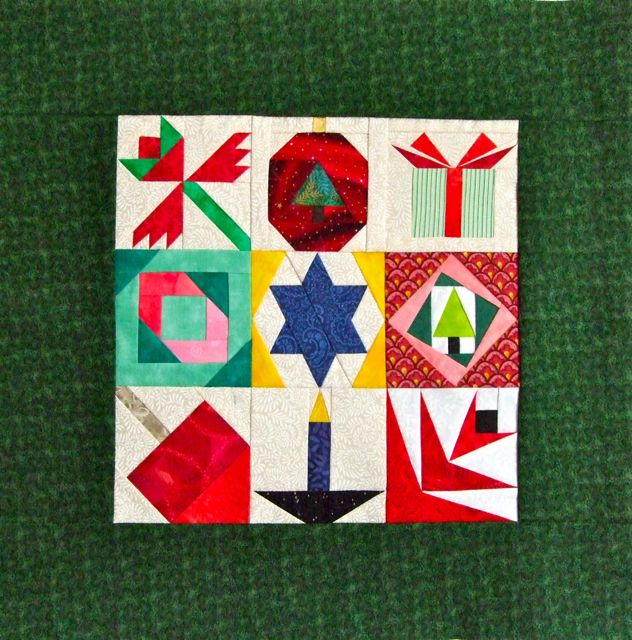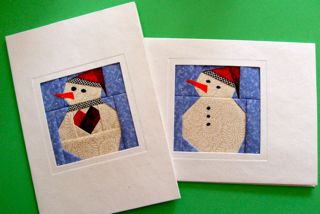 The Christmas and Hanukkah seasons are quickly approaching. I do love this time of year because I tend to spend more time with family and friends. I also spend more time in the kitchen cooking and baking.
We tend to shortcut so many things using the latest technolgies these days. I still enjoy making some blocks and creating my own holiday cards for my closest friends and family members and they seem to enjoy receiving them. It gives me some time to relax and paper piece away.
This little quilt features some of the blocks from the 50 Little Paper-Pieced Blocks book.
Another use for these blocks is to turn them into Christmas Tree Ornaments. With a folded back (described in the Free Snowmen blocks in the free patterns section of my web page), you can tuck a gift card or cash for those older ones in the family that like to shop for themselves.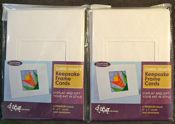 And to support you in your efforts to make someone feel special this year by receiving a very special card from you, I am going to reduce the two card bundle to $16. That is just $2 a card! The card stock used in these card looks like a hand-made style paper and the accompanying envelope is very elegant.
The double-stick tape inside this tri-fold card will hold your block in place very nicely.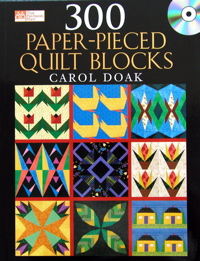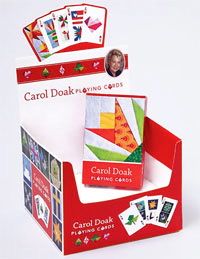 It is also a great time to add the 300 Paper-Pieced Quilt Blocks book to your library. It comes with the Foundation Factory CD so you can print all 300 blocks in just the size you would like. Such variety and a wonderful resource for just about any paper-pieced block. There are holiday blocks, kiddie blocks, flowers, baskets, letters of the alphabet, numbers, stars, houses, nautical and the list goes on and on. Take advantage of the block-buster December price of $25 to add this book to your library.
And, if you are looking for a grab bag gift or a little something for your quilting buddies, how about the Carol Doak Playing Cards. This is a special standard deck featuring Carol Doak's patchwork blocks. They are only $4.99 for one deck or $8.99 if you purchase the 2 package bundled pack.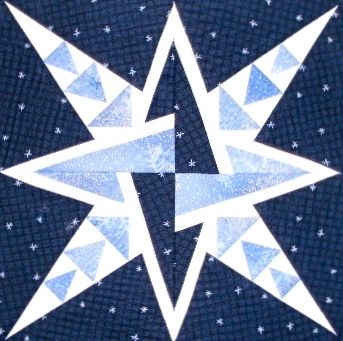 What can I say, but the group continues to grow and share so many creative projects. The Mystery Block of the Month continues with lots of wonderful blocks being shared. Some members have enjoyed a holiday block swap. Other members rose to the challenge to create a bag featuring o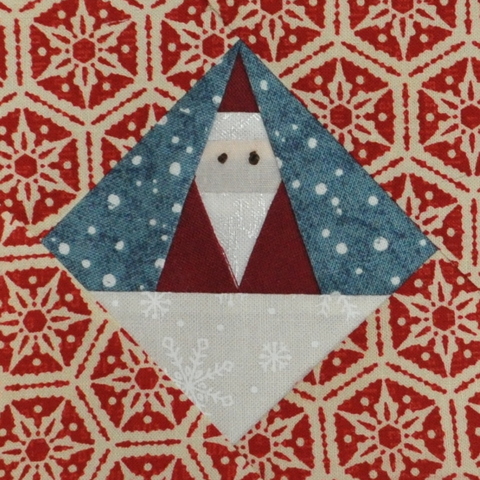 ne of my blocks designs for the "It's in the bag" challenge. I will pull the random winner tomorrow and the winner will win what every quilter wants....fabric!
It has been a tradtion for me to design a block or two to be used as holiday ornaments. This year I created a 3" block that could be featured inside the Keepsake card and is the 1/4 section of the Shooting Star block at the left. Kinda of covering two birds with one stone. This gorgeous star was made by Fauntie.
The other block I created was this cute little primitive Santa that could be placed in the card or used as an ornament. Members have been having fun making their blocks and sharing their creative use of fabrics. The Santa block was made by Jennifer. If you want to join in the fun, just click on the name of the group above.
Some Tips and Notes:
I frequently receive emails from people who have upgraded their computers to Windows 7 and now 8 and are having difficult loading their Foundation Factory. It is simply a matter of you loading the CD in a specific way. Here it is. You might want to jot this down and put it inside one of your Foundation Factory CD books so you will have it for future reference.
Installing Quilt-Pro and other programs with
Windows 7 , 8 or Windows Vista

If you are unable to install your Quilt-Pro Systems program on Windows 7 or Windows Vista, the problem is actually with the "auto run" program that starts the installer. Here are two ways to deal with the auto run program so that you can install your software:

When you insert the disk in the drive, the program should attempt to launch an install wizard for the program automatically. In this case, the AutoPlay dialog box will appear. However, instead of choosing to 'run Autorun.exe' or install the program, you should choose to 'Open folder to view files'. Then locate the program's setup file, called Setup or Setup.exe. Right Click on the file and choose Run as Administrator. When it asks you if you want the program to run, choose Allow.
As for our MAC users, here is the link for the update for Snow Leopard, Lion, Mountain Lion
Quilt-Pro 5 and Foundation Factory will work on Lion, Snow Leopard and
Mountain Lion. If you have older versions installed, you can find updates
here:
http://quiltpro.com/update.shtml
Home for the Holidays:
Fortunately, I will be home for the holidays working on some projects that will get underway next year. If you ever need assistance, need help ordering from the store, please feel free to send me an email.
My wish for you all is a joyous and blessed Christmas and Hanukkah, that your friends and family are near and there is a sense of peace with you and your family.
All the best,
Carol