back to archive
OCTOBER 2012 CAROL DOAK NEWSLETTER
Happy Autumn everyone. Now that the activities of the summer are behind us, it is time to look ahead to a wonderful season of nature's colors and time with family and friends.
The lovely quilt on the left was made by Judy Domke featuring the blocks from a previous block of the month that I did for the Carol Doak Quilting Group. Judy shared her picture some time ago and I have been holding it waiting for just the right season to share it. I love the combination of colors that Judy used.
The good news is that these patterns are still available all compiled in an easy-to-use CD. It is called Scrap Buster Block of the Month. The patterns are in a pdf. file so everyone can use it using the free Adobe Reader program.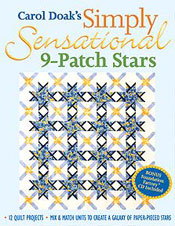 I decided to place the Simply Sensational 9-Patch Stars book on sale this month. The thing about this book is the fact that the foundations are so simply yet the results are so complex and varied. The book contains 20 point units, 20 corner unis and 10 center units. You can mix & match these units to come up with over 2500 Star blocks. But, with the Foundation Factory CD that is included, you can also come up with a variety of new designs by printing different sizes and distorting the units. One such example is the opportunity to make the Storm At Sea Quilt by using units 21 as a rectangle and unit 24 for the center and corner squares. Take advantange of the on sale price this month to add this very versatile book to our library.
Bundles and Surprise Sales: I encourage you to check out the bundled items and the surprise sales to save on your purchases.
A word about shipping Fees in the web store:
When I set up the shipping fees handling fees for the web store, they were set up to calculate postage based upon dollar value spent and projected shipping cost domestically, to Canada, to Australia and the rest of the world. There is no way to calculate weights of all the different items to all different addresses. I have listed below the rates for domestic shipments, International Rates, Canadian Rates and Australian rates for your future reference. I am sure you have heard lately how expensive the credit card processing charges have become so the shipping and handling cost cover a fraction of those charges and packaging materials. Now, If you are order some very light weight items like several CDs, I am always happy to work with you to see what the actual cost would be to ship the item to you and process the order outside the web page. Also internationally, there is the option for me to email you the pdf files for some of the pattern CDs rather than shipping them to you saving international shipping costs. If in doubt, just send me an email and I am happy to work with you.
Shipping Fees (Domestic orders only):
Total order amount: Shipping fee
0 to $30 $6
$31 to $50 $8
$51 to $75 $10
$76 to $100 $15
$101 to $200 $17
over $200 $20
International Rates: Add $20 to the above amounts
Canadian rates:
Under $51 --$15, Over $50--$18, Over $75--$25, Over $100---$30, Over $200---$35
Australian Rates:
Under $51 --$20, Over $50--$40, Over $75--$45, Over $100---$50, Over $200---$60, Over $250--$70, Over $300--$80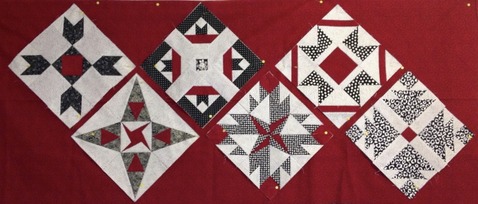 We are now half-way though the 2012 Mystery BOM with the group. Nicky must have known I would love to see a picture of all her blocks in one photo so she uploaded her lovely group. The members do not know how their blocks will go together in a quilt and will not find that out until the end. You are welcome to join the group and jump in as the designs will be up for awhile. Beyond making their block of the months, members have uploaded some pretty fun and inspiration pictures of their projects.
Helpful Tips to Keep on Hand
With technology changing with the speed of light, the Foundation Factory people have been keeping up. I get emails all the time from people who can't load their old CDs on their new computers. For future reference, if you go to the Quilt Pro Systems Web Suport page http://www.quiltpro.com/page/support, they will have available information and updates. Currently with Windows 7, you simply need to follow the following process to load an older CD. If you should have any issues beyond the below items, help is always available at techsupport@quiltpro.com
Installing Quilt-Pro and other programs with
Windows 7 or Windows Vista

If you are unable to install your Quilt-Pro Systems program on Windows 7 or Windows Vista, the problem is actually with the "auto run" program that starts the installer. Here are two ways to deal with the auto run program so that you can install your software:

Solution #1

When you insert the disk in the drive, the program should attempt to launch an install wizard for the program automatically. In this case, the AutoPlay dialog box will appear. However, instead of choosing to 'run Autorun.exe' or install the program, you should choose to 'Open folder to view files'. Then locate the program's setup file, called Setup or Setup.exe. Right Click on the file and choose Run as Administrator. When it asks you if you want the program to run, choose Allow.
Quilt-Pro 5 and Foundation Factory will work on Lion, Snow Leopard and
Mountain Lion. If you have older versions installed, you can find updates
here:

http://quiltpro.com/update.shtml

On the Road Again---Not.
Actually I am home for several months and look forward to catching up on things. I just spent this week editing the final pages for my new book, Carol Doak's Creative Combinations due out early next year. I can't wait until you see the new designs and new directions these designs take!
Until next time,
Happy Paper Piecing,
Carol