back to archive
SEPTEMBER 2012 CAROL DOAK NEWSLETTER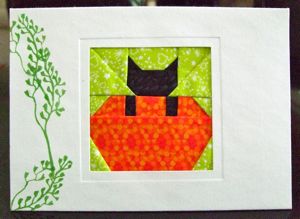 Just in case you are wondering why you didn't receive my August Newsletter, I did not send one. I didn't return from Austraila until the 8th and by the time I caught up with two-weeks worth of work and some pressing matters, it was the third week of August. I decided to combine the August and September news into one newsletter.
I just designed the Cat in the Pumpkin block shown on the left to herald in the beginning of autumn. This is such a cute and simple block to make and the perfect design to use in your Carol Doak Keepsake Cards.
You will find this FREE pattern in the Free Patterns section of my web page.
Or Click Here
ANNOUNCEMENT: MARINER`S COMPASS STARS HAS GONE OUT OF PRINT.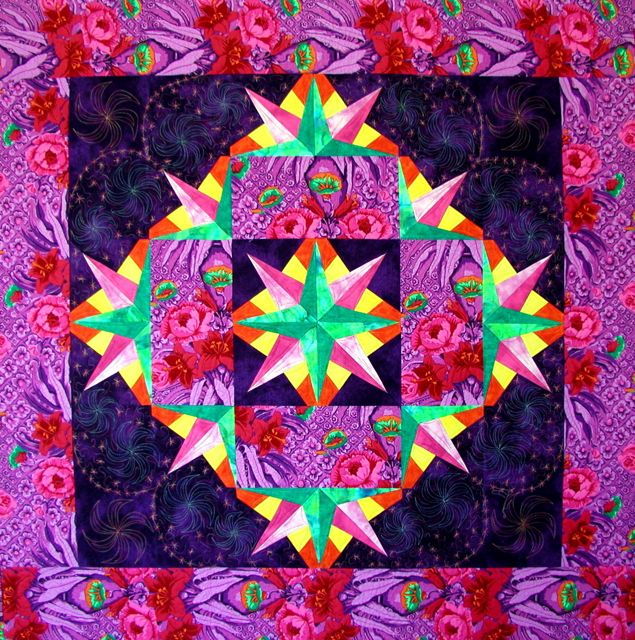 That is the bad news. The good news is that I still have a good supply of this book on hand. If you have not yet added this book to your library, this would be a good time
to do it. I am making this book the September Sale Book of the Month and reducing the price of the book this month. There are 24 stunning Marine`s Compass style blocks and 9 quilts featuring these blocks. They are quick and easy to make, and the results are stunning.
As a matter of fact, one of the very successful classes that I taught in Australia is the Diamond Delight Quilt shown on the right. It features the Australia block.
There are several other really gorgeous quilts in this book and it also comes with the Foundation Factory program to print the foundations in the size you would like. Once my supply of books are exhausted, they will only be available through the book resellers.
NEW BLAST FROM THE PAST PATTERN CD ADDED:
I have finally had the chance to gather some of the most popular patterns from the past and place them on a CD. The block designs included are:
4th Anniversary Block - 12"
Great Balls of Fire -12"
Belize Block - 12"
Crazy Patch Block - 7"
Flowers in Hearts - 6"
May Flower - 12"
Christmas in July Block - 6"
June 2006 Challenge block - 12"
Happy New Year Block - 12"
September Stars - 12"
The foundations for each block are included on the CD so they can be printed from your computer onto Carol Doak Foundation Paper. Also included for each block is a cutting list for the number and size pieces needed to complete each block so there is no guess work. The files are pdf files so they are easily opened by all computer formats.
Surpise Sale items: Be sure to explore the web store for additional surprise sale items.
Here is a Sneak Peek at my next book due out February 2013.(C & T Publishing).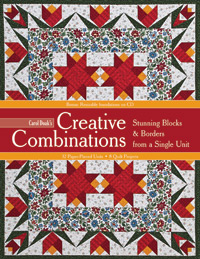 Make those rectangle units do double-duty!
• Stunning Blocks & Borders from a Single Unit • 32 Paper-Pieced Units • 8 Quilt Projects
Carol Doak is back with something new and exciting for paper piecers! Learn how the same rectangular unit can work in dramatically different ways in the blocks and borders of your quilt. If you haven't tried paper-piecing yet, this book is for you, too. You'll discover how quickly and easily your quilt comes together with Carol's foundation piecing technique. She provides tips for tools and fabrics, plus plenty of inspiration.

• See how just one rectangle unit works beautifully in both blocks and borders with full-size paper-piecing patterns
• Try Carol's inspiring quilt projects to learn how to work with unit placement, how to paper-piece, and how to choose your fabrics
• Get creative with your own unit combinations—patterns on CD give you flexibility to change the size of your quilt, or design your own pattern
I can hardly wait for you to see these blocks and quilts!!!!
A Tip for Printing from an E-book-
I discovered there is a way to print accurate foundations from the E-book version of the 50 Little Paper-Pieced Blocks. The E book is a pdf file. I will describe the process using Adobe Reader (a free download) and Word. You may be able to do something similar with your programs if they are different.
Open PDF file. Go to the foundations
View>Fit to Page
Tools>Snapshot Tool Select the finished size of the foundation by dragging the tool diagonally from one corner to the opposite corner.
Edit>Copy
Open up a Word document and Paste.
Select the image and using the formatting pallette, Size> make it 3"
You can now duplicate this 3" image and past additional blocks on the page and print.
New 2014 Cruise Announced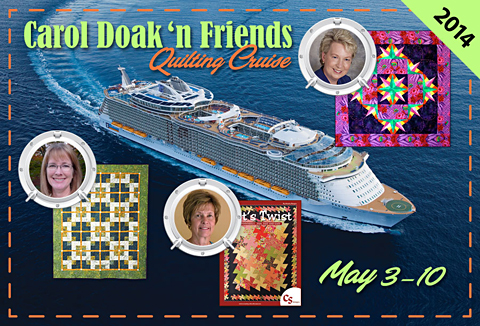 I can't wait for this one aboard the largest cruise ship in the world! It promises to be an amazing trip. Sewing machines are supplied and kits for the classes are available. To read all the details, just click on the postcard. No one does it better than Stitchin Heaven!
Stitchin' Heaven Travel communication updates
A Welcome Aboard Party
A Stitchin' Heaven Travel souvenir tote bag with lots of goodies inside
T-Shirt for each traveler specific to our cruise
Quilt Giveaway courtesy of Stitchin' Heaven
Optional pre-cut Sail 'n Sew fabric kits
Lecture and trunk show with each instructor
Every quilting guest takes all the classes offered – no choosing classes and being disappointed you did not get the class you wanted
Classes are taken on days "at sea" so no port time is missed
Classroom is open till midnight each day for plenty of free time sewing
Bernina 330 sewing machines for each student
Free spool of Aurifil thread
Demonstrations of the latest quilting and sewing products
Plenty of classroom support
Osilo Pro Smart Irons™
Photo of entire group
Lots and lots of door prizes and other great surprises on every trip!
Just so you know, the Foundation Factory Program does work on Windows 7 and the Mac Mountain Lion.
Just visit the Quilt Pro Web Page for instructions for installing on Windows 7 and the Mac Update.
http://www.quiltpro.com/page/support

The Carol Doak Yahoo Group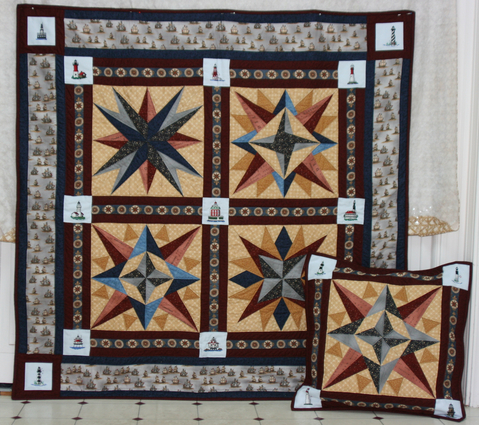 Light House Quilt Made by Lisa C from Leominster, MA. Lisa wrote:
"Took one of Carol`s classes with our local guild, in May 2011. I think it was the last guild class she taught. Became paper piecing obsessed. Couldn`t get enough so I added a few blocks to make this wall hanging and pillow for my husband. Now he can`t say he doesn`t have his own quilt anymore."
I was going to grab a picture of one of the marvelous Mystery Block of the Months that the group members are making, but when I visited the group page, this wonderful quilt had just been posted. These are block designs from the Marniner`s Compass Stars book. It is little gems like this that make our group so much fun!
If you want to join in, please visit us at
http://groups.yahoo.com/group/CarolDoakQuiltingGroup/
On the Road....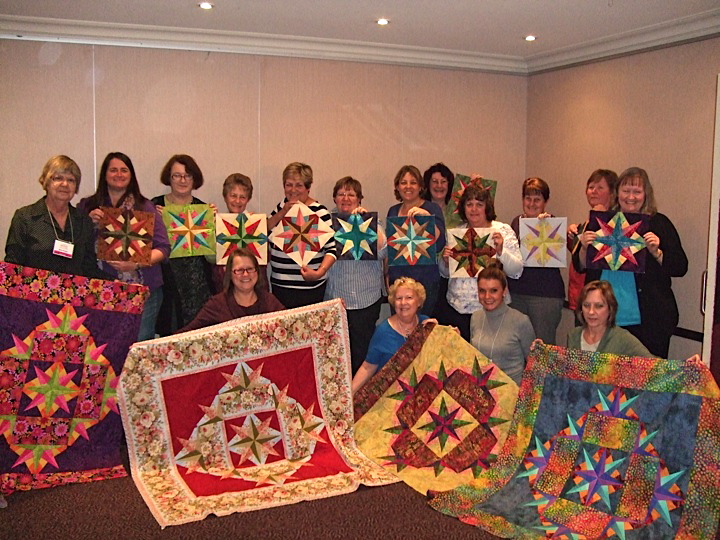 The trip to Australia was everything I thought it would be and more. Here are the students displaying their Diamond Delight quilts and blocks! Thank you Tamsin and everyone at Quilting in the Highlands for a fun, fun, and more fun time!
Until next time,
Have fun,
Carol