back to archive
JULY 2012 CAROL DOAK NEWSLETTER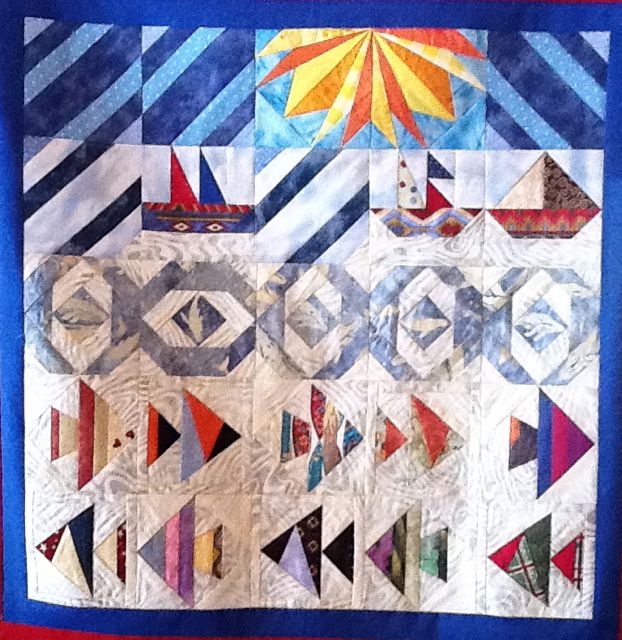 Summer is in full swing around here so I thought I would share a quilt made by Susan Favro. This quilt is called Fathom and was first published in my first paper piecing book, Easy Machine Paper Piecing. In the book, my friend Ginny made the quilt. Susan's rendition is updated and has a great scrappy look about it.
Now that I live on a lake, this design is close to my heart. That first paper piecing book came out in 1994 and is still in print today. Just goes to show that some designs are timeless.
When the summer Olympics were held in Atlanta, this design was used and given to one of the athletes in the Paralympics and the named was lengthened to "Fathom the Possibilities".
Thanks Susan for agreeing to let me show your quilt.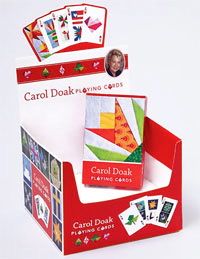 Drum Roll Please.......Yeah!!! The Brand New Carol Doak Playing Cards are on their way here! I am so excited about this new product. I think it is so fun to have a standard deck of Playing Cards that have some of my patchwork blocks on them. Each pack retails for $4.99.
Because I think these will make darling gifts for all your quilting friends, I have also placed a two-package bundled item where you can save by purchasing two at one time.
I am showing the package for the Point of Purchase box of 12 cards because it shows some of the cards in the deck.
I am expecting the cards to arrive next week so you will be able to get them soon.
NEW PATTERN CD - PLANT A SEED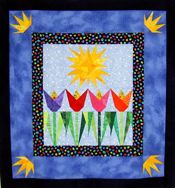 Several years ago, I designed this charming wall quilt to celebrate the Birthday for the Carol Doak Yahoo Group. This darling pattern is now available in the web store featuring a pdf format for both the foundations and the directions so you can print all the patterns you would like from your computer. The radiating sun shines over four tulips in the Garden. Included in the pattern is the yardage, cutting lists and step-by-step assembly instructions. This little charmer works up quickly and is sure to brighten the day wherever it is placed. It is quick and easy enough to be a wonderful gift for a friend. The top on the left was made by Monica from Texas.
Product of the Month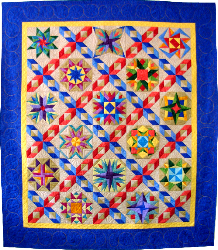 Dancing with the Stars spotlights paper-pieced, 12" star blocks designed by Carol Doak exclusively for Stitchin' Heaven! You'll be amazed as you step onto the dance floor, and take a spin with this striking, stellar-inspired quilt. Each block is named for a gorgeous ballroom dance like, the Viennese Waltz, the Foxtrot, and even the Cha Cha, and proudly shows off the brilliance of Hoffman's batik fabrics. The setting, designed by Deb Luttrell, features a chain block, and two borders, framing this stunning quilt with simple elegance. Like stars on a dance floor, these beautiful, batik blocks will have you mesmerized, as they sparkle and shine with each step of the dance. The finished quilt measures 80" x 92". The pattern comes with complete instructions, paper-piecing foundations, color images, full-size layouts, cutting charts for each block, and even color pictures of recommended fabrics. All provided in CD form for ease of access and printing!PLEASE NOTE: This is a pdf format, not Foundation Factory form. The retail price is $49.95 Take advantage of the sale this month to add this wonderful CD to your library while it is on sale at $39.95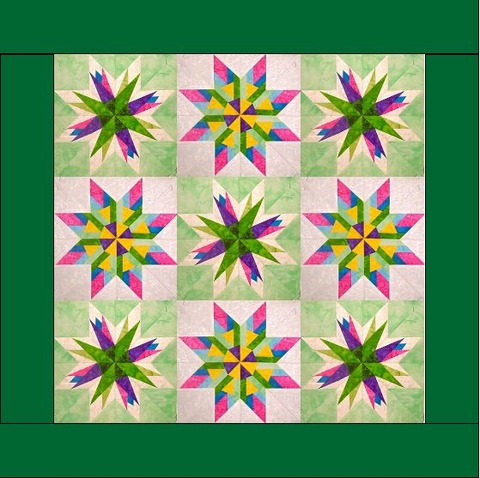 Wow, last month was a busy month for our group. We celebrated our Anniversary and reaching 8,000 Members in June. I created two new celebration blocks for the group. The quilt on the left features both celebration blocks. Nansi McDaniel did a super job testing the blocks and I created this mock-up from the blocks she made.
Members are also working on our new block of the month that started in May. I just uploaded the July block for the group. This is also a mystery, because members do not know what the finished quilt will look like.
The designs for these blocks and others are still available if you want to hop over and join in on the fun.
Just click on the name above to visit and join the group.
The New England Quilt Museum
I am honored to have been asked to display my Legacy Quilt as part of the new exhibit, BACKSTITCH - A 25-year Retrospective of Advances & Milestones in Quilting. The exhibit runs from July 12th to October 14th.
On the Road Again...
As you know, I have reduced my travel to a handful of trips each year. I will be traveling to Australia this month to teach at the Quilting in the Highlands Retreat. I am looking forward to a fun time down under!
Until next time,
Carol