back to archive
APRIL 2012 CAROL DOAK NEWSLETTER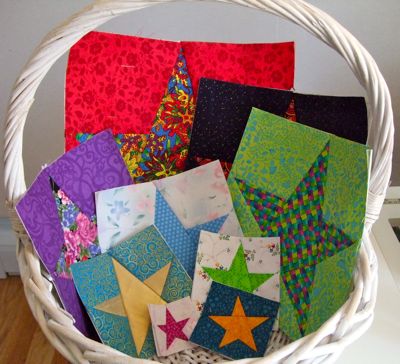 Happy spring everyone! Things are starting to green up here in New England and some of the glorious colors of the season are beginning to emerge. The pretty yellow bushes are a sign more spring colors are sure to follow.
I have lots to share with you this month. One of the advantages of receiving the monthly newsletter is that you will find out the latest information early!
I am pleased to report that I can let you know you can look for the next Carol Doak book around this time next year. The book is now in production and I am so excited about what is to come.
Speaking about what is to come, the basket at the left is filled with 5-Pointed Paper Pieced Stars...say that one five times fast...LOL. The blocks in the basket are 2", 3", 4", 5", 6", 7", 8", 9", 10" and 12".
I have just uploaded the 12" size to the free pattern section of my web page. I will chat more about the other sizes further down in the newsletter.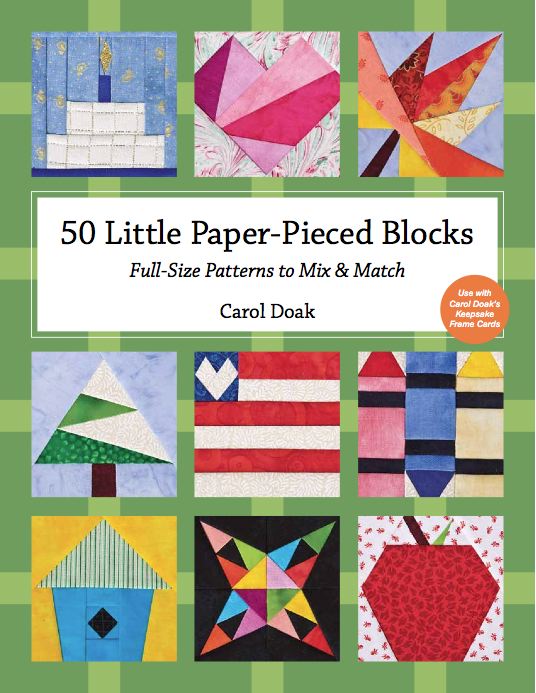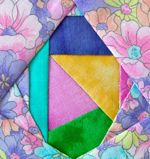 I have decided to put my latest book on sale this month because there are so many darling spring time blocks in this book. There are baskets, cross, flowers, birdhouse and on and on to help celebrate the season. Take advantage of the savings this month to add this little gem to your library.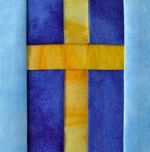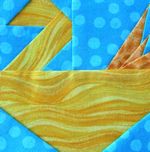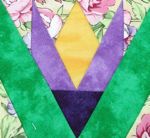 Everyone once in awhile, someone has an issue using the web store. Please feel free to email me directly with any issues or assistance needed. I am always happy to assist you.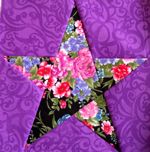 is now 7,736 members strong and they are amazing. Members have been busily working on their "Get er Done" projects encouraging each other along the way. They just completed an amazing little basket swap, are now working on a little mini mystery and I am all ready to offer the next challenge to the group. So, you know that I have uploaded the 12" 5-Pointed Star to the Free Patterns Section of my web page. Well, all the other sizes will be uploaded shortly to the Carol Doak Quilting Group with a group challenge offered with some fun and amazing random drawing prizes. What am I giving away you ask. Well, fabric of course from my previous fabric collections. Lots of fabric!!!!
There are only 9 pieces to each block so I am sure we will have lots of participation in this challenge.
The thing that is so fun about this challenge is that it will I am sure yield some amazing projects. Pssst, I haven't even told them yet, so don't tell.
If you want to join in the fun, just click on the link above.
News...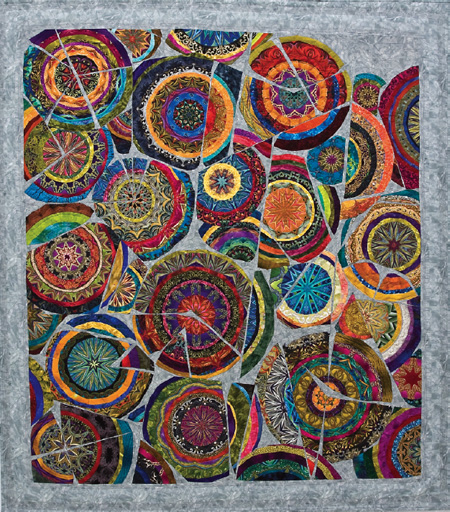 My friend Paula Nadelstern asked me to spread the word about ther exhbit to be held here in New England so I am passing along the information about this wonderful exhibit.
Kaleidoscope Quilts
The Art of Paula Nadelstern
Organized by the American Folk Art Museum

Heftler Visiting Gallery at Endicott College-Center for the Arts
Beverly, MA 01915

March 25-June 16, 2012

www.endicott.edu 
Contact: (978) 232-2655; Kathleen Moore


WEDNESDAY, 4/4:
Opening Reception: 5-6:30PM - Center for the Arts - Grillo Gallery
Lecture: 7-8PM - Rose Performance Hall
On the Road Again..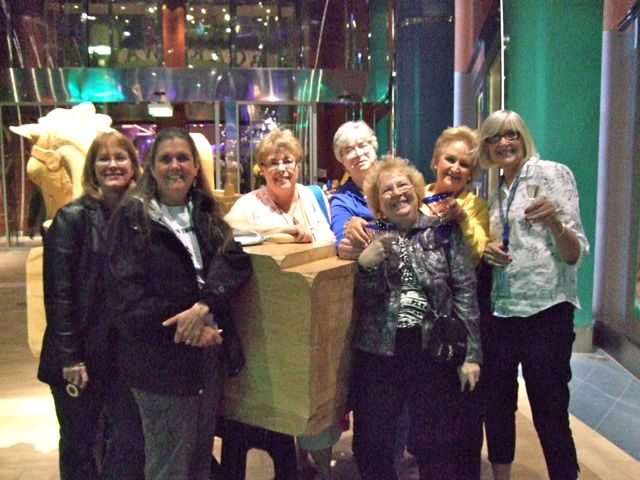 I just returned a couple of weeks ago from the fun and fabulous Paper Piecing Cruise aboard the Allure. I don't know.....everytime I come back from one of these cruises I keep telling myself they can't get any better, but they do. Perhaps it is the combination of lots of laughs, quilters and just good times. What more could you ask for?
If you want to join in the fun, the next cruise is slated for September 2013 to Hawaii. There are still some spots available, but I wouldn't wait too long to get your name on the list as only 40 quilter spots are available. It is an 11-day cruise with me, Charlotte Angotti and Debbie Caffrey. It should be a blast and a half.
Just click on the picture to the left for more information.
I am home now until July when I travel to Australia to teach. I am hoping to accomplish several things in the next few months, so stand by for more announcements.
All the best,
Carol