back to archive
FEBRUARY 2012 CAROL DOAK NEWSLETTER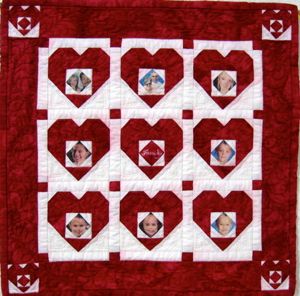 It is always fun to see what others do with the patterns that I design. Sandy in Henderson designed this charming Family Quilt using block #126 from the 300 Paper-Pieced Quilt Blocks book. Sandy wrote the following about her charming quilt. "Our local guild has an annual challenge for the members, and this year's included a beautiful red batik to be used and the requirement of a heart somewhere on the quilt to express the theme of Hearts Desire. I used one of Carol's heart patterns and put tiny photos into the centers of the members of our family. I made the little quilt (14" square) back in July, but the competition was just this past Thursday evening. The quilt took second place in the miniature category! :) So thanks again to Carol for her wonderful patterns and technique!
Although Sandy made a miniature using this block, the neat thing about the 300 Paper-Pieced Quilt Blocks book is the Foundation Factory Program that is included in the book that lets you print your blocks any size you like.
Congratulations Sandy on a lovely quilt and your win! Wouldn't this make a charming quilt for loved ones who are away from home?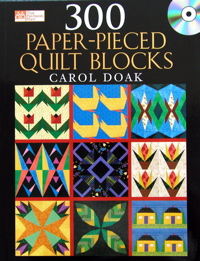 In honor of Sandy`s lovely quilt, I have made the 300 Paper-Pieced Quilt Blocks book the Special of the Month and placed it on sale this month. The regular retail price is $29.95 and I have placed it on sale for $23.95......a huge savings! This book is already a tremendous value given all the block designs (there are 19 different heart blocks!!!), the wonderful cutting lists, all the latest techniques and the Founddaiton Factory program CD included to print your foundations. February would be the time to add this book to your library.
Here are some comments from people who have purchased this book...
Carol's instructions are so easy to follow! With all the different blocks your choices for a quilt are limitless!
This book is incredible !!
I loved it, it's very beautiful and helpful !
The ideas in this book are very interesting.
This is a great book for paper-piecers who are wanting more patterns. There are some great patterns in this book to use together and make some awesome quilts. I have used some of the patterns already and they worked great.
Some tips when ordering from the web store...
Order several items at the same time to save on postage.
If you are ordering smaller items to ship internationally, feel free to email me to see if I can do better with the postage. I will be happy to actually calculate the postage and let you know the amount. The order can be completed using PayPal
You can always call me at 603-458-2799 to place an order and give me your charge card info over the phone. Keep in mind I sometimes travel so if I am away, your order would have to wait until I return.
I never have access to your credit card information. It is encrypted and sent to the card processsing location. They accept or deny based on the information provided. If you are having issues, please feel free to give me a call.
Please let me know if you have issues using the cart.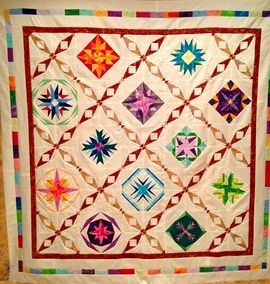 If someone had told me back in June of 2006 when I started this little Yahoo Group so people could share, chat, inspire, challenge and just enjoy Carol Doak paper piecing patterns that we would now have 7,606 members from all over the world, I would never have believed it!!!
However that is the case. The gorgeous quilt on the left was made by Chris using the Simply Radiant blocks from the Block of the Month that I did for the group last year. Members are using their time this winter to complete their tops and they are all stunning.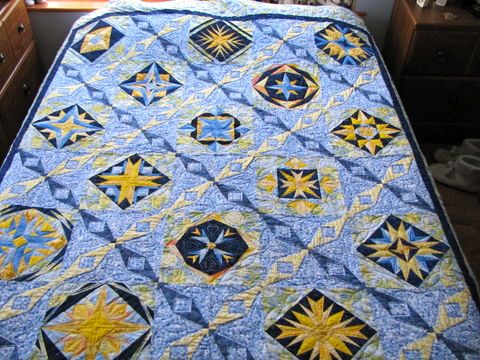 On the right is Sue`s gorgeous blue and yellow version of the same quilt. That is one of the things that is so special about this group. You have the opportunity to see the same quilt, block, project worked up in different colors, settings and variations.
If you want to join in the fun, please do. Just click on the name of the group above and join in the fun.
On the Road Again....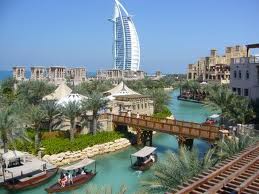 I spent a wonderful week in California recently teaching at the Road to California. Since I have pretty much retired from traveling to teach, this was my first trip since Houston last fall. I was reminded how much I enjoy teaching classes and lecturing. I guess it is just in my blood. I have only four trips planned this year. The next trip is to fabulous Dubai to teach and judge the Quilt Show of Dubai. This should be a trip of a lifetime. I am looking forward to meeting the quilters there and seeing their work.
In March, I will be sailing the warm Caribbean on the Alure of the Seas. This is the largest cruise ship in the world. This will be my 8th cruise and I absolutely love them! We will be making a specially designed quilt called Tropical Delight. Gail Garber, Eileen Sullivan and I designed this quilt so the students will begin to make a row of the quilt in each of our classes. If you have never taken a cruise, I would encourage you to explore at least one in your lifetime. You may discover that you love them like I do. Deb Luttrell of Stitchin Heaven does a super job with cruises. Sewing machines are supplied and she and Clay make it very easy on all levels to sign up and prepare for the cruise and classes. If you want to read more, this link will tell you about our cruise.
http://www.stitchinheaven.com/travel/cruise_PaperPiecing_march2012.asp
In July I am off to teach in Australia at the Berrima Patchwork`s Quilting in the Highlands. I had the opportunity to meet Tamsin in Houston this year. She is such a lovely person and I have no doubt this will be a fabulous event. To read more, just click on this link. http://www.berrimapatchwork.com.au/quilting/
You can always read about my limited teaching schedule on my web page under Teaching Schedule.
Until next time, remember to to smile.
All the best,
Carol