back to archive
January 2012 Carol Doak Newsletter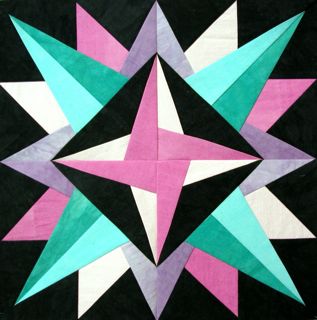 Well, we have made it through the holidays and a new beginning is before us. I don't make the New Year's resolutions, but I do enjoy the calm in January after all the hustle and bustle of the holidays. I feel like January offers time to create and time be inspired to try new things. Living in the northeast, I am inside a good deal during January so maybe I just think I have more time to create.
I do enjoy setting goals, so my goal for this year is to post more blogs. That task pretty much went by the wayside last year so I am looking forward to getting back to it.
The Web Store <----Click there to go to the web store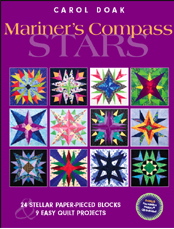 The Mariner's Compass Stars book is the on sale book this month. Take advantage of the sale price to add this title to your library. Rather than share with you what I think about this book, let me share a portion of a review posted on Amazon by a purchaser of the book.
"Carol's latest publication is titled Mariner's Compass Stars and contains 24 stellar paper-pieced blocks and 9 easy quilt projects. I've attempted Mariner's Compass blocks for many years now and have always given up trying to get those points to an accuracy I'm happy with. Carol has thought outside the square (pardon the pun) and has designed the Mariner's compass with in the square, and has managed to turn an extremely difficult technique into a pure joy to complete.

Carol has named each of the 24 star blocks after a country and has cleverly matched fabrics to the personalities of the countries she has chosen. I especially like Australia (not just because I'm an Aussie), but the colours are spot on Carol.

This book is a joy to read, with clear precise instructions and supporting photographs and diagrams. I suspect many long hours have gone into writing the instructions in such a way that there is no ambiguous distractions, Carol is very explicit with her directions.

Carol has spent a great deal of time in the first part of the book, describing how to go about putting these foundation blocks together and has come up with some fantastic tips. ...

Another great tip from Carol on page 22 covers the difficulty of measuring fabric sizes for the individual foundation pieces. Carol has dumbed this down to very succinct instructions that are very easy to understand and implement. Great work Carol.

I thoroughly enjoyed this book, the instructions, the dynamic designs, the whole kit and caboodle. At last a chance to make the Mariner's compass patterns I adore, and achieve the quality results I desire."
Product Update:
I have been searching for a much nicer Scissor Tweezer to add to the web store and finally found one that I could make available at a reasonable price. These are very smooth and comfortable in your hands and the grip on the paper when removing those small bits is excellent. I think you will really enjoy using these. I know I do.
Tips and Tricks When Ordering From the Web Store:
I absolutely love the convenience of letting my fingers do the walking through the internet when I want to place an order. I do try to make ordering from the web site easy. If you ever experience problems or have a question, please do email me. Sometimes I will notice an abandoned international order and surmise it might be do to the auto postal charge allotted for the order. Postage is calculated based upon a dollar amount domestically, to Canada, and the rest of the world. The dollar amount could be for something light like a CD or heavy such as a book and the cart can't tell the weight of the items ordered. If you live outside the US, you can always email me directly with your order and snail mail address. I am happy to calculate the actual postage to ship, let you know and conclude the transaction via PayPal rather than using the cart.
Once you begin the check out process, do not go back to add items because the amount added will carry forward, but the item will not. When this happens, I see a difference in the amount listed in the order and the amount charged. This is when you will get an email or call from me so I can clarify your ordered items. It might be easier to just abort that order and start fresh.
FREQUENTLY ASKED QUESTIONS:
I frequently receive emails asking similar questions. With technology moving so quickly, uploading and updating the Foundation Factory CDs in my books to accommodate Windows & and the new MAC Lion platforms is a frequent question. Yes, the CDs will work on both platforms and information about uploading them is available at the Quilt Pro web site at http://www.quiltpro.com/ Just click on the support button for the information to upload them.
I often receive emails asking my permission to enter a quilt you have made from my designs in a quilt show. You have my permission to do so. I do request that you simply acknowledge the source of the designs.

The group continues to grow by leaps and bounds. 2011 provided lots of fun and inspiration with challenges, Block of the Month and the Mystery. Members are still completing their tops and quilting them. The stunning Mystery top at the left was made by Ginger from Arkansas. Members have posted 93 completed tops for this Mystery!!!
Lots of other lovely pictures have been share by members of their table toppers, table runners, purses/totes, small quilts and large quilts. It is so inspiring to see what others come up with using different fabrics and placements.
If you want to join in the fun, just click on the link above. With a new year will come new projects, swaps and challenges and lots of fun designs.
On the Road Again....
Although I have given up my 40 weeks a year travel, I do have a handful of trips this year. I will be teaching and lecturing at the Road to California in January. http://www.road2ca.com/
I will be traveling to Dubai in February to teach at their International Quilt show in February http://www.quiltsdubai.com/
And I will be teaching on the Paper Piecing Cruise in the Carribbean in March.
http://www.stitchinheaven.com/travel/cruise_PaperPiecing_march2012.asp
Until next time...enjoy, Carol