back to archive
DECEMBER 2011 CAROL DOAK NEWSLETTER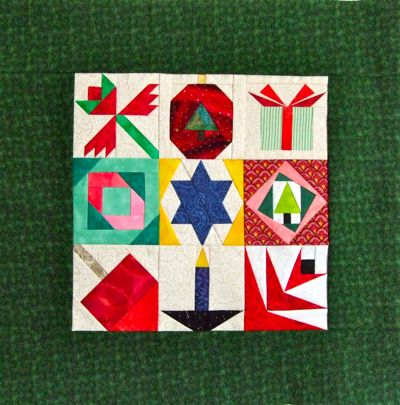 December is a month filled with reverence, thankfulness and reflection. It does not matter whether you celebrate Christmas, Hanukkah, Kwanzaa or another holiday, this is a time when people tend to give thanks for their blessings.
It is easy for me to get caught up in the hype. I love shopping for my family and asking them what they would like for Christmas. But this year I have decided I want to make a concentrated effort to look for ways to give back and make our world a little better. It is easy if you look for the opportunity. Today when grocery shopping, I noticed I could put a $5 bag of groceries in my cart for the local food pantry, so I did.
Another way I will give back is to donate a percentage of all the December Sales in my web store to the Salvation Army. For as long as I can remember, they ring their bells at this time of the year to signal the need of others.
The little quilt at the left is made from 9 blocks in the new book 50 Little Paper-Pieced Blocks.
The Web Store---<----Click there to go to the web store.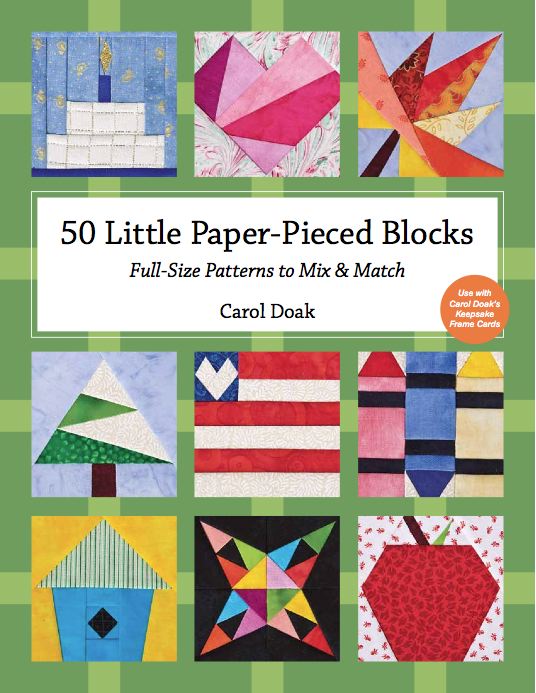 I have decided to choose a few items as specials for the month of December. The first has to be my newest little book, 50 Little Paper-Pieced Blocks.The book has been a real hit and the response to it has been amazing. The blocks are 3" in size and many can be completed in minutes. They are the perfect size for the Carol Doak Keepsake Cards or to make small quilts and projects. Here is one happy customer`s review.
Review By: Rhonda Geddis, Customer - November 12, 2011
Stars: 5 Absolutely fabulous "Yet another winner from Carol Doak. The possibilities are endless and this book opens up a whole new world for creativity. It's a must have for all quilters. If you have not yet ventured into the world of paper piecing, this is a great place to start. If you are already addicted, jump in for more fun. Love this book!"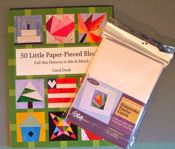 This little book has a great price point so it might be the perfect gift for your friends who want to learn to paper piece.
Or, you can jump in and purchase the book and a package of cards together and save even more.
If you already have the book, I have also bundled two packages of cards for a buy more, save more approach.
Don't forget to look in the Free Patterns Section for the new Snowmen blocks I created that are perfect for these cards all winter long.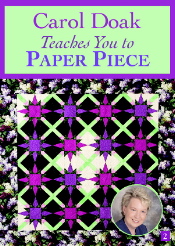 I am also going to place the Carol Doak Teaches You to Paper Piece DVD on special. I have heard over and over again, from those who have learned to paper piece using this DVD, that is is simply the best way to learn short of taking a one-on-one class from me.
REVIEW: I just purchased your DVD Carol Doak teaches you to Paper Piece. I wanted to let you know how great it is, and I felt it was very well done. For some reason, paper piecing seemed so difficult to understand, but after watching your video, it finally makes sense! Thank you for a quality product. ..Sincerely, Pat Gardner

Excellent DVD; it made things very clear to someone who is completely new to paper piecing.
The real benefit of having this product is that you can refer to it again and again when you are beginning a project and haven't paper-pieced for a bit. It is also jam-packed full of so many tips to make the process fun and easy.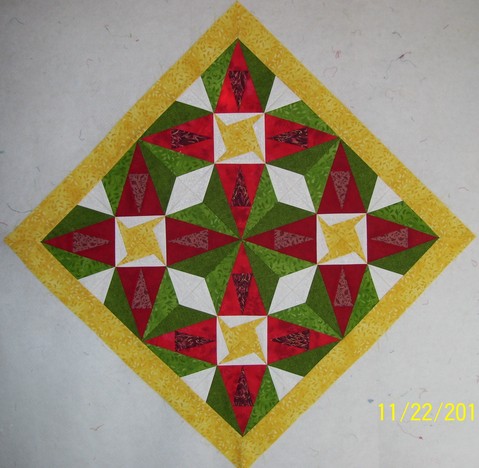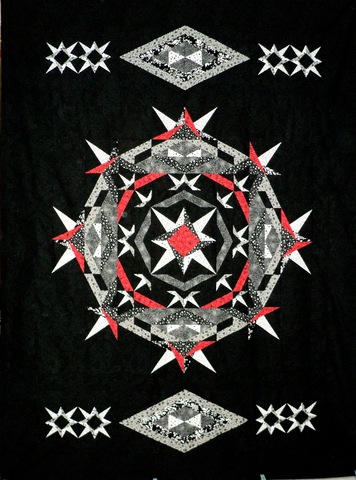 Members have been hard at work completing their Mystery tops. The quilt on the left is the completed Mystery Quilt top made by Audrey. There are currently 86 photos shown in the completed Mystery Top Album. The quilts are varied, amazing, creative and stunning. It just goes to show one how some simple blocks can be used to create stunning quilts.
We also reached the magic 7,500 members so of course I had to create a 7,500 Member Celebration block. Members are now working on the challenge to create something using the new block.
Anne Marie from Canada posted the picture on the right of her project using the 7,500 Member Celebration Block.
On the Road Again
One of the reasons that I decided to curtail my extensive travel starting this year was to create the designs I had in my head and write the books that showcase them. I am happy to report that the manuscript and quilts for my next book are now complete. Yeah!!!
My next trip will be in January to the wonderful Road To California Quilt Conference. I will be teaching several classes and presenting the keynote lecture on Saturday night. I hope to see some of you there.
Until the next time, enjoy each day, your family, your blessings and I encourage you to look for ways to make our world a little better place.
Merry Christmas and Happy Holidays,
Carol