back to archive
SEPTEMBER 2011 CAROL DOAK NEWSLETTER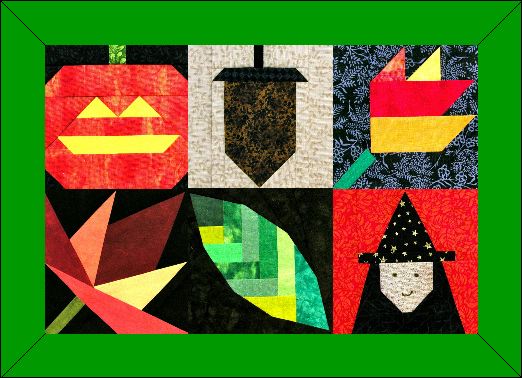 Living in New England, Autumn is one of my most favorite times of the year. The chill is in the air in the evening and the days are sunny and bright.
We are also treated to the most wonderful colors as the leaves on the tree transform to vivid yellows, reds and oranges and this is all set against the blue sky.
The little quilt on the left is a composite of six blocks from the 300 Paper-Pieced Quilt Blocks book. With just six blocks to make, this would make a wonderful quick seasonal quilt.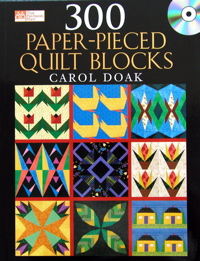 Soooo.....given that I suggested the cute little quilt above, I decided to make the 300 Paper-Pieced Quilt Blocks book the September Special and place it on sale this month. This book is a definite must in any paper piecer's library and buying it this month when it is on sale is a bonus. There is a huge selection of blocks to choose from and it comes with the Foundation Factory CD to print the foundations in any size from your computer. What more could you ask for?

All the Mini CDs are on SALE!!!!!
I was looking for something new and different to place on sale this month and I decided to place all the Mini CDs...there are four of them...on sale this month. Each CD contains the complete pattern in a pdf format so you can print the foundations and pattern easily from your computer. Each CD contains FOUR Mini quilts, which makes them a great value! These little minis make great gifts and make you look like a super quilter. They can easily be made from scraps and work up quickly. Take advantage of the SUPER SALE this month to jump into the wonderful world of paper pieced minis....which everyone will tell you is a snap! Be sure to include the Add-An-Eighth ruler to your order if you don't already have one.
New Free Patterns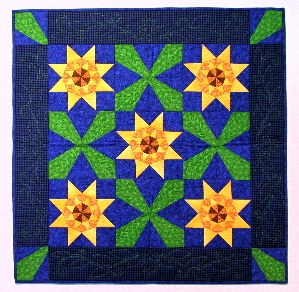 I recently added several new free patterns to the Free Patterns Section of my web page. I just counted and there are a total of 32 different FREE patterns. In order to keep things fresh and new, I will be removing some of the older patterns and adding some new ones. So you might want to stop by soon and see if there is something there you would like to download before they are gone.
The Carol Doak Yahoo Group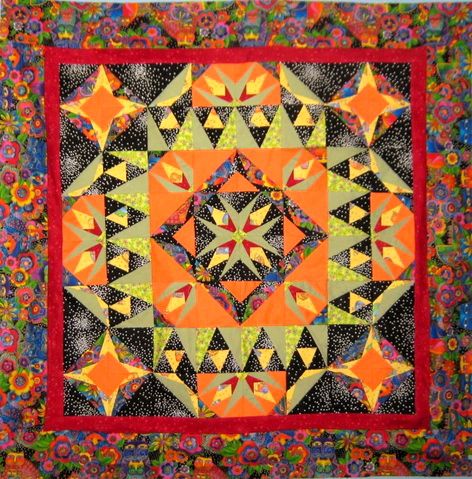 We are now 7305 Members strong!!!! That is amazing. Members have been busy with post card swaps and table runner challenges through the summer. I have been giving them all a bit of a break through the summer as I have been working on my next book. However, that will change soon. I have done two very successful Mystery Quilt projects with the group in the past and I think it is time for a new mystery. I will begin working on the project very soon and hope to upload the first segment before next month.
The quilt on the left was the completed top made by Julie M. the last time I presented a Mystery to the group. All the the quilts were stunning! So if you are thinking of joining in, now would be a good time to join. Just click on this link to join in.
On the Road Again....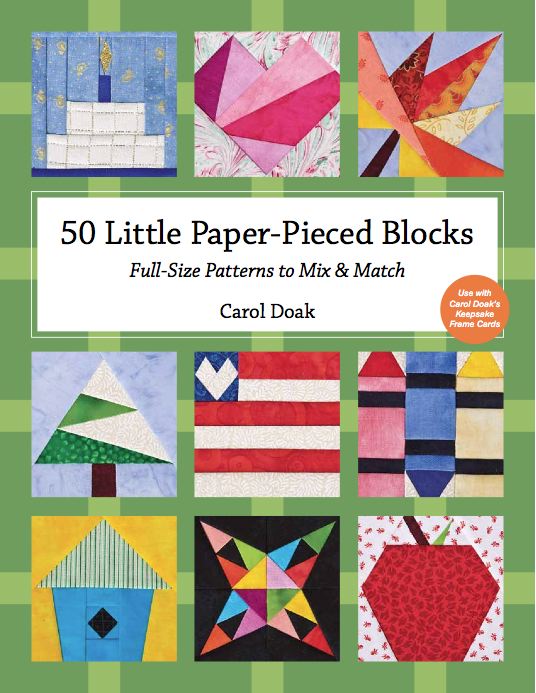 Believe it or not, I will be traveling this fall to a couple of places. First, I will be teaching in September at the Northwest Quilting Expo in Portland, Oregon. www.nwquiltingexpo.com
Then in October I will be off to the International Quilt Market and Festival. I will be doing several presentations at Market that will feature my new book, 50 Little Paper-Pieced Blocks. I will be presenting a School House on Thursday and will be signing and giving away FREE books on Saturday from 1 to 1:30 at the C & T booth. I will also be demonstrating in their booth on Sunday from 2 to 3 p.m. If you are attending, please do stop by.
I will be teaching at Quilt Festival starting on Monday, October 31. I just checked and all my classes are full except for my Tuesday, Nov. 1 class where there is still availability. Click here to visit the site.
I will also be presenting on the show floor on Friday from 2 to 2:30 at the Meet the Teachers arena.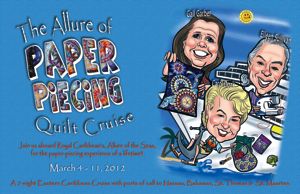 And if you think you might need to escape from the Winter weather next March, the Paper Piecing Cruise to the Carribbean has a few opening. March 4-11, 2012

Royal Caribbean's, Allure of the Seas, for a 7-night Eastern Caribbean Cruise filled with the paper-piecing experience of a lifetime!!!

Join Carol Doak, Gail Garber and Eileen Sullivan for three fantastic classes. Carol, Gail and Eileen have collaborated to create a very special quilt, Tropical Delights. You will make a section of the quilt in each of the classes learning a variety of paper piecing methods. To see this first ever collaboration, click on the postcard and read all the details about this very special cruise!
Until next time...happy paper piecing,
Carol