back to archive
August 2011 CAROL DOAK NEWSLETTER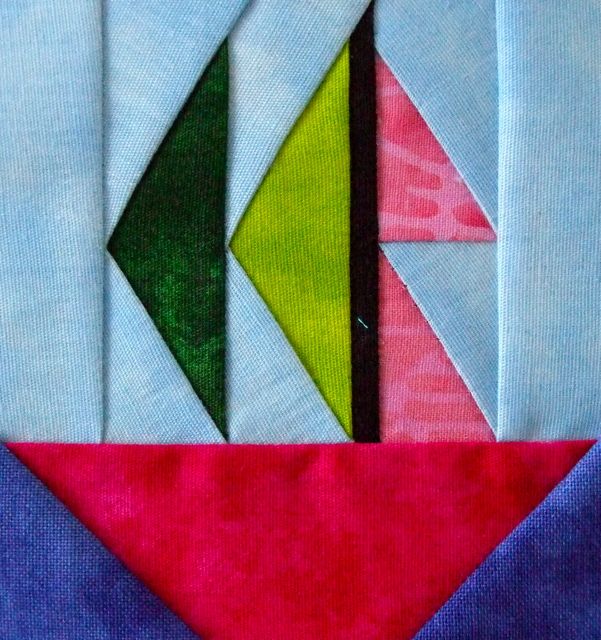 (If you received this newsletter the day before yesterday and are receiving it again, I apologize for the duplication. There was an issue and it only went out to a few people.) The dog days of summer are upon us. On these really hot days, I do enjoy escaping into my air conditioned sewing room and working on a new project.
The block at the left is one of the new blocks in my new book, 50 Little Paper-Pieced Blocks, coming out at the end of November. I just received all the sample blocks back from C & T Publishing. When it gets really hot again, I think I will sew all 50 blocks together to make a wall hanging.
Dancing With The Stars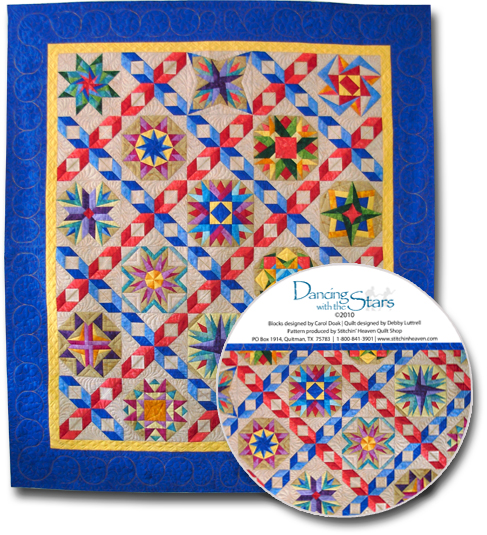 I just heard that the very successful Dancing With the Stars Quilt is going to be featured by Hoffman Fabrics at the International Quilt Market in Houston this fall.
This very popular Block of the Month is also being offered to quilt shops around the country by Stitchin Heaven Quilt Shop. If you are interested in hosting the BOM at your shop just contact Debbie(debluttrell@gmail.com) for the details.
In honor of all this excitment, I am placing the Dancing With the Stars CD containing all the block designs on special this month.
Easy Reversible Vests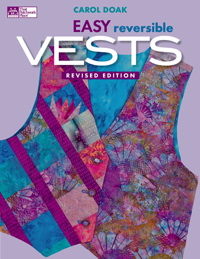 And....before you know it, the fall clothes will be on the store shelves. I always whip up a few new vests at the introduction of the next season to spice up my wardrobe. Making a reversible vest is a great way to do that and economical too, because you most likely will use the fabric you already have. This would also be a great time to get a head start on making some quick and easy holiday gifts.
There are TWO full-size vest patterns included, ranging in sizes from petite to X-Large, new block designs, new block sizes, new block shapes, creative stitching ideas, new fabric combination ideas and so much more. Make them for yourself and give them as gifts. I've added some pictures to the gallery section of some of the 27 vests you will see in this exciting new book. 80 pages, full color
Take advantage of the reduced price this month to add this classic to your library.
Paper Piecing Tip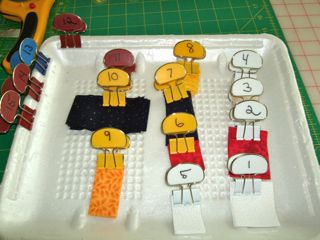 While sewing a project that will be featured in the December Issue of The Quilt Life, I discovered an idea for labeling my fabric pieces that I absolutely love. I purchased a package of Staples Bind-it Flags Binder Clips. There are 24 in a pack at $3.99
You can write your numbers on the flags with a marker and clip them onto your groups of pre-cut fabric pieces.
I clip them on the edge of a styrofoam tray when I am not using them and just remove them to use them.
The Carol Doak Yahoo Group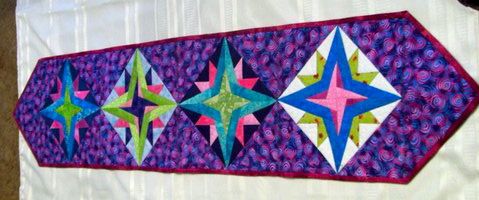 The Members of the Carol Doak Yahoo Group have been busy this summer completing projects. Anne Marie from Nova Scotia made this lovely table runner using some of the Simply Radiant Blocks that I designed for the group.
We have a post cards swap underway now that is fun and successful. If you would like to join in the fun, please join at http://groups.yahoo.com/group/CarolDoakQuiltingGroup/
On the Road Again.....
As most of you know, I am now doing a limited amount of travel each year in order to focus more on designing and writing books.
This fall I will be teaching in Portland, Oregon at the Norwest Quilting Expo. I hope to see some of you there.
http://www.nwquiltingexpo.com/
I will also be returning to the International Quilt Market & Festival in Houston. I will be teaching 4 classes at Festival. I hope to see some of you there too!
http://www.quilts.com/newHome/shows/viewer.php?page=../../fqf11/catalogue
Until next time,
Carol