back to archive
July 2011 Carol Doak Newsletter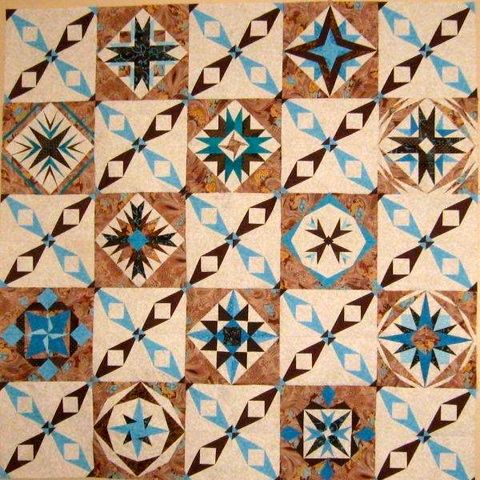 Happy July everyone! I have been loving this wonderful summer weather. I am spending most of my days inside working on the quilts for the next book, but sneak out when I can to take a swim. The quilt above is the Simply Radiant BOM completed top made by Mary D from Oregon. It does look like it should have the name "Sea and Sand". Many memers of the Carol Doak Quilting Group are completing their tops using the blocks they have made throughout the year.
With July 4th coming up I couldn't resist doing something a little different for the monthly specials so here they are.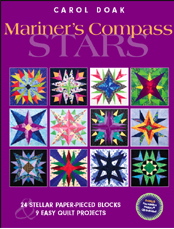 OK, it is not exactly red, but it is a form of red and there are several blocks in this book that contain red. This is the book that will make you look like an expert and it comes with the Foundation Factory program to print the dramatic Mariner`s Compass style blocks. It is on sale this month for $24.95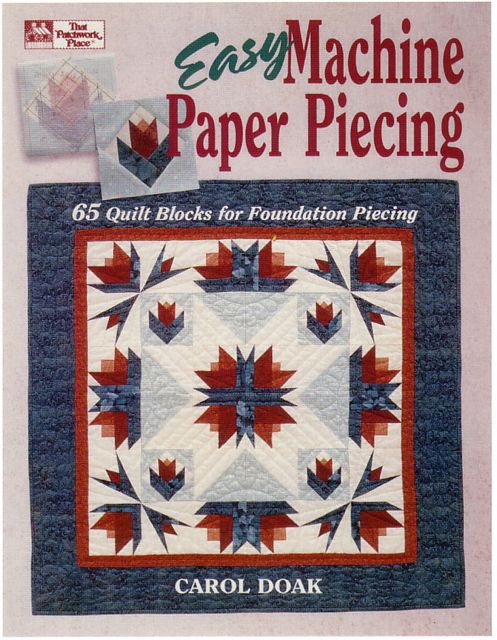 Who has a white book cover? However, this classic book that began the paper piecing revolution has a quil with a white background on the cover. This book was released in December of 1993 when I was only 12 years old and would you believe it is still in print today?! Well it is and if you don't have this classic sitting on your shelf with its timeless blocks and quilts, you definitely need to add this book. It is on sale this month for $17.95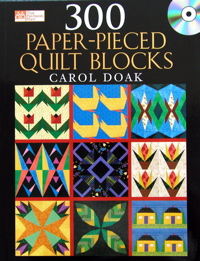 OK, I thought I had this one covered with my blue book cover from Simply Sensational 9-Patch Stars, however that was the book of the month last month. I couldn`t do a repeat, so I chose 300 Paper-Pieced Quilt Blocks book instead because it has lots of blue blocks and even a few red, white and blue blocks. Take advantage of the on sale price this month of $24.95 to add this book to your library. OK, I am exhausted ....time to rest.
The Carol Doak Quilting Group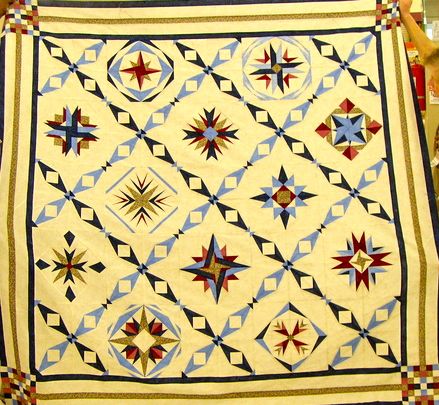 You have already seen Mary`s quilt at the beginning of this newsletter. Here is another one made by Peggy of NC. The same blocks are in both quilts and look how different they turned out. There are 24 different tops currently shown in the completed album.
Right now members are taking a bit of a breather catching up on completing their tops and a few are participating in postcard swaps and monthly lotteries.
I will start something new for the group soon...just not sure what yet...If you want to join in with the fun that all 7000 plus members enjoy, just click on the link to join the group. We will keep the light on...link to join
On the Road Again...
Not really, but I thought I would give you a heads up about upcoming trips that are on my limited schedule.
Northwest Quilting Expo
I will be in Portland, Oregon for the Northwest Quilting Expo on September 22 through September 24th, 2011. www.nwquiltingexpo.com
International Quilt Festival and Market
I will be teaching at the International Quilt Festival and present a Schoolhouse on my new book at the International Quilt Market in Houston Oct 28 through Novemeber 3, 2011
http://www.quilts.com/newHome/shows/viewer.php?page=FallFestival
Road to California
I will also be teaching several classes and will be the Saturday night Keynote speaker for Road to California from January 18 to 22, 2012. I believe they just announced classes and will begin taking registrations soon. www.road2ca.com
International Quilt Show - Dubai
I will teach three classes Feb 8 to Feb 11, 2012
Until next time....enjoy each day,
Carol