back to archive
June 2011 Carol Doak Newsletter
50 Little Paper-Pieced Blocks
Happy June everyone. Well C & T Publishing let the "cat out of the bag" with the announcement of my next book in their latest cataloque. The focus of this book is 3" block designs that are perfect to go inside the Carol Doak Keepsake Cards. The designs are perfect for just about any event or occasion.
The full-size patterns are in the book and are easy to copy or trace. To keep the price very reasonable, $12.95, no Foundation Factory CD is included.
These little blocks can also be used to create charming small quilts or simple projects.
With this litte book and a supply of cards, you will always have the perfect card to send to friends and family.
The release date isn't until the end of the year, so stand-by for updates.
The Dancing With the Stars CD was a huge hit last month. To those who ordered and had to wait to get their CD's, I do apologize. I ran out almost immediately and then there was this fiasco with UPS that delayed my receiving my order. I do try to get your orders out quickly and not being able to do so, was frustrating. I now have a good stock, so this should not happen again.
Book of the Month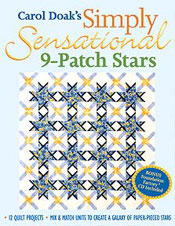 I decided to put the Simply Sensational 9-Patch Stars Book on sale this month. With very simple foundations, the Foundation Factory CD to print the foundations and over 2,500 combinations to make stars and much more, this is a book that belongs on every paper piecers shelf. Take advantage of the on-sale price this month to add this treasure to your library.
The Carol Doak Yahoo Group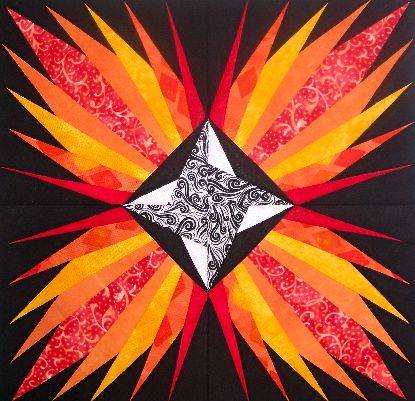 Great Balls of Fire!
The Carol Doak Yahoo Group will be five years old in a couple of days. To celebrate our birthday, I designed this striking block for the group. Members have been making their blocks in all different kinds of fabric combinations and each and every one is gorgeous. The block at the left is the test block made by Cathy in San Antonio.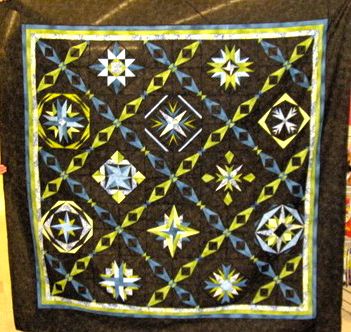 Simply Radiant Block of the Month- The block of the month that has been running for the past year is wrapping up and members are uploading pictures of their completed quilts. They are varied in colors and settings and it just goes to show how much creativity exists in this group. I love seeing what members have done with their blocks. This beauty was made by Peggy in NC
If you would like to join in the fun, please do at http://groups.yahoo.com/group/CarolDoakQuiltingGroup/
ON THE ROAD AND IN THE STUDIO...
I am heading up to Vermont for a wonderful retreat about mid month and look forward to teaching students from the Mariner's Compass Stars book.
One of the advantages of a reduced travel schedule means that I can spend more time at home designing and sewing. I am knee deep in the next, next new book and just completed the first quilt...I am soooooo excited about this book...more to come.
All the best,
Carol