back to archive
MAY 2011 Carol Doak Newsletter
The Wait is Over!!!!! Dancing With The Stars Is Now Available As A Pattern CD!
When Debby Luttrell of Stitchin` Heaven asked if I would be interested in designing paper-pieced blocks for a Block of the Month she wanted to do, I thought it would be a fun project. Each 12" block is named for a ballroom dance. The finished qiilt measures 80" x 92". The BOM was amazingly successful, but many people wanted the pattern to use their own fabric choices.
Stitchin Heaven decided to go ahead and produce a pattern option for this stunning quilt and put it on a CD so you can print your foundations easily from your computer printer.
The pattern comes with complete instructions, paper-piecing foundations, color images, full-size layouts, cutting charts for each block, and even color pictures of recommended fabrics. All provided in CD form for ease of access and printing! The pattern is prepared in a .pdf format. All the work has been done for you. This product will retail for $49.95 Please direct any wholesale inquiries to Debby Luttrell
Now here is the fun part, I am going to make this exciting new CD the product of the month this month and put it on sale for $34.95
Just click here to go to the web store to order.
The Carol Doak Yahoo Group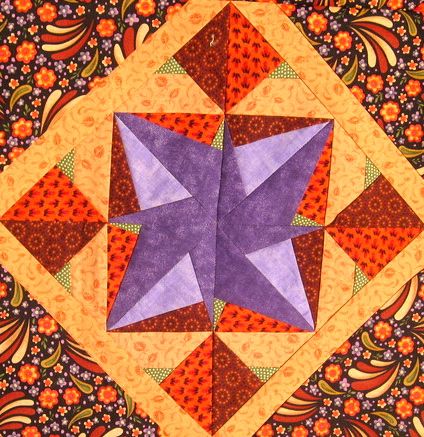 I have uploaded the May Simply Radiant Block of the Month for the group. Now members are busily working to get their connector blocks completed. Some members are not going to use the connector blocks. The blocks uploaded since last June have been stunning and I am so looking forward to seeing al the completed tops. I have even offered a challenge to members to have their tops done by July to be entered in a random drawing for fabrics. Quilters do love their fabrics after all. The block at the left was made by Linda from Florida. I have no doubt her quilt wil be amazing.
Abby from California is thinking about setting her blocks against some wonderful Ricky Timms fabric. She uploaded a picture previewing her 12 blocks looking for advice from members. That is what is so wonderful about this group, everyone is is helpful. If you want to join in the fun, please do by clicking the here.
What`s New?
I have been a busy lady lately. We finally moved to our new house....never, never going to move again. I have been working with the publisher getting my next new book ready for release in the fall. I will spill the beans here soon about this new project.
And I have been working on the next, next new book.
I do have a couple of lectures and classes in Massacusetts this month and looking forward to returning to the Strong House Inn located in Vermont next month for a wonderful retreat. There are still spaces available at the retreat. If you would like to know more, feel free to email me or Mary at Strong House Inn stronghouse@comcast.net
Until next time,
All the best,
Carol