back to archive
APRIL 2011 CAROL DOAK NEWSLETTER

Inspiration comes in many forms. I recently returned from the Carol Doak Quilting Cruise to Honduras, Cozumel and Belize. The cruise was amazing and such fun!!! Weather was wonderful and I had the opportunity to snorkel and see the most amazing reef and fish. The classes were conducted on the days at sea and everyone enjoyed making their "Belize" Wall quilt. While aboard the ship, I was struck by this gorgeous stain glass window....kind of reminded me of a quilt. In fact I was inspired by many things I saw on this cruise. You might just see some of them show up in a future quilt.
The next cruise is scheduled aboard one of the largest cruise ships in the world the Allure. New 2012 Cruise will be March 4-11, 2012

Royal Caribbean's, Allure of the Seas, for a 7-night Eastern Caribbean Cruise filled with the paper-piecing experience of a lifetime!!!

Join Carol Doak, Gail Garber and Eileen Sullivan for three fantastic classes. Carol, Gail and Eileen have collaborated to create a very special quilt, Tropical Delights. You will make a section of the quilt in each of the classes learning a variety of paper piecing methods. To see this first ever collaboration, click on the stained glass window and read all the details about this very special cruise!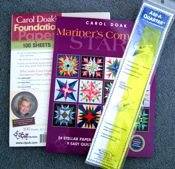 I decided to place the Mariner`s Compass Star book bundle on sale this month. The bundle includes the book that comes with the Foundation Factory CD to print the foundations, the package of paper and the 12" ruler. Separately these items would cost almost $50. When I bundle items, I reduce the price of the group of items. In this case I reduced them to $43.90. It is always good to check on the bundled item category in the web store because you can save.



Some of you may know that I moved recently. If you are a quilter, moving is quite a mountain to climb with moving all your fabric, quilts and supplies. The good news is that I got reacquainted with my fabric and quilts. I discovered some little beauties to put up for sale in the gallery. Do stop by and see if you would like to bring one home. Most are finished quilts but there are a couple that are sandwiched and one that is just a top.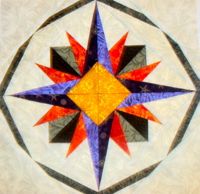 Members of the group have been busy finishing up their GEDs...Get `er done projects, making 7,000 Member blocks and quilts and making their Simply Radiant Blocks of the Month. I just uploaded the April block today so there should be a flurry of new pictures uploaded soon. The lovely block at the left was made by Fauntie Phillips. If you would like to join in the fun, just click above.
On the Road Again...
Although I am doing limited travel now, I do have a trip scheduled for April to Illinois and several local events in May. I also am looking forward to returning to the Strong House Inn in Vermont for the Retreat in June. There is still space available if you would like to join us for a fun and relaxing time. For more info, visit, http://quiltinginvermont.stronghouseinn.com/
Until next time,
All the best, Carol