back to archive
MARCH 2011 Carol Doak Newsletter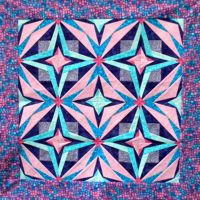 The lovely quilt on the left was made by Anita D from Oregon. Anita is a long time member of the Carol Doak Yahoo Group. When we reached our milestone 7,000 Members, I designed a new block for the group called the 7,000 Member Celebration Block. Members have been making just one block for a challenge to win fabric. There is also a challenge to make a quilt from the block using at least four blocks. This is Anita`s lovely entry.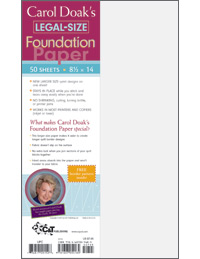 The big news is that the NEW Carol Doak Legal Size Foundation Paper has arrived and is available for sale in the web store. I have had many requests over the years for longer paper in order to print longer foundations and more foundations to a page. I am so delighted this is now available because it offers new creative opportunities. It comes in a package of 50 sheets for $7.95. There is also a 12" paper-pieced border design right in the package.
ORDERING TIP: When ordering a realtively inexpensive item from the web page, consider adding more items to you order to take advantage of the postage minimum. Items totaling under $30 will ship for the minimum to US addresses.
For international orders, items under $51 ship for the same amount. Also, some items such as the paper are listed as domestic item only. The reason is shipping cost. If you live outside the US and you would like me to actually take your proposed order to the PO, and obtain actual Postage costs and let you know and proceed through the ordering process outside the web store using PayPal, I am always happy to do that.
I want your ordering experience at my web store to be a good one. If you ever encounter any issues, please do let me know so we can make it right.
SPECIAL SALE: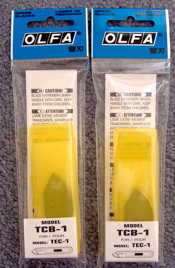 If you have the Rotary Point Cutter Knife, now would be the time to stock up on replacement blades. These sold for around $6 a package. I was selling two packages as a special price of $8. For this month only, pick up those same two packages for $5. This would be one of those items you should add on to your order of other items such as rulers, paper, snips etc.
CD OF THE MONTH ON SALE: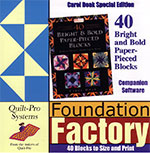 This month I am going to put the 40 Bright & Bold Foundation Factory CD on sale. It sells for $15, but this month you can add this resource of wonderful block designs to your computer for just $12. I do love the block designs on this CD. The book is no longer in print, but you are not out of luck if you have the CD, because it contains all the foundations from the book.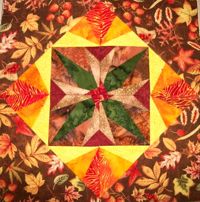 The block at the left is the March Simply Radiant BOM made by one of our members, Cat. Cat did a lovely job with the block and it is always inspiring to see everyone`s interpretation of the block.
Members are also working on projects in our GED (Get'er done Challenge.) Just this morning I announced another monthly random winner of fabric for that challenge.
It is a great group and always inspiring! If you want to join in the fun, please stop by and join. There is no charge for all the free patterns I upload for the group.
On the Road Again....
I actually am going to be on the road soon. I am heading out to join a lovely group of quilters from around the world on a fabulous cruise to Honduras, Belize and Cozumel. I can`t wait!!!!
I will be sure to report back in the April Newsletter. The next cruise is scheduled for March 4-11, 2012 and it is sure to be fabulous with THREE paper piecing experts teaching you a variety of methods to produce your TROPICAL DELIGHT QUILT. For more information visit www.StitchinHeavenTravel.com
All the best,
Carol