back to archive
December 2010 Carol Doak Newsletter
First, happy holidays to everyone. I wish you all a wonderful holiday season with family and friends. The block at the left is the December Simply Radiant Block of the Month that I am providing for the Carol Doak Yahoo Group. This lovely block was made by Mona. I love the way the rays sparkle just like the stars.
The year is coming to a close rapidly with much to do. But while you are all doing, remember to enjoy the process and take time to enjoy the moments.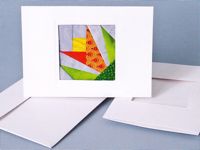 Not that I am too excited, but the new Carol Doak`s Keepsake Frame Cards are finally here and available in the web store. When I was at quilt market, I kept my eye open for opportunities to use different types of items with the cards beyond the free block that comes with the cards and the free block designs I am making available. The options were many and varied. There are lots of different fabrics that come with 3" printed elements for the holidays, children themes and florals that are perfect to place inside the card. I picked up some 3" celtic designs on my recent trip to Ireland. You can use rubber stamps to decorate or print messages on the cards. You will love the hand-made quality of the paper used for the card and envelope. Each package comes with 4 cards and 4 envelopes. When I finish writing this newsletter, I am off to make a special thank you card for a friend.
Product of the Month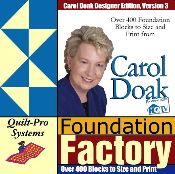 I don't believe I have ever put this item on sale, but in view of the release of the cards, I think it is the perfect SALE item for December. It has all the block designs from the following books:
Easy Machine Paper Piecing, Easy Paper-Pieced Keepsake Quilts (There are Christmas Block designs in this book.), Easy Mix & Match Machine Paper Piecing, Easy Reversible Vests, Easy Paper-Pieced Miniatures, Easy Stash Quilts, Easy Paper-Pieced Baby Quilts plus 50 Bonus Blocks!! There are over 400 Block and border designs on this CD. It makes a great gift item and it is on sale this month. Save $5 and add this one to your library of quilt block designs.
As i mentioned in my last newsletter, I am selling some of my quilts made in the past 30 years. I am not selling all of them, just some. I have already shipped many quilts out to happy purchasers from around the world. I am actually really pleased to have them going to quilters who I know will enjoy them. I have uploaded several new quilts and currently have 13 quilts available. I am pricing them to sell so take a look and contact me if you are interested in purchasing one. Check back often, because I will add addtional quilts as they sell.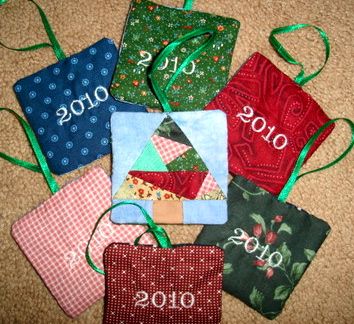 I created a special 2010 Holiday Ornament, package tag, for the group and uploaded the design. Lots of trees have been made and shared with the group. This member is making the ornaments for her quilt group and embroidered the year on the back. I think that is a super idea.
Other have made small runners, postcards and used them in the Carol Doak Keepsake Card.
If you want to join in the fun, just click on the link above. We will leave the light on.
I will not end with "On The Road Again", because I will not be traveling again until March. Until next time, may all your points be perfect!
All the best,
Carol