back to archive
Early October 2010 Carol Doak Newsletter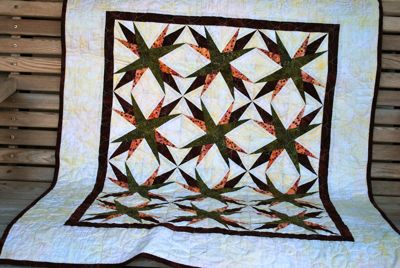 OK, I know this newsletter is about a week early, but I will be on an airplane flying to Dublin, Ireland on October 1. I will be helping to lead a quilter's tour for McCall's Quilting Adventures. I write "helping", because all the organizing has already been done by the Steves at McCall's Quilting Adventures. The last trip I did with them was to New Zealand and it was simply one of the best trips I have taken. I have no doubt this one will be fabulous and I look forward to sharing the fun with you all when I return via my blog. I know the first thing we are doing when we arrive in Dublin is to go to a Quilt Shop! Sounds like we are off on the right foot! The pretty quilt shown here was made by Mindy Williams of Delaware. I was fortunate to have Mindy in a class and loved what she did with this simple block. If you want to teach others to paper piece, this free block is printed with permission to reproduce and distribute for that purpose.
Book of the Month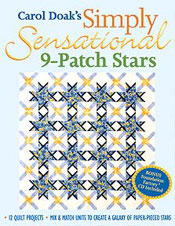 Because I am going to be away, I am going to go ahead and select the October Book of the Month. I have chosen Simply Sensational 9-Patch Stars for several reasons. First, it is a tremendous value coming with the Foundation Factory CD to print the foundations in this book. It is perfect if you are a beginning paper piecer, because the foundations are so simply. There are also so many creative options such as Storm at Sea.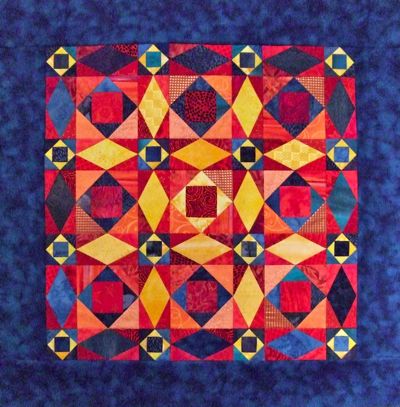 The Sunset At Sea class that I teach is based on foundations printed from this book. Unit 21 is printed 2" x 4" and Unit 24 is printed 2" x 2" and 4" x 4".
You can also print them out larger, if you want a larger quilt. The members of the Carol Doak Yahoo Group just love this book because they find they can use it so often to make lots of different types of blocks. Take advantage of the on sale price this month to add this book to your library.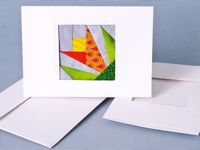 No word on the arrival of the new Carol Doak Keepsake Cards, but just as soon as I have received them, I will be adding them to the web store.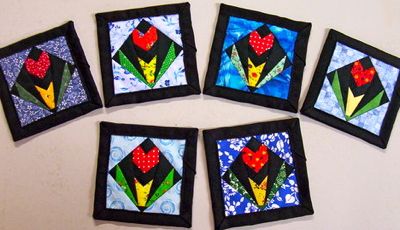 Well, we reached another milestone membership with 6500 Members in the Carol Doak Yahoo Group! To celebrate this new milestone, I designed a new 3" block design for the group. Some members made the block so they will be all ready to insert in the new Keepsake cards. Some members made little wall quilts or table toppers. Ann, made these darling coasters. I am going to get busy right after I write this and design the new October Block of the Month for the Group! If you want to join in the fun, just click the name above and you will link to our group site.
Fun Future Trips
Some of you know that 2010 will be my last major travel year. I will still do some major events such as retreats/smposiums/trips/cruises on a limited basis. My 40 trips a year will be over this year.
June 12-15, 2011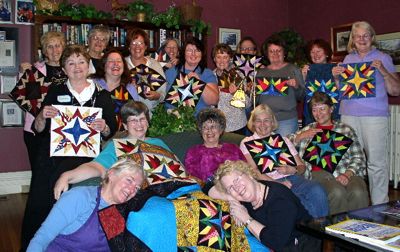 Earlier this year I taught at the Strong House Inn in Vergennes, VT. It was a fabulous couple of days with students as far away as Indianapolis, Maine, Vermont, NH, Pennsylvania, Connecticut and Maryland. Quite simply, we all had a blast. The Inn is wonderful, the food is fabulous, the rooms cozy and comfortable and the atmosphere great fun. I couldn't resist agreeing to do it again in 2011 but for a longer period. So, come join us arriving Sunday afternoon, June 12 and departing June 15. If you want to know more click on the link above. Or contact Mary at Strong House Inn stronghouse@comcast.net
Coming Soon!!!
I have made the decision to begin selling some of my quilts. I will set up a category in the Gallery section where I can upload pictures, close-ups and include the details for each quilt along with the sale price. If you are interested, you can email/call to ask any further questions and make arrangements for the purchase. I hope to begin adding the photos before the end of the year.
On the Road Again...
Before heading to Ireland, I will be off to upstate NY to teach and lecture. Then when I return from Ireland, I will be off to Las Vegas to teach and lecture. Perhaps I will get lucky....lol...couldn't resist...Then it is off to Houston Market and four days of teaching at the International Quilt Festival. Although all my classes are filled, I will be doing a "Meet The Teacher" on Friday at 2:30 and I will also be in the "Quilt Show" booth. Do stop by and say "Hi".
Until next time,
Carol