back to archive
September 2010 Carol Doak Newsletter
The calendar may say September 1 tomorrow, but the temperature here in New England and much of the country is still saying "summertime". I watched the neighbor triplet boys getting on the school bus this morning for their first day of kindergarten. They were so excited about their new adventure. I think Mom was either sentimental or delighted at the prospect of some free time ...or maybe a little bit of both. Perhaps it is the "new beginnings" and "fresh starts" that September offers, that usually has me thinking about starting a new quilt project. Or maybe I know that the cool weather will quickly be arriving, that inspires the thoughts of making a new quilt. It is a colorful time here in New England and nature's quilt across the country side can be spectacular. I look forward to it with much anticipation. The block at the right is the new September Block of the Month that I just uploaded for the Carol Doak Yahoo Group. It was made by Angie Callbeck.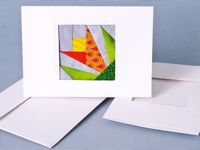 Carol Doak's Keepsake Frame Cards--Coming Soon!!!
I am so pleased to give you a bit of a sneak peak at a new product being released by C & T Publishing in October. We have been working together for some time to create this product that will give you the opportunity to showcase a 3" paper-pieced block in a beautiful card. The textured handmade paper is a heavyweight, archival stock that will protect your creative work. It is a tri-fold card with a debossed cut-out that can be feature horizontal or vertical placement. The package will come with four cards and envelopes, plus a free pattern for only $9.95. When my mom was alive, she always looked forward to receiving cards from me that featured a special quilt block. She saved every single one of them and now they are a treasure to me.
And....here is the exciting news...I have designed 20 new block designs specifically for these cards that will be available for download for FREE from the C & T Blog. The first six will be released in October. I will add this item to the web store just as soon as I have stock.
The Book of the Month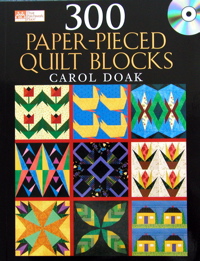 In view of the fact that the above will be released soon, I have selected my 300 Paper-Pieced Quilt Blocks book as the book of the month. It is the perfect resource for so many perfect blocks to use in this card....leaves, jack-o-lantern, witch for the fall and the list goes on. The opportunity to use the enclosed Foundation Factory CD to print the designs in any size you like offers endless opportunities. Take advantage of the on sale price this month to add this book to your library so you will be all set when the cards arrive. You could even start making 3" blocks now so they will be ready to insert in the cards.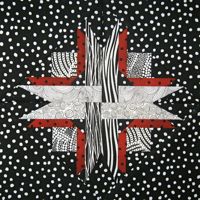 I am pleased to report that we now have 6,478 members. Our veterans know when we reach 6,500 members, I will design a new 6,500 Member Celebration block.
I offered to send 5 yards of fabric to a random winner for each 10 August BOM that our members uploaded. Wow, that did motivate everyone! We had 90 gorgeous blocks uploaded featuring all colors and placements. The stunning block at the right was made by Stephanie.
Just looking at all the different color combinations was so amazing and interesting. The block took on different qualities and an amazing lesson in color and placement.
On the Road Again...
I leave tomorrow for Bloomington, IL, then I will be off to New York state. When I return from NY, two days later I leave for the McCalls Quilting Trip to Ireland. I will meet up with the group in NY and we will be off for a wonderful week in Ireland. I will take lots of pictures and will be sure to blog about the trip when I return. I was going to remind you all that I will be teaching four days of classes at the Houston International Quilt Festival. I just checked on my classes and they all appear to be full. Yeah!!!
Until next time,
All the best,
Carol