back to archive
December 2007 Carol Doak Newsletter
I'm going to be a bit early uploading my December Newsletter because I will be traveling on December 1. It never ceases to amaze me how each year December seems to roll around faster and faster.
Student Show and Tell
Since last month I've received several wonderful images of projects made from my books and during the workshops that I teach. You can view these in the Student Show and Tell section of my web page. If you have made a project from one of my designs and would like to share it, please email me at qcarol@comcast.net with a jpeg image and I will be pleased to add to the web page.
New Free Pattern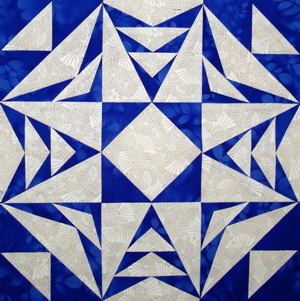 When the Carol Doak Yahoo group reached the milestone of 2500 members, I created this 2500 Member Celebration Snowflake block for the group. They have created some wonderful blocks and inspiring patterns using this design. This block was made by Debbie from Israel to test the pattern. I decided to add this design to the Free Patterns section as my holiday gift to you.
The Carol Doak Quilting Group
As you read above, the group continues to become fluffy and the projects made and shared in photos are so inspiring. Anita from Oregon, made this four block quilt from the 2500 Member Celebration block that I uploaded for the group. There are several other variations posted on the group page.
The Block of the Month designs (which began in September) continue to be popular with members. I upload the design but no color suggestion. The resulting blocks are wonderfully varied and a learning experience for all the members to think beyond the box. I will be uploading the December block design soon.
If you would like to join in the fun or just see what the members are doing, please feel to join us at
http://groups.yahoo.com/group/CarolDoakQuiltingGroup/
Web Store
The Beautiful Cherry Keepsake boxes continue to be popular items along with the new Stitch-A-Cards. I don't know about you, but shopping on the internet is so efficient for me. Simply click and have the items shipped to me without going out in the cold and the crowds at this time of the year. It is easy to drop a hint and receive just what you want...simply print out the items in the web store and check the items you would like to see under the tree. Just click here:
http://www.caroldoak.com/store.php
December Book of the Month
I decided to choose this book as the book of the month this month for a couple of reasons. First, it offers the opportunity to make a large variety of paper-pieced blocks and a variety of quilts using just one block design. This book is currently out of print and retails for $28.95
My holiday gift to you is to drastically reduce the price to $19.95 so you can add it to your collection before there are no more available. To take advantage of this unusual opportunity, just click here
http://www.caroldoak.com/store.php
Booking Dates for 2010 Begins in January

My teaching schedule is booked through 2009. I will begin sending out contacts and accepting dates for my 2010 calendar in January. If you would like to inquire about a date, please contact me.
On the Road Again
I will be leaving this week for my last teaching trip of the year and visiting Connecticut and Massachusetts. My last trip always seems like the real end of the year for me. The good news is that I will be home for several weeks and able to catch up on lots of items on my "to do" list and to enjoy the holidays with my family.
Best wishes for a joyous and healthy holiday,
All the best,
Carol